diep.io, the latest popular game from Miniclip.com has just received an update making the game better than ever. This update bumps the app to version 1.1.0.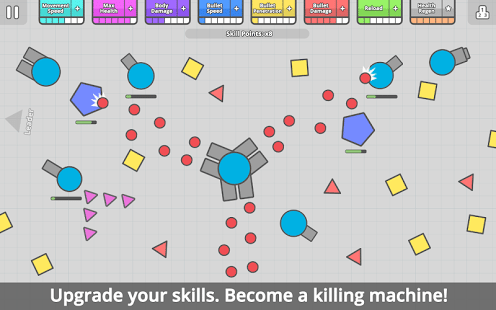 Here is what's new in this update
diep.io 1.1.0 comes with new game modes: Team DM, Domination, Mothership. Other than that, you have the usual bug fixes and performance improvements for certain devices. The game has been catching popularity lately with its interesting and fast gameplay and comes from the creator of a highly popular game, Agar.io.
The gameplay of diep.io is pretty fast and interesting. In it, you shoot and destroy blocks and other players to earn XP, level up your tank and unlock new classes, weapons, and abilities. Since it's an online game, you are directly competing with other players for the top spot.
Following is a brief description from app's homepage:
MASSIVELY MULTIPLAYER ONLINE ACTION!
Play with dozens of other players at once on huge servers packed with excitement!

MOVE, SHOOT AND SURVIVE!
Destroy blocks and other players to gain XP, but don't get shot down yourself! Stay safe out there!

LEVEL UP AND BOOST YOUR STATS!
Choose which stats to increase and change the way your tank plays! Do you want extra bullet damage or a fast movement speed? It's all down to you!

CHOOSE FROM DIFFERENT TANK CLASSES!
Upgrade your tank to a new class. Machine guns, guided missiles, cannons in every direction… there's a world of choice!
In case you play diep.io on your android device, we highly recommend updating to the latest version for all new features and improvement. You can do so by visiting the download page on APKPure.com.