The Diablo 3 new Necromancer Update is one of the many that are planned to launch this year. Blizzard has recently released a cache of new information on various planned changes for the game. Furthermore, Blizzard is all set to take Diablo 3 Season 10 to consoles such as PS4 and Xbox One.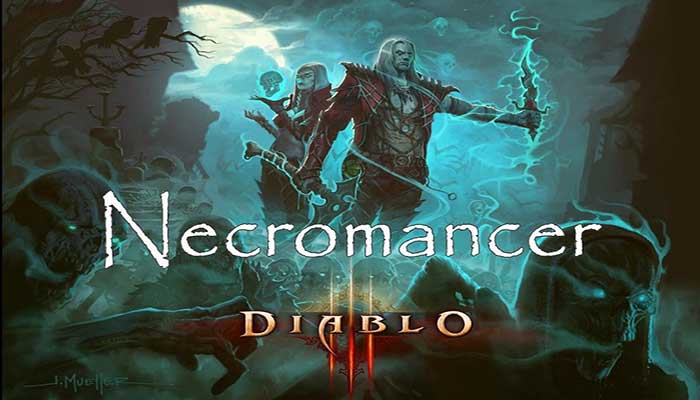 Diablo 3 Necromancer Pack is still in the air with no disclosed release dates, Blizzard has released info this week on some of the changes that are coming to the game with the Necromancer Pack.
Based on Blizzards recently released info, fans of Diablo 3 now know about the skills that the both Male and Female Necromancer characters will have in the game. The Rise of the Necromancer Update will be coming later this year. It will be intermingling with the other free update patches.
Diablo 3's lead game producer Rob Foote and Matthew Berger recently talked to Express online. They explained about the recent developments in the game, the New Necromancer Pack and Diablo 3 Season 10.
Foote explained that
We constantly want to be delivering new content to our players. So, We feel like whenever we release a new patch, the clock starts ticking, players burn through our content so quickly and it feels like they're unquenchable in their desire for more content.

We always want a plan for the next thing, so for us, that would be Season 10 for consoles coming out and Rise of the Necromancer in the second-half of this year.
Another update for Diablo 3 is also in works right now and it will be releasing later this month. This update will be "Armory" and it will allow the players to store five completed character builds for each Hero.
The Diablo 3 Season 10 will also be releasing later this month. It'll probably be one of the biggest updates and will allow players to enjoy loads of new Rewards, Season Conquests, and they will also be able to acquire the "Haedrig's Gift." Diablo 3 Season 10 will also be the very first Open for the PS4 and Xbox One players. Foote further explained about the causes of delays and he said that
"For a while, we didn't think we'd ever be able to do Seasons on the console. Our engineers, who you never usually talk to, they're hard at work, but they really did perform minor miracles to get seasons working on consoles.

We had to make some decisions, to make sure we could create an environment that was going to be perfect for console players. We want players on the console to be able to come back and enjoy the season, just like on PC, go through the content and then go "okay I'll do something," and then say "oh, next season is up, I'm going to try it again with a different set."

Since Ultimate Evil launched, one of our main goals has been to bring parity between the different platforms, not just in terms of content but also when we launch a patch, we want them to be in-sync. Being able to have seasons running simultaneously on PC and console is going to be a big accomplishment.
Burger further confirmed that all the console owners will be starting the Diablo 3 Season 10 with the PC owners. This will allow the players to stay in sync and it is the best solution.
One of the other reasons for the delay is that the Diablo 3 was launched on Last-gen consoles. Blizzard was working to maintain that platform and protecting the user experience as well.
"It's easier to secure content on this generation of consoles, they haven't been hacked yet, it allows us to create an environment which is going to be perfect for players, that was part of the decision," Berger further explained.
All the players who have never been able to earn all four tabs via the Season Journey. They can still be able to unlock and additional stash tab. In order to unlock the additional tab, players will have to complete the following tasks while at Conqueror Tier.
Complete a Torment XIII Rift in under 5 minutes
Complete Greater Rift 60 solo
Kill Greed on Torment XIII
Kill Maghda on Torment XIII in under 15 seconds
Reforge a Legendary or Set item
Augment an Ancient item with a Level 50 or greater Legendary Gem
Level three Legendary Gems to 55
Complete two Conquests
Blizzard has also confirmed that the additional Stash Tabs will not be available for the consoles play. This will be because they have already supplied many of them in the past. However, console players will be able to have various Diablo 3 Season 10 Cosmetic Rewards. These Cosmetic Rewards are obtainable via progressing through the Season journey.
The Cosmetic Rewards include the Head and Shoulders slots of the exclusive Conqueror sets. A new series of Black Soulstone themed portraits is also available. For all the pennant collectors, there is Loremaster present in the game from the Book of Cain.
The Diablo 3 Season 10 will begin on Friday 31st March at 5:00 pm (PDT) in North America, 5:00 pm (CEST) in Europe, and 5:00 pm (KST) in Asia.
Also Check: Games Like Diablo