Today we are going to discuss the Leaked Diablo 3 Necromancer DLC picture leading up to Blizzcon 2016. Like half of Blizzard wanted a Necromancer in D3. They've put it in a few places inside the game. They have almost all they need to make the class (except voice actor). We have minions who shoot magical fireballs and skeleton minions with swords. Even golem's there too.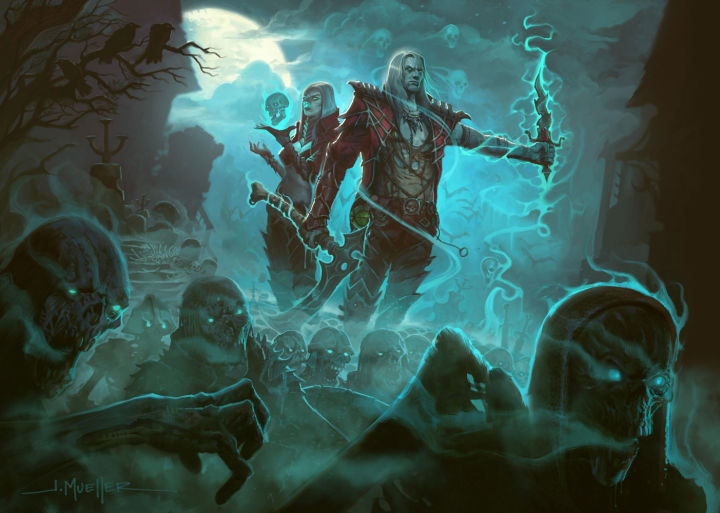 Is Diablo 3 Necromancer DLC the next thing from Blizzard?
So we gonna get the Necromancer with 24 new skills and even more runes, but thanks to the new Necromancer sets most of these skill/rune combinations will be useless, because these sets will be super overpowered and therefore mandatory and at the same time they will only buff specific skills which will lead to a massive decline in (endgame) build diversity.
This excites us to no freaking end. We just hope that they do something to make it stand apart from the Witch Doctor in a truly unique way. Would not surprise us if the Necromancer is brought in with added content (perhaps even story content) that takes us to the Skovos Islands. If they are going to introduce the Necromancer, they will likely need a long beta and PTR for balancing.
It's not impossible that we'd get a Necromancer. But keep in mind that the necromancer from d2, poison, and summoning, is entirely covered by the witch doctor. So it would be a completely revamped class by comparison to d2. Personally, we think if there's a new class, it will be something else. While we love the Necromancer, we have no idea why Blizzard dropped arguably the most important class in the Diablo universe lore-wise.
Let us know your thoughts on the leaked Diablo 3 Necromancer DLC. Stay tuned to MobiPicker for more news and updates on this game as well as Diablo 4.