We've spotted our favorite weapons and items vendor in Destiny Xur. We have every intention to let you know about it. Xur is a special NPC in Destiny who appears only on weekends in the Tower but his location can change from time to time. Density Xur The Agent of the Nine is a vendor who sells Legendary and Exotic items for Strange Coins and Motes of Light. Here's his location for today, tomorrow, and the day after tomorrow (September 2 to 4), and we will also give a list of what he'll be selling for each class.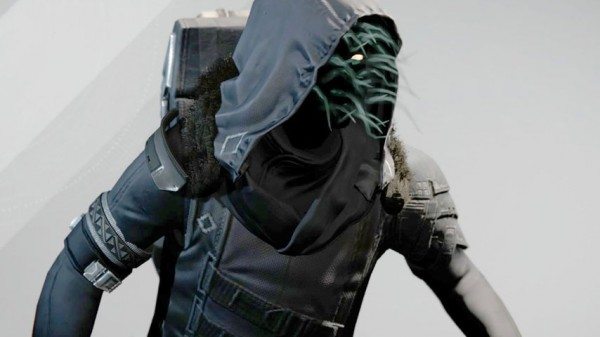 Destiny Xur is in The Hanger
According to whereisxur.com, he was spotted in the hangar. If you've forgotten where the hangar is, it's at the far east end of the Tower. In weapons Xur is selling The Last Word, a Hand Cannon with about 280 – 335 attack and costs 17 strange coins. The magazine can accommodate 8 bullets. The gun has a 32% rate of fire, 68% impact, 8% range and 56% reload speed.
In armor, you will be getting Eternal Warrior for Titan class. It will cost 13 coins. The stats are:
 Intellect – 33 – 106
 Discipline – 33 – 67
 Strength – 33 – 67
 Defense – 280 – 335
Knucklehead Radar for Hunter will cost 13 coins.
 Intellect – 35 – 60
 Discipline – 35 – 60
 Strength – 35 – 60
 Defense – 280 – 310
Knucklehead Radar can be improved with perks like Sensor Pack, Hands-On, Innervation, Invigoration, Better Already, Infusion and Increase Intellect
Obsidian Mind will also cost 13 coins.
 Intellect – 35 – 95
 Discipline – 35 – 60
 Strength – 35 – 60
 Defense – 280 – 310
Obsidian Mind can be upgraded with perks like Insatiable, Infuse, Reforge Armor, Inverse Shadow and Ashes to Asset.
You can upgrade your armor with one of the many selective perks. You can view the full list here. Destiny is Bungie's multiplayer action role-playing game exclusive only to the consoles. The game was released two years ago and, despite the rocky start, it continues to build its player base every year. We'll keep you notified when Destiny Xur spawns next. Stay tuned to MobiPicker.