Destiny Xur is Agent of The Nine who spawns every weekend and brings some really good loot to sell with him. He is a vendor in Destiny who sells Legendary and Exotic items for Strange Coins and Motes of Light. Furthermore, he only appears in the Tower on the weekends (specifically between 2AM PST (5AM EST) on Friday to 2AM PST (5AM EST) on Sunday). However, his location can change each week, sometimes making it difficult to track him down.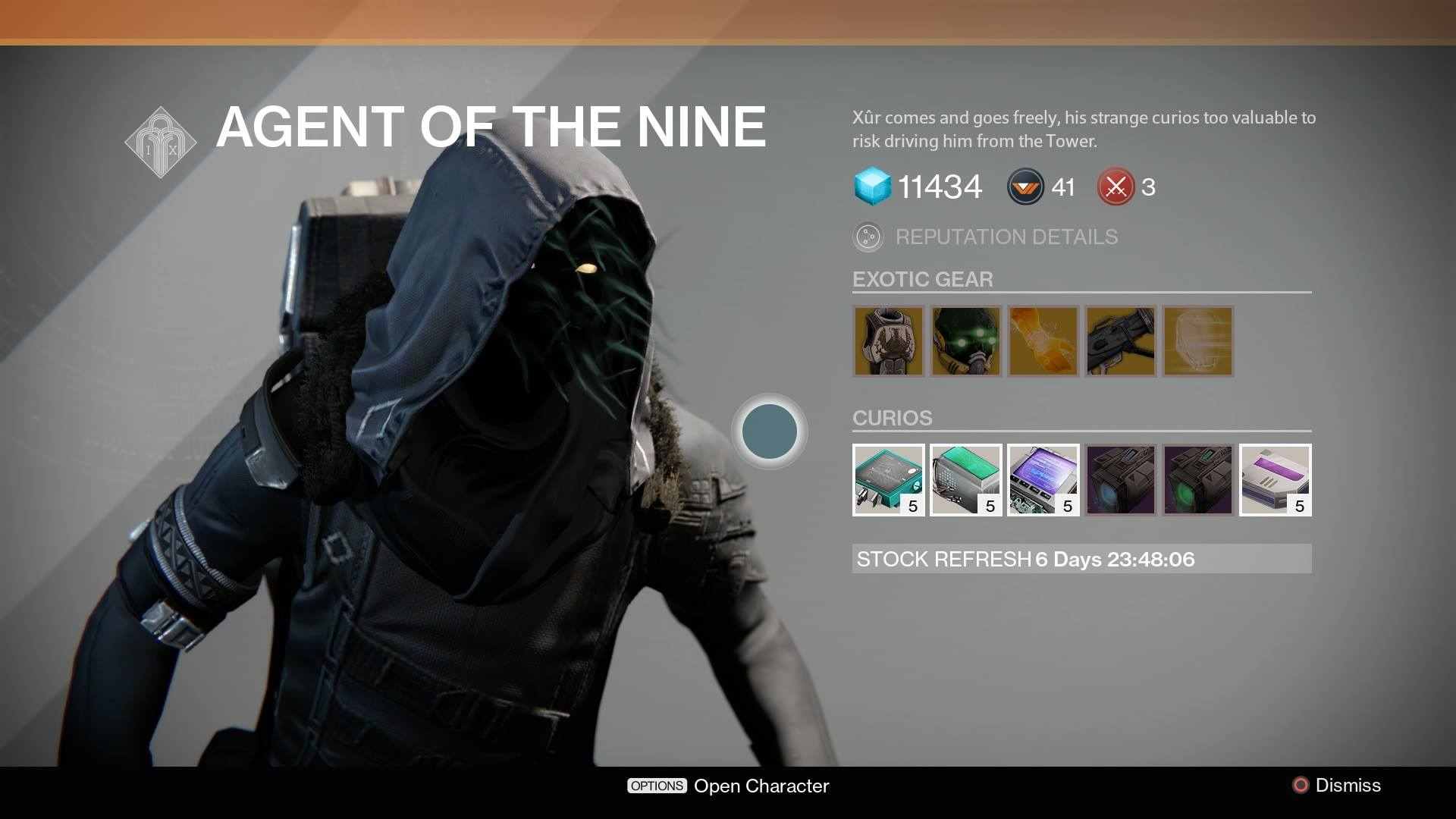 Destiny Xur Location For October 14
Last week Xur was on the balcony near the Speaker at the Tower. He was selling Thagomizers – 13SC, Shinobu's Vow – 13SC, Light Beyond Nemesis – 13SC, Thunderlord – 23SC and Legacy Engram [Primary Weapon] – 31SC.
Xur is currently located in the Tower and he can be found down by the balcony near the Speaker (left area of Tower from where you spawn in). He is currently selling:
Mk. 44 Stand Asides – Titan Leg Armor – 47 Intellect / 49 Strength – 13 Strange Coins
Bones of Eao – Hunter Leg Armor – 54 Intellect / 55 Discipline – 13 Strange Coins
Sunbreakers – Warlock Gauntlets – 37 Discipline / 39 Strength – 13 Strange Coins
Trespasser – 23 Strange Coins
Exotic Gauntlet Engram – 19 Strange Coins
Weapon Ornaments:
Moonglow – Hawkmoon – 25 Silver Dust
Storm's Reproach – Invective – 25 Silver Dust
Along with the usual Three of Coins, Glass Needles, Sparrow Upgrades etc. What light does Xur sell items in Rise of Iron? 350 Light.
A lot of people also want Icarus to be the next Trials of Osiris map. Bit that is a PlayStation 4 exclusive map so there's literally no chance it could be a map in any Trials of Osiris. Also, let's get back to Xur for a moment, particularly the Titan Class. This class got the Thagomizers last week. In our opinion, those are definitely some of the most crazy looking gauntlets in the game so far.
Let us know your thoughts about Destiny Xur in the comments. Stay tuned to MobiPicker.