If there's one show that has taken Korean television drama series by storm, it's got to be Descendants of the Sun! The South Korean television series starring Song Joong Ki and Song Hye Kyo is a major hit in South Korea and has received immense popularity across Asia. Fans are literally in love with the on-screen chemistry of Song Joong Ki and Song Hye Kyo – so much so that they want the duo to get married soon!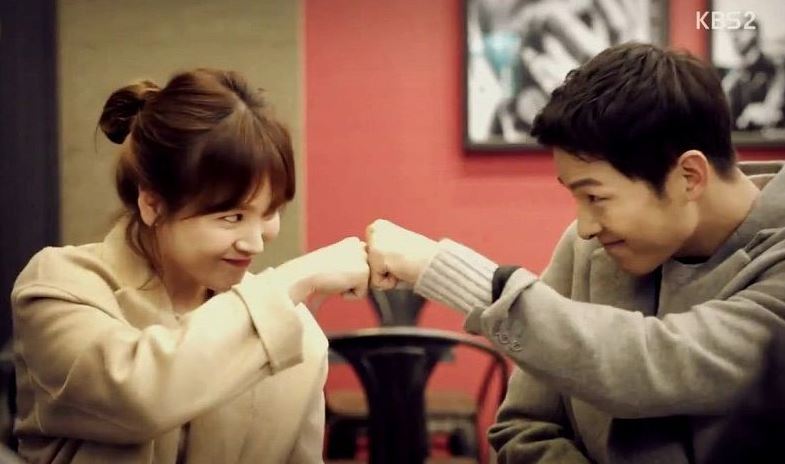 Song Joong Ki and Song Hye Kyo destined to marry each other?
It looks like SongSong couple are destined to marry each other. The on-screen couple haven't been able to do much about the ongoing rumors about their marriage. Every time Song Hye Kyo posts a pic on Instagram, fans make it a point to talk about her marriage with Song Joong Ki. Of late, the on-screen SongSong couple have been extra sweet to each other, adding more fuel to all the speculations about their relationship.
At the KBS awards ceremony, the couple won the Grand Prize (Daesang). Song Joong Ki, in his acceptance speech, praised Song Hye Kyo and said – "Usually, the woman should cry, but we're reversed. I want to give her all this honor to my lovely partner, Song Hye Kyo". Song Hye Kyo returned the favor by thanking Song Joong Ki – "But, the only reason why I am able to get this award is because of Song Joong Ki. I wouldn't be here without him".
While dating rumors continue, Descendants of the Sun stars were seen last week hitting the streets of New York City. They were also spotted being extra sweet to each other. At the recently concluded PD Awards Ceremony in Seoul, South Korea, Song Joong Ki again talked about his co-star Song Hye Kyo and thanked her for being supportive throughout – "In Korea, actors always steal the spotlight—compared to the actresses. To me, this drama was a big project, as it marked by comeback to the entertainment scene after spending two years in the military. I want to share the glory of this award with my co-star Song Hye-kyo who shared the burden and constantly reassured me and gave me the confidence by being there for me."
Will the Descendants of the Sun stars marry each other soon?