The Descendants of the Sun stars Song Joong Ki and Song Hye Kyo have won people's hearts. At the 2016 Korean Broadcasting System (KBS) Drama Awards, the Song-Song couple won the Grand Prize (Daesang) and acknowledged each other's support and encouragement during their acceptance speech. Every time Song Hey Kyo posts a pic on Instagram, the comments are usually flooded with requests from fans insisting them to marry soon. Amidst rumors about Song Hye Kyo wanting to get married, fans are apparently disappointed with what SBS did recently.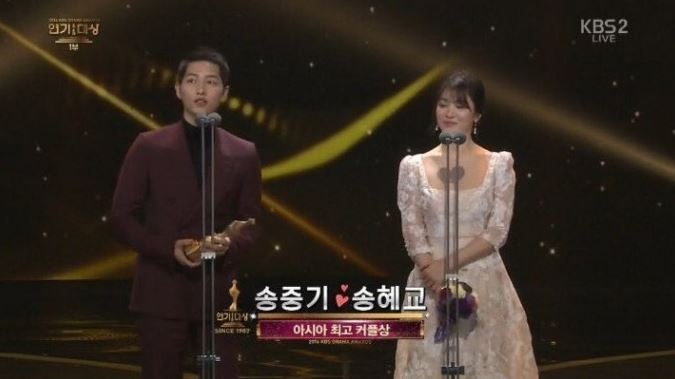 SBS cuts off Song Joong Ki's speech
Song Joong Ki was honored with Best Actor award at the PD Awards Ceremony that concluded last week in Seoul, South Korea. Song Joong Ki, as always, talked about Song Hye Ko in his award acceptance speech. But SBS allegedly cut off Song Joong Ki's remarks about Descendants of the Sun actress. The act, whether intentional or unintentional, has infuriated fans of the Descendants of the Sun.
In his acceptance speech, Song Joong Ki thanked the writers of Descendants of the Sun, Kim Eun-sook and Kim Won-seok. He also mentioned the producers of the series and thanked them for creating the wonderful drama series. But he didn't stop at that. The Descendants of the Sun star thanked his beautiful co-star Song Hye Kyo for her support and encouragement. "In Korea, actors always steal the spotlight—compared to the actresses. To me, this drama was a big project, as it marked by comeback to the entertainment scene after spending two years in the military. I want to share the glory of this award with my co-star Song Hye-kyo who shared the burden and constantly reassured me and gave me the confidence by being there for me.", the actor said.
Unfortunately, fans who were watching the SBS broadcast didn't get to watch the part where Song Joong Ki talked about Song Hye Kyo. Fans are furious that SBS intentionally cut off Song Joong Ki's speech. Whether or not SBS cut off the speech intentionally is unclear at this point in time. Was SBS was constrained by time? However, SBS hasn't commented on the incident yet. But there's good news as well. Song Hye Kyo and Song Joong Ki are likely to start filming for Descendants of the Sun 2 soon. It looks like the epic drama series will return with the sequel soon!