After winning the Grand Prize (Daesang) at the KBS Drama Awards 2016, the Descendants of the Sun star Song Joong-ki posted a photo wearing military uniform he used in Descendants of the Sun. Fans began flooding the post with comments, requesting the actor to star in the sequel Descendants of the Sun 2. The post garnered more than 150,000 likes. Song Joong-ki is known for his sweet gestures. He was earlier in the news for his adorable and thoughtful gesture towards child actress Heo Jung Eun. At the 2016 KBS Drama Awards, when the screen was showing Song Joong Ki's kiss scene with Song Hye Kyo in the blockbuster drama series Descendants of the Sun, the actor thoughtfully covered the eyes of Heo Jung Eun to protect the child actress's innocence! And now, Song Joong-ki is in the news for another thoughtful gesture.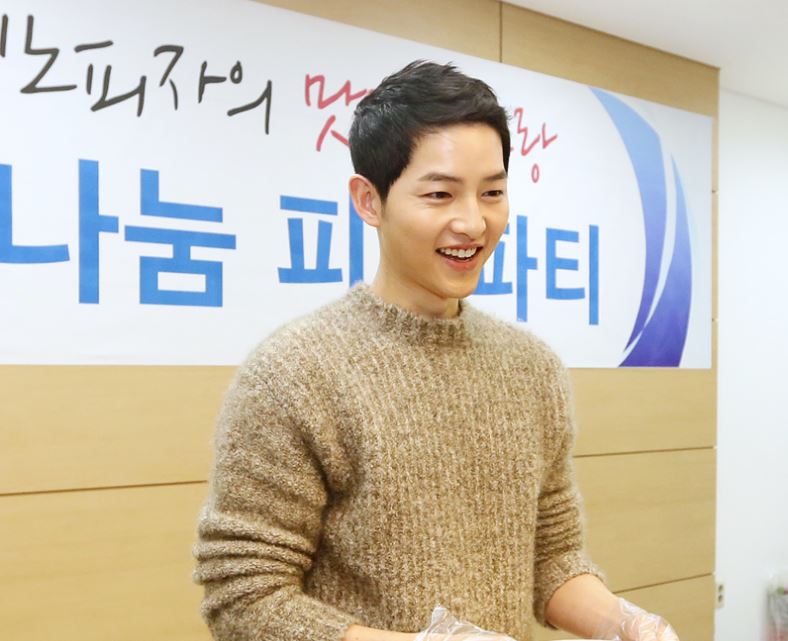 Song Joong Ki donates 100 Million Won to Hope Sharing Fund
According to reports, Song Joong Ki hosted a special event at Seoul National University's Children's Hospital as part of a volunteer project with Domino's Pizza. The event brought smiles on the faces of children, their families and the hard-working staff at the hospital. The event didn't end with just the pizza party. Song Joong ki brought more smiles to the people gathered at the event when he donated a whopping 100 million won – about $86000 – to the hospital's Hope Sharing Fund.
Song Joong Ki is known for donating regularly to many charities. He regularly donates to Korea Childhood Leukemia Foundation. The Descendants of the Sun star has also donated all of his earnings from "Hurry Up, Brother". His adorable and thoughtful gestures make him all the more popular!