The 2016 KBS Drama Awards concluded on December 31st, 2016 in Seoul. The Korean Broadcasting System (KBS) recognizes outstanding achievements in Korean dramas every year with several awards – Top Excellence in Acting, Best Supporting Actor, Best Writer, Special Award, Achievement Award and so on. The highest honor of the ceremony however is the Grand Prize that's awarded to the best actor or actress of the year. This time, Descendants of the Sun stars Song Joong-ki and Song Hye Kyo won the Grand Prize (Daesang) at the 2016 KBS Drama Awards.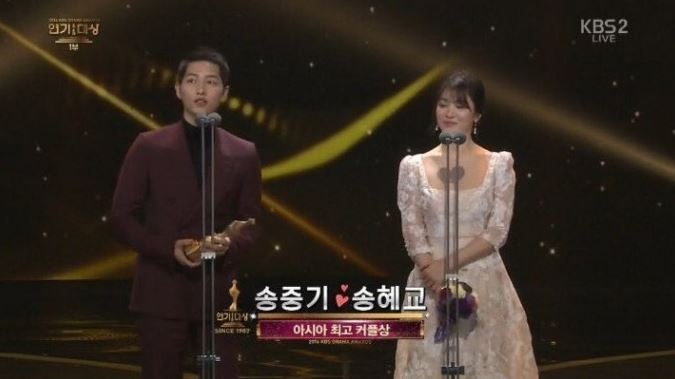 Song Hye Kyo attributes Daesang Award to co-star Song Joong-ki
Song Hye Kyo and Song Joong-ki also won the Best Couple Award. During the ceremony, the co-stars were extra sweet to each other. In his acceptance speech, Song Joong-ki said – "Usually, the woman should cry, but we're reversed. I want to give her all this honor to my lovely partner, Song Hye Kyo". And Song Hye Kyo has returned the favor by tweeting about her lovely co-star. Her tweet reads – "Being able to receive Grand Award, it's because Song Joong-ki was my co-star. If it wasn't him, I wouldn't be there to deliver my speech."
Are Song Hye Kyo and Song Joong-ki secretly dating?
Even though the Descendants of the Sun stars have time and again told that they are just friends and not in a relationship, fans want to believe the duo are in a relationship. Many fans have expressed that Song Hye Kyo and Song Joong-ki should get married. Egaadara, one of the users on Instagram, commented on Song Hye Kyo's account after the actress posted a photo of herself and Song Joong-ki at the 2016 KBS Drama Awards – "Get married please". The duo have been posting pics with each other during their trip overseas. All the speculation and drama around their relationship only gets stronger with each pic they post. Many are speculating that the duo are actually dating each other, even though the stars have denied.