The recently launched Moto Z phones haven't been able to stir up a lot of excitement in the smartphone market. However, the company's budget-oriented Moto G4 and the Moto G4 Plus has been quite successful. The phone has been selling really well, thanks to its simple design, clean software, good camera, and a very good battery life. So if you are thinking of buying the Moto G4 or the G4 Plus, today is a good day.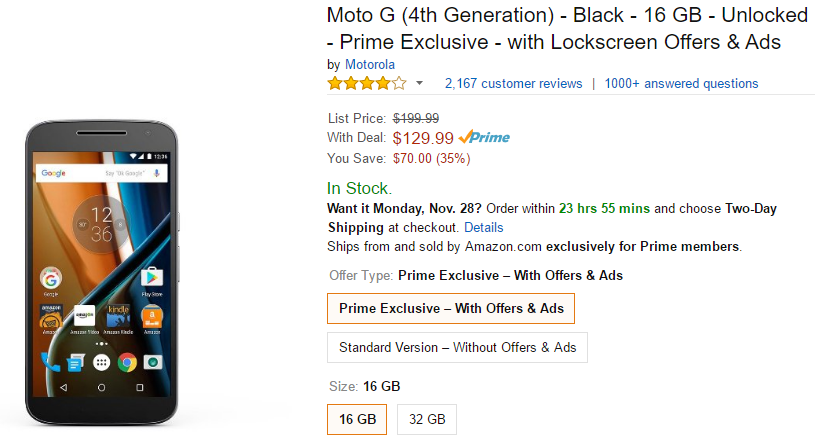 Amazon is offering a huge discount on both the Moto G4 Plus and the Moto G4 phones, and the discount can go as high as $70! If you buy the Moto G4 "with offers" variant from Amazon, you will get lock screen ads on the device and pre-loaded Amazon apps. However, the price for the device will be $129.99 for the 16GB variant and $139.99 for the 32GB version. Those variants usually sell for $150 and $180.
If you choose to buy the Moto G4 phone without the ads, you will have to shell out $174.99 for the 32GB version and $179.99 for the 16GB variant. Yes, you read it right; the 32GB variant is surprisingly cheaper right now. The usual price of the phone is $200 and $230 for the 16GB and 32GB version respectively.
Those who want a better camera, more storage and a fingerprint sensor can opt for the Moto G4 Plus. The G4 Plus hasn't got a "with offers" ad-supported variant. The 2GB RAM/32GB storage version usually costs $250, but today it is available for just $199. The 4GB/64GB variant, which otherwise costs $300, is selling today for $229.99 only!
Now that's a really great discount on already great budget smartphones. This is probably the best Moto G4 Plus deal you might get this year, so grab it if you can!