Although not very powerful, Lenovo ThinkPad 11e Chromebook is quite decent when it comes to specs. Lenovo ThinkPad 11e Chromebook is powered by ultra-efficient Intel Celeron N3150 Processor and packs 4GB RAM with 16GB internal storage. At 11.6-inches screen with 1336×768 resolution, the display is pretty decent too. The screen is anti-glare and offers crisp visuals. What stands out is the rugged construction of this Chromebook – a rubber bumper around the top cover absorbs the force of side bumps and reinforced ports and a reduced gap between anchored keys help prevent accidental damage.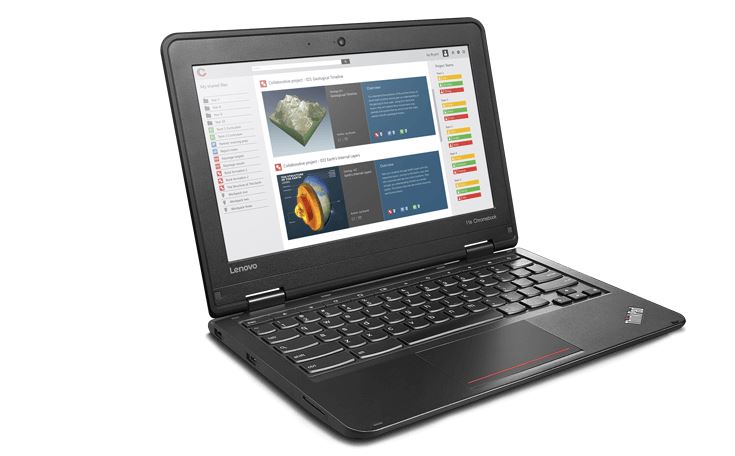 And we don't have to mention this – Chrome OS boots faster than you would expect Windows to boot on this laptop – as fast as 3 seconds! With integrated browser security, auto-updates and useful Google apps like Gmail, YouTube and Google Maps, Lenovo ThinkPad 11e Chromebook offers all-day battery life and is built as one tough machine!

$110 off on Lenovo ThinkPad 11e Chromebook
The usual price of Lenovo ThinkPad 11e Chromebook is $299.99. Now the Chromebook is available for just $189.99 – a flat $110 off!! Although suitable for school-wide deployment, it can also be used as a powerful on-the-go Chromebook. Lenovo ThinkPad 11e Chromebook also features HDMI output for easy connectivity to television or other display so you don't have to worry about connectivity issues.
Featuring an always-on charging port, low-light sensitive 720p HD webcam with face-tracking, dual-digital-array microphone and providing for faster data transfer with USB 3.0, the Lenovo ThinkPad 11e Chromebook is rugged and powerful at the same time. It sports a 42WHr 3-Cell battery and comes with HDMI 1.4 port, 2 USB 3.0 ports, and 4-in-1 card reader.
You can avail this offer on Newegg.