If you thought about getting a new MacBook Pro, you can get one at a massive discount on eBay. The model offered is a 15-inch one, equipped with a Core i7 i7-6700HQ CPU, 16 GB of RAM, 256GB SSD storage, and an AMD Radeon Pro 450 video card. The model is priced at $2,099, $300 less than the original price.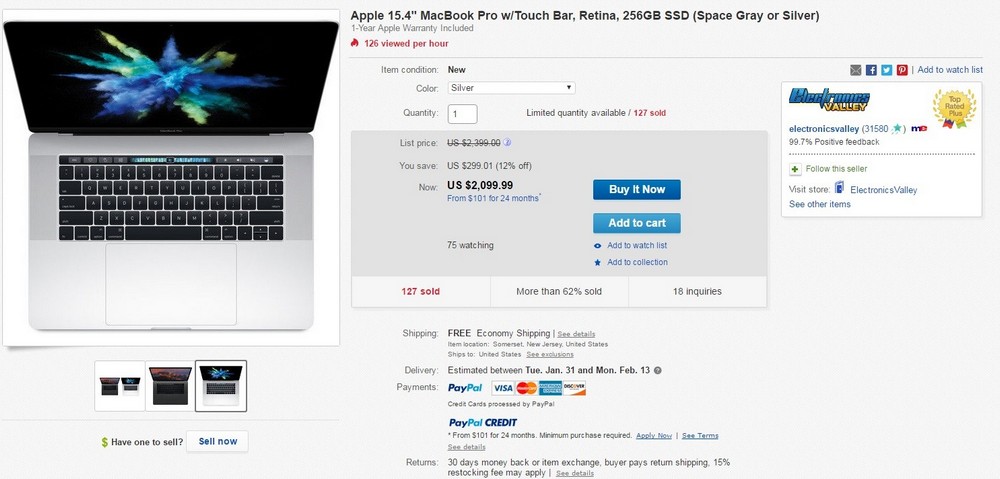 You can check out the offer on eBay. The quantities are limited, and at the moment only silver color option is available. The model offered is a base 15-inch model, powered by Skylake Core i7 processor running at 2.6 GHz. Laptop's video card, AMD Radeon Pro 450, is equipped with 2 GB of VRAM. Touch ID is also present.
Other features include Touch Bar, four Thunderbolt 3 ports, and a 15.4″ 2880 x 1800 Retina Display. The model doesn't come with a power button, instead, it will automatically boot after the lid is opened.
You can check out a complete list of specs below:
2.6 GHz Intel Core i7 Quad-Core
16GB of 2133 MHz RAM | 256GB PCIe SSD
15.4″ 2880 x 1800 Retina Display
AMD Radeon Pro 450 GPU (2GB GDDR5)
802.11ac Wi-Fi | Bluetooth 4.2
Touch Bar | Touch ID Sensor
4 x Thunderbolt 3 (USB Type-C) Ports
3.5mm Headphone Jack | Stereo Speakers
Larger Force Touch Trackpad
macOS Sierra