If you are someone  who just happened to jailbreak your phone and looking for the ultimate Cydia guide, then this post is for you. There are millions of users with their phones jailbroken who know how to use Cydia and are using Cydia and all the apps Cydia offers. But there are also the uninitiated folks, the newbies who have no idea what Cydia is all about. To them, we present this post as the ultimate Cydia beginners guide.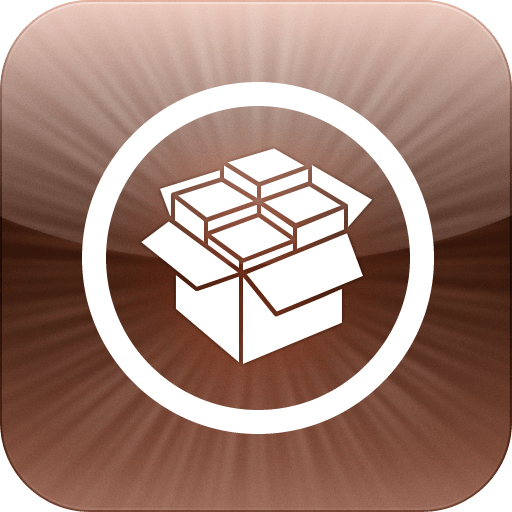 When it comes to smartphones, you learn things fast by actually doing them. And so it is with Cydia. Start with Cydia right away and we promise you'll learn everything there is to know about Cydia! But don't worry. In this Cydia guide, we will take you through a step-by-step guide to help you transition from a Cydia beginner to a Cydia expert!
What's Cydia? Why so much euphoria around Cydia?
Cydia is like the App Store – the one-stop destination where you find all the apps that Apple approves to be listed. Cydia is the App Store for all apps, tweaks, settings and features that Apple doesn't/ wouldn't allow on the App Store.
If you are someone who likes to tweak things often and want the flexibility to do things you like – such as changing lock screen, dock screen, status bar etc. then Cydia is for you!
Think of Cydia as you would think of Google! All the wonderful tweaks and apps that you won't find on the App Store – you can find them on Cydia. We can say Cydia is like Google for jailbreakers.
What Can I Do with Cydia?
First things first. Cydia only works on jailbroken devices. That said, Cydia is the door to  an amazing world of tweaks, apps, settings, features, icons and more that you just can't get enough of. Here are some things you can do with Cydia –
Apps: There are tons of Cydia apps that revolutionize the way your iPhone/iPad works. For instance, biteSMS changes the way you text, reply, forward or manage them.
Themes: Always wanted to change themes but never could? Searching for themes in Cydia can lead you to some amazing, absolutely stunning collection of themes!
LS Themes:You can totally change the way your lock screen looks using LS Themes. Explore tons of LS themes in Cydia and experience the stunning themes!
Tweaks: Want to change icons? Font? How about changing the way lockscreen looks? Cydia lets you do all this and much more!
Cydia: Repos, Sources, Status
You'll need to familiarize yourself with a few things before using Cydia.
Sections:  A category-wise segregation of everything that's on Cydia. You can browse through sections and play around with few tweaks/themes/apps.
Search:  To find super-cool tweaks/apps. Just search here, download and install.
Manage: Cydia needs accesses to few repositories where packages are hosted.  You will need to add the correct repo where the package/tweak is hosted, if you find a tweak that isn't on Cydia. Manage can also provide you valuable info like – how much more space is left for installing packages, space that has already been used up, how good/bad your packages are doing etc. Manage also lets you install/remove packages in bunches from the package manager.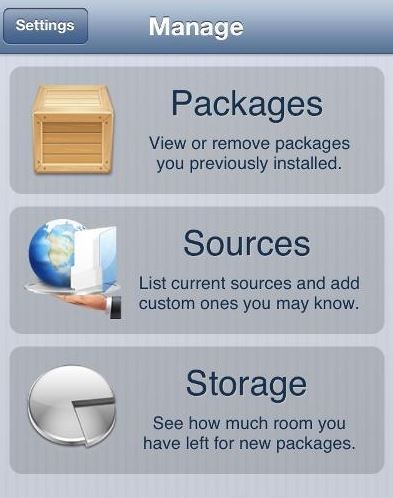 Now that we know what Cydia is all about, we can start exploring about how to use Cydia.
How to use Cydia: The Beginner's Guide
 As a beginner, there are three important things you need to know about Cydia:
How to find and install Cydia tweaks on your iPhone
How to remove Cydia tweaks (in case you're not happy with it)
How to add repositories a.k.a repos to Cydia
Before we begin, we assume you have a jailbroken device.
How to Install Cydia Tweaks and Apps
Adding / Installing Cydia tweaks is not the same as "click, install" you are familiar with, but very simple. In the App Store, you ideally click and install but in Cydia you need to follow these simple steps –
Search for the tweak in Cydia's Search
Tap on the tweak to be installed. The info page  opens
On the top-right, click on Install
In the next screen, tap on Confirm
Cydia will now download and install the package
Your tweak is usually installed without any errors. You may have to reboot your iPhone for some tweaks. Others will let you return to Cydia without requiring reboot.
How to Remove Tweaks from Cydia
A little tweak called CyDelete (for iOS5 and older versions only) makes deleting Cydia tweaks extremely simple. All you have to do is –
Open Cydia
Tap on Manage
Tap on Packages
You'll be now be presented with a list of all the packages that have been installed. Be doubly sure which package/tweak you have to remove.
To remove the tweak –
Tap on the package that you want to remove
Tap on Modify and then tap on Remove
Your package will be removed.
Adding Repos to Cydia
How to add new tweaks which are available on repos that aren't already added to Cydia package?
Repositories (a.k.a repos) are servers where you find tweaks. Two of the largest and most popular repos – BigBoss and ModMyi come pre-loaded with Cydia. These contain thousands of tweaks!
To add additional tweaks, you need to add additional repos to Cydia. To do this-
Open Cydia and tap on Manage
Tap on Sources. You'll see a list of repos
Tap on Edit on top left and then tap on Add on top right
Add the repo URL and tap on Add Source
Cydia will try to add the repo by accessing the URL
The repo will now be added to the list. Also, all packages of that repo will begin to show up on Cydia search.
Managing Cydia Storage
Storage is always an issue on smartphones. If you are someone who uses a lot of apps, chances are you are always running out of space. Cydia is no exception. If you don't keep a tab on space used by tweaks and themes, you can end up losing lot of precious storage space. But there's a way to manage cydia storage –
Open Cydia
Tap on Manage and then tap on Storage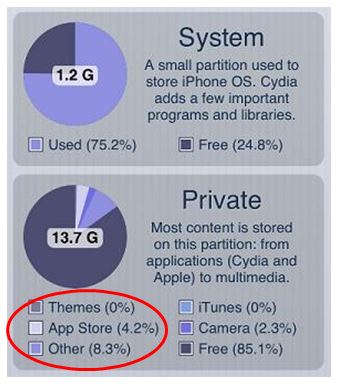 As shown in the pic above, you can get all info about space occupied by Themes, App Store and others. This helps you keep a tab on storage.
Before we wind up, here's something you should know about repos
Adding a repo that has more than 65,535 (those who know computers and programming will understand that this number is 2 power 16 minus 1) packages, will cause problems simply because this is the upper limit – Cydia cannot handle a repo that has more than 65,535 packages. So stay away from repos with packages more than this limit.
That's all we had about Cydia. We hope this Cydia beginner's guide helped you transition from a Cydia novice to a Cydia expert. Looking for ways to free up some more space on your iPhone? Head straight to our post on how to delete Data and Documents and free up space. If you are looking for fixes for other iPhone issues, be sure to check our fixes for iMessage not working and iMessage waiting for activation issue.