With so many new Apple products like Apple TV,  a gigantic iPad Pro and, of course, the two latest iPhone 6S and iPhone 6S Plus, you might have missed out on an important piece of information. Yesterday, during Apple's presentation in San Francisco, the release date of iOS 9 was confirmed as September 16, TODAY!
Get ready, because today is the day that you should get a notification telling you that the iOS 9 is ready to download and install on your iPhone.
iOS 9 comes with a lot of improvements and new features. The Split screen function and transit directions for Apple Maps are two of the exciting things we expect from the update. There are also improvements in Siri and in Spotlight search, and the software is aimed at battery life optimization. The picture below displays the Apple devices that are compatible with the new OS: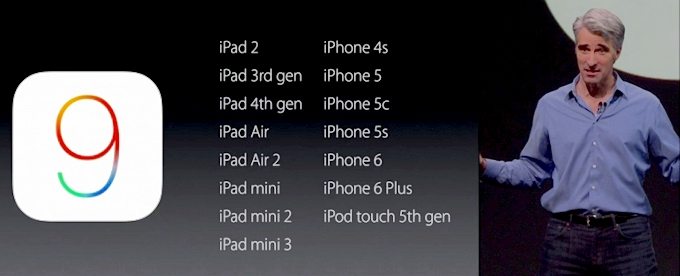 It is certain that the new iPhone 6S and iPhone 6S Plus will come with iOS 9 out of the box, so you do not have to worry about the installation process. Meanwhile, those who have devices older than the iPhone 4S won't be able to use iOS 9.
IOS 9 release time:
We are sure each one of you is now very eager for iOS 9 to release. However, we cannot tell you when exactly will you get the anticipated notification, since Apple did not specify a time. However, from past releases, we know that Apple rolls out updates at about 10 AM pacific time, which means that Europe should get it by the evening. Meanwhile, in far east countries, iOS 9 will come out around midnight or the early hours of September 17.
The picture below displays the time when it may arrive in different time zones: