Conan Exiles is an open-world survival game set in the brutal lands of Conan the Barbarian. You are an exile, outcast and downtrodden. Sentenced to walk in a barbaric wasteland where the weak are crushed and only the strong can live. Here you must fight to survive, build, and dominate the world alone on your own server or with enemies and allies in online multiplayer.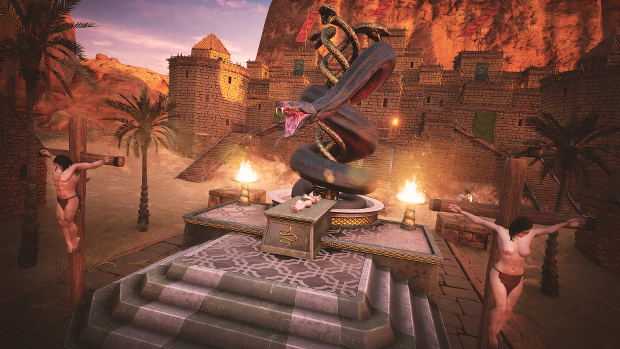 Conan Exiles is the new open world survival game based in the iconic Conan the Barbarian universe
New open world game, Conan Exiles, is not an empty sandbox. It is a world rich in history where you must discover the knowledge and secrets of ancient civilizations as you struggle to build your own. This game has quests set in an open world environment with single player mode available. There's a local single player mode, but it's not going to be a giant open world RPG like The Witcher. It is first and foremost a survival game.
It's a survival game. For the past 10+ years, all such games had the same core gameplay idea. Like a shooter, that is about running around in first-person and shooting people. The developers do not shy away from the comparison either. They openly state that they are inspired by the likes of Minecraft, Rust, ARK etc. But that doesn't mean the game can't bring something of its own to the scene and we'll keep you updated when that happens.
In this brutal land of vengeful gods, bloodthirsty cannibals, and vicious monsters, survival is more than tracking down food and water. Explore mysterious ruins in search of treasure and knowledge, but beware the risk of your mind being corrupted by the dark forces of the world. There is a lot to offer in Conan Exiles and the developer is set to reveal a lot soon.