The first excellent World War 2 RTS game is now available for a measly $10 and you will get the entire franchise. From the same people who brought us Homeworld and Warhammer, Relic Entertainment are undoubtedly one of the kings of the RTS genre. The only other game that revivals the sheer excellence and thinking process of Company of Heroes is maybe StarCraft 2. But that too is entirely subject to one's preferences.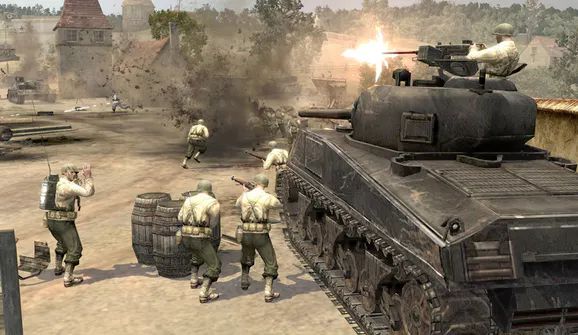 Company of Heroes 1 and 2 available for only $10
"You're in good Company. We do love a celebratory bundle here at Humble, and this is a perfect occasion: the 10th Anniversary of CoH! Capture as many tiers as you like – no strategy required besides picking your t-shirt size!

Pay $1 or more for CoH, CoHs: Opposing Fronts, CoH: Tales of Valor, and CoH 2 – The Western Front Armies: Oberkommando West. You'll also receive special CoH 10th Anniversary wallpaper and a CoH 10th Anniversary 3D printable diorama. As well as coupon for 10% off Humble Monthly for new subscribers!

Pay more than the average price and you'll also get CoH 2 – The Western Front Armies: US Forces, CoH 2, Company of Heroes 2 – Case Blue Mission Pack, CoH 2 – Southern Fronts Mission Pack, CoH 2 – Victory at Stalingrad Mission Pack, and the CoH 2 Original Soundtrack.

Pay $10 or more for all of that plus CoH 2 – The British Forces, CoH 2 – Ardennes Assault, CoH 2 – Ardennes Assault: Fox Company Rangers, CoH 2 – Exclusive Skins Pack, and the CoH Art Book.

Pay $30 or more for all the games and an exclusive CoH shirt from Relic Entertainment and Fangamer!"
Will you be buying the Humble Bundle deal? Let us know in the comments. Stay tuned to MobiPicker for more news on amazing Humble Bundle deals and more. All the games in this bundle are also available on Steam. So, you can redeem the game on that platform as well.