The Clock app in Android smartphones does not receive updates regularly, but when it does, we get a lot of new additions in it. Well, a new update has been released for the app and it brings some visual polish and some significant changes in the Clock.
The new Clock 4.3 APK update comes in a 6.77 MB file and runs on Android 4.4 and above. It comes with new animations, so now when you perform any action on an alarm, a snackbar will come up from the bottom and will push the floating action button aside for a few moments before dropping back down.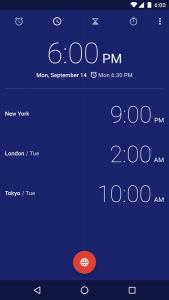 The next change is for the Android Wear widget of the Clock app. You can now turn on or off the alarm and vibration in your watch. But remember that this option will be available only in Android 6.0 Marshmallow. Then there is a new "Send Feedback" action in the overflow menu, and the homescreen widgets can now be fully resized.
Having said all that, all Android users must get this new update so that the Clock app remains smooth and stable with new features. You can download Clock 4.3 APK free from the Google Play Store via below source link.