The smartphone industry is the most popular one in the market now, while the PC industry is bustling as always. However, it's the tablet segment that seems to be on another level of competition, and with the success of budget smartphones, budget tablets have now started flooding the stores. And it's not about Android every time, as a lot of people desire tablets running the latest Windows 10 OS, which provides a smooth and fluid tablet PC experience.
If you are looking for a tablet that's easy on your pocket and provides great specs, you should consider the Chuwi Hi8 Pro tablet PC. Just move on from the unpopular brand name and you will see that the tablet offers really nice specs for its budget. The tablet Windows 10 out of the box and gets an 8-inch IPS display with a nice 1920 x 1200 resolution. The tablet gets juiced by a 4000mAh battery and gets connectivity options like the latest USB Type-C, HDMI, Bluetooth 4.0, OTG, WiFi, etc.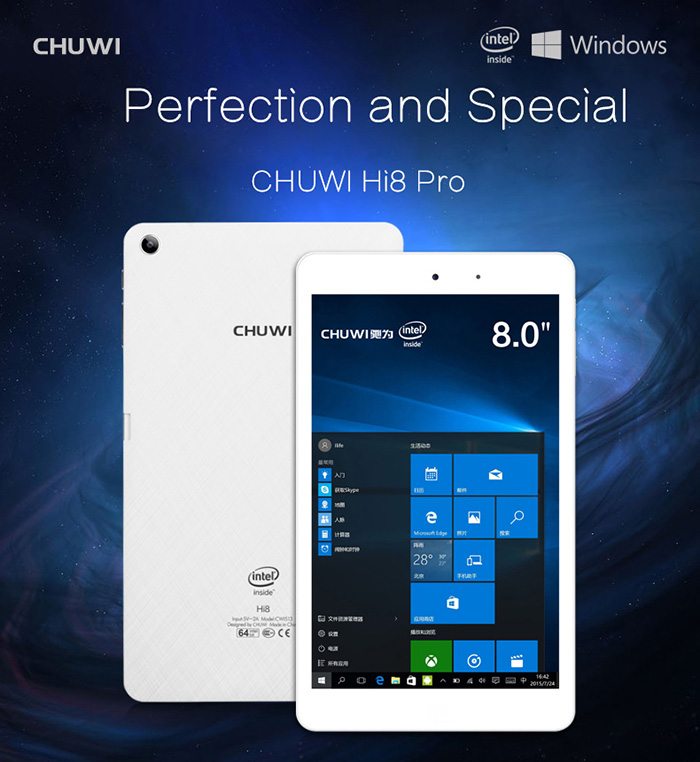 Powered by a an 64-bit quad-core Intel Cherry Trail Z8300 (Intel Atom-X5 Z8300) processor clocked at a maximum of 1.84GHz, the Chuwi Hi8 Pro comes with 2GB of DDR3L RAM and 32GB of onboard storage (expandable up to 64GB via MicroSD). There's a 2MP camera on the front as well as the rear.
The Chuwi Hi8 Pro looks really nice and slim and gives a premium feel. The thin bezels, the white body, and the chrome strip running along the edges all give this mid-spec tablet a very good appearance. The tablet is currently on sale for just $89.99 at GearBest. And for this price, we don't think you can get any better Windows 10 tablet than this.
Are you buying the Hi8 Pro? Let us know in the comments below.