Nomu Mobile, the smartphone division of China-based electronics giant Shenzhen Xin KingBrand Enterprises is known for its wide range of rugged mobile phones. Nomu S10, S20 (check out Nomu S20 review) and S30 have become very popular because of their sleek and sturdy build. Nomu S30 is IP68 certified, which means the phone is fully waterproof and dust-proof. For the uninitiated, IP in IP68 stands for International Protection marking, a standard by the International Electrotechnical Commission (IEC). The '6' in IP68 stands for the phone's resistance to dust, general dirt and sand. And the '8' rating means that the device can be underwater fully immersed at depths of 1.5m for a whole 30 minutes.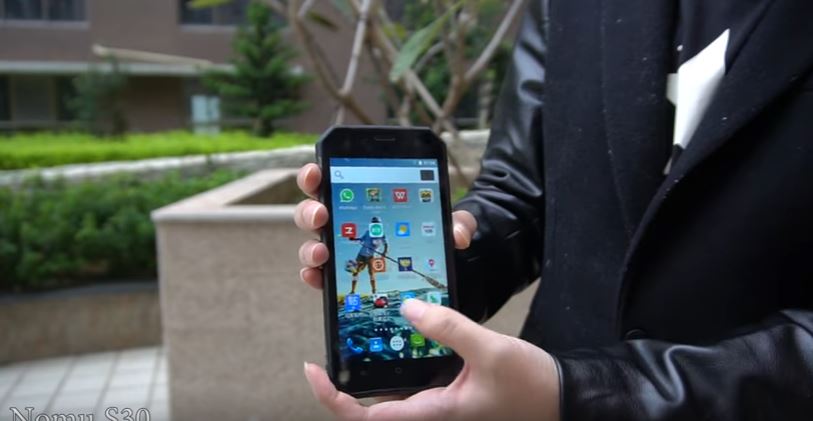 The professional rugged Nomu Series have gone through various kinds of rough tests. This time, Nomu S30 is facing the 100FT drop test with bottles of soda wrapping it up! The video shows the Nomu S30 being surrounded by 9 cans of sodas. The tester stands on a high floor – about 100ft high – and throws the rugged Nomu S30 down to the concrete ground and boom! All the sodas are blasted away due to the high speed but Nomu S30 survives the test and remains intact without any damage. Nomu S30 takes ruggedness to a whole new level.
As for the specs, the Nomu S30 features a 5.5-inch IPS display with full HD (1080 x 1920 pixels) resolution. Powered by a 2.0GHz 64bit octa-core MTK6755 processor, Nomu S30 comes with 4GB of RAM and 64GB internal storage. The handset runs on Android 6.0 Marshmallow.  The Nomu S30 sports a 13MP rear camera and a 5MP fixed-focus front camera. The phone supports 4G LTE and is fueled by a 5000mAh non-removable Polymer electric battery with quick charging technology. It uses the latest quick charge technology – PumpExpress 3.0 to offer 45 percent boost in charging speeds.
Among the three Nomu devices, Nomu S10 is the cheapest and most cost-effective IP68 certified phone. It's available on Ali express for just $114.70. The Nomu S20 is also IP68 certified and comes with cost-effective features.