Call of Duty Infinite Warfare did not impress a large majority of gamers and internet users. Modern Warfare Remastered got the approval ratings up for a while. But that soon went away when Activision made it mandatory to buy Infinite Warfare and the Remastered CoD 4 together. Well, now we have even more bad news for you.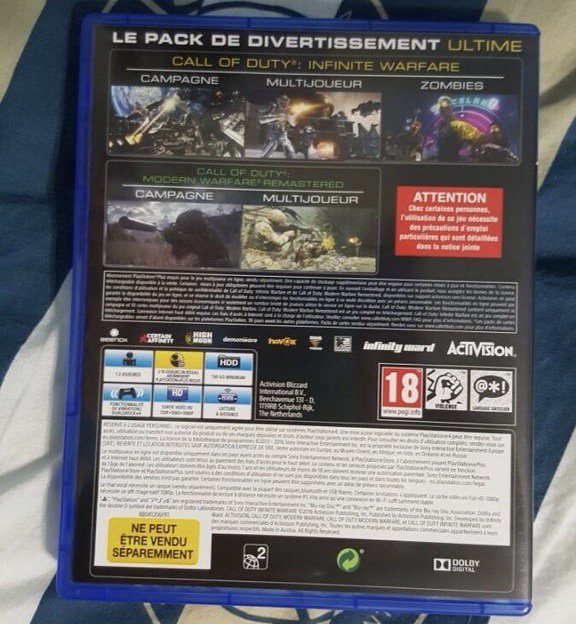 Call of Duty Infinite Warfare and Modern Warfare Remastered will have a whopping 130 GB download size
"French Retailer Micromania is handing out just a blank Call of Duty: Infinite Warfare Legacy box. It has the Modern Warfare Remastered campaign code for those that pre-purchased the PS4 version. They are the only retailer actually giving out a box. Apparently, customers have to go back on November 4 to get the Infinite Warfare disc.

This box has revealed a couple of interesting things: first off, the game, both Infinite Warfare and Modern Warfare Remastered will require 130GB space total. This total space is for both Modern Warfare Remastered and Infinite Warfare.

"The estimated storage space required for Call of Duty®: Infinite Warfare and Call of Duty®: Modern Warfare Remastered (Legacy, Digital Deluxe, or Legacy Pro) is a combined 130 GB. This is a high-end estimate. It includes both games. Any Day 1 updates. Also additional Call of Duty®: Modern Warfare Remastered multiplayer maps to be released before Dec. 31, 2016.
Charlie Intel was the first to report this. You can check out their piece. Could this drive fans away from the game. Hardly. But it could get annoying and cumbersome for those with not a good internet connection. Activision also answered some questions regarding the upcoming combo of CoD. You can check out that FAQ. As it turns out you won't need a constant internet connection to play the game.
"You need an Internet connection to initially download content. Once Modern Warfare Remastered has been downloaded, you do not need to be connected to the Internet to play/launch the Single Player Campaign or play Multiplayer locally."
Stay tuned to MobiPicker as we bring you more Call of Duty Infinite Warfare news and updates. Did you play the game's beta? Let us know in the comments.