This year's Call of Duty game will be titled Infinite Warfare, and we already have a cover art for the "Legacy Edition" of the game, along with its release date and a special surprise for series fans: a remastered version of 'Modern Warfare'.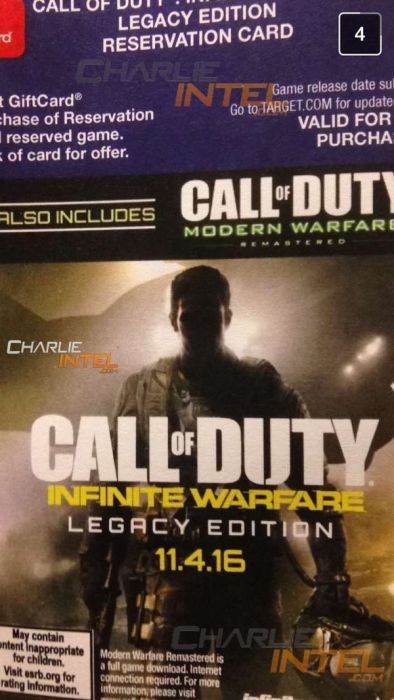 It is not clear whether 'Modern Warfare Remastered' is a remaster of just the original Modern Warfare game (Call of Duty 4: Modern Warfare), or a collection of all three Modern Warfare games in the series. Either way, it will be available as a free and full game download to owners of the Legacy Edition of Infinite Warfare.
As for the game itself, it certainly seems that the rumours from NeoGAF user Shinobi602 were true: the game is indeed set in a highly futuristic setting, with the protagonist holding what appears to be a spacesuit, and a something like a spaceship appearing behind him. The yellow text on the promo points out quite clearly that the game will be releasing on the 4th of November, 2016, which sounds like about the usual time for Call of Duty releases.
According to Jim Sterling, the game will be revealed on Tuesday, which is almost a week away from the date of this posting. Meanwhile, we're left to ponder at how a Call of Duty game could work in space. Is it basically going to be first-person Mass Effect shooting? Let us know what you think in the comments below.