Bluboo is a well-known company in the budget smartphone market and provides great smartphones for very affordable prices. If you like Bluboo smartphones or if you are looking to buy a budget smartphone, then here's a great chance. On account of Bluboo Anniversary Celebration, Bluboo devices will be made available for just $9.9!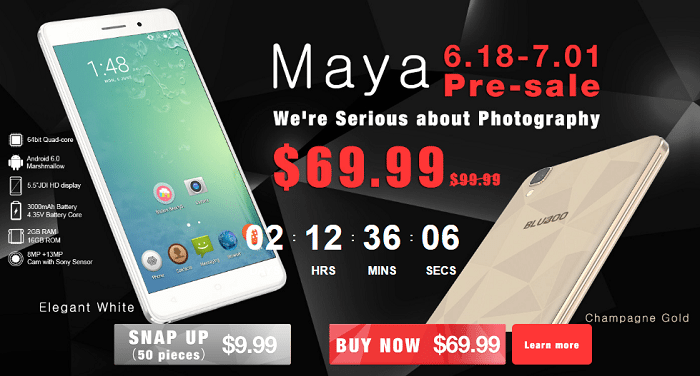 The promotion event will go live on 18th June and a limited amount of devices will be made available for $9.9 only. Apart from that, special discounts of up to $50 will be provided on popular Bluboo devices like Uwatch, Bluboo Xfire 2, X9, Xtouch, and Bluboo Maya. You should know that Bluboo Maya can now be pre-ordered and is being sold for $69.99 for a very limited period of time.
The Bluboo Maya features a 5.5 inches HD JDI display with a layer of Gorilla glass 3 on top. It sports a 13MP Sony camera at the back and an 8MP snapper at the front with an inbuilt Beauty Camera app. The device comes with 2GB RAM and 16GB internal storage, a 3000mAh battery, and a 1.3GHz quad-core processor.
At discounted prices, the Bluboo Maya and other Bluboo smartphones are really a steal-deal for everyone. So go ahead and get your favourite Bluboo devices for $9.99 of possible. Do comment below if you do get such a deal.