The newest Android smartphone with a dual camera setup, the Bluboo Dual, is finally available for presale, announced budget flagship maker Bluboo.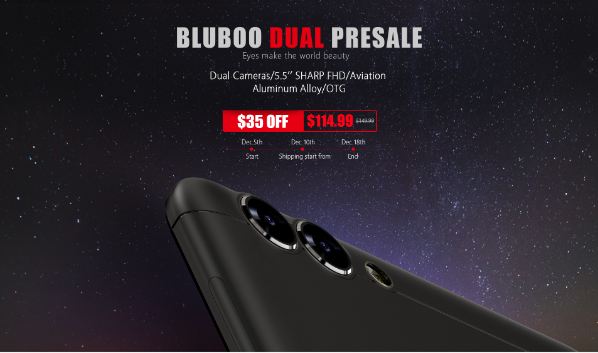 Thanks to Bluboo's aggressive marketing campaigns, you are probably already familiar with the Dual's key specs and features. Nonetheless, allow us to highlight the most appealing aspects of this budget Android flagship in a few quick words:
The first thing you will notice about the  Bluboo Dual is its dual camera setup flaunting a 13MP primary camera with Sony IMX135 sensor on the back, along with a subsidiary 2MP camera. While the 13MP camera captures the image, the subsidiary camera adds to the depth perception. The front camera on the front is 8MP.  
[Read: Bluboo Dual – "Fastest" Dual-Camera Smartphone Pictured | Here's What It Looks Like]
The handset flaunts a metal unibody made from an aviation grade aluminum alloy that not only looks sleek but is also fairly sturdy and immune to scratch and corrosion. Apart from that, thanks to the CNC cutting, the lines are smooth while the sand blasting on the back cover gives it a brilliant texture and secure grip.
[Read: Will Kirin 960-Powered 'Bluboo Dual' Emerge As The Fastest Dual Camera Android Smartphone?]
As for other key specs, the Bluboo Dual flaunts a 5.5-in SHARP display with Full HD resolution, a quad-core processor, microSD card support, fingerprint scanner, OTG support, and Android 6.0 Marshmallow, amongst others.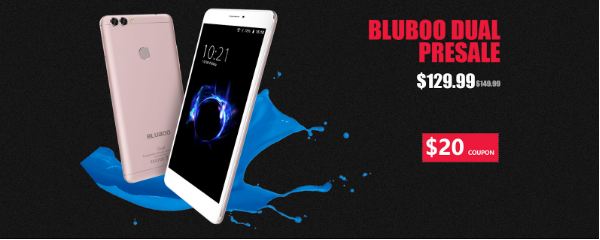 Bluboo Dual presale period will last through December 18 during which the new budget flagship from the Chinese smartphone maker will be priced at $129.99. Not just that, there is also a flash sale that will see the handset being made available at an even lower price — $114.99.
Once the presale offer ends, the Dual will be available at its original retail period $149.99.

Want to try your luck and win To win six free BLUBOO Dual pieces? Go visit the link below and follow the instructions:
http://promo.bluboo.hk/dual-presale-and–flash-sale/