BlackBerry fans are seeing their favorite company slowly vanishing. After BlackBerry switched to Android, many thought it will be a new start for the once first choice of business users. But high pricing, combined with a massive competition in Android world made BlackBerry sink even deeper. They still have some interesting models; the three of which are being compared today. The Priv was an attempt to bring back the good old BlackBerry design featuring a physical keyboard and Android. DTEK50 and DTEK60 are rebranded Alcatel models featuring BlackBerry's vision of secure Android OS. Let's see how the three compare and which one looks like the best choice.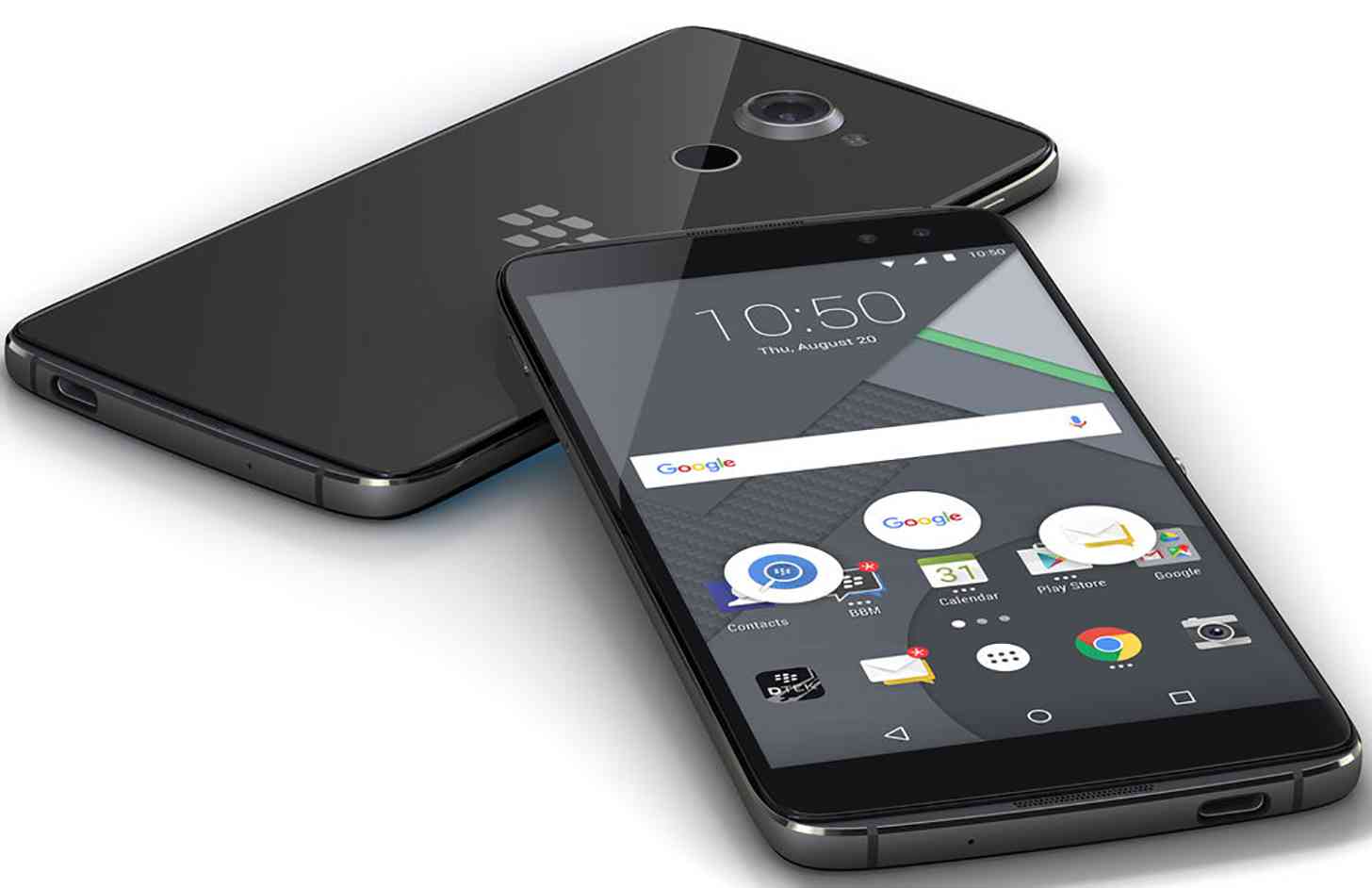 Dimensions, Design
The Priv features dual-curved screen, a sliding BlackBerry physical keyboard, and a classic business design without any flashy details. With the keyboard tucked the phone looks very attractive, with the huge screen dominating the front. You can see familiar BlackBerry branding above the screen and a speaker placed under the display. The back has just the main camera placed in the upper middle and a once famous BlackBerry logo below the camera. Overall, Priv is one attractive device. It measures 147 x 77.2 x 9.4 mm, solid dimensions for a 5.4-inch device.
The other two models look almost the same. Since they are based on two Alcatel models (Idol 4 and Idol 4s) the DTEK60 and DTEK50 feature a symmetrical design, one of the signatures of recent Idol models from Alcatel. Two speakers on the front (below and above the screen), along with sensors and selfie cameras placed above the screen are the only details visible on the front. On the back, there's a BlackBerry logo placed in the middle. DTEK60 features the main camera lens placed on the upper middle part of the backside and a fingerprint sensor below it. On the DTEK50, the main camera is placed on the upper left part of the backside. The DTEK60 measures 153.9 x 75.4 x 7 mm, an average size for a 5.5-inch device, while the DTEK50 measures 147 x 72.5 x 7.4 mm; it is visibly smaller since it features a 5.2-inch screen.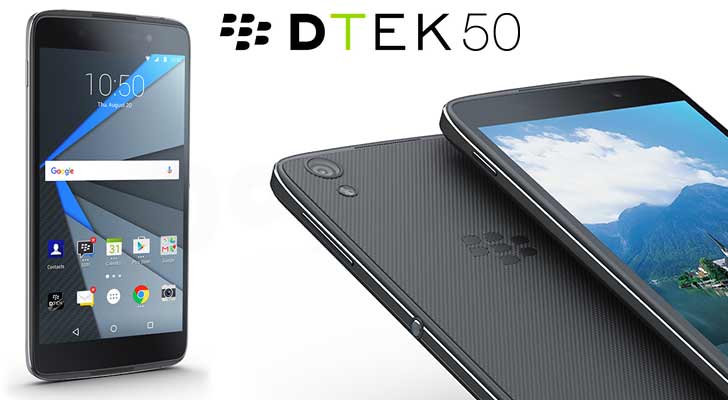 Hardware, Display
BlackBerry Priv launched a year ago, so the presence of Snapdragon 808 (4×1.4 GHz Cortex-A53 & 2×1.8 GHz Cortex-A57 along with Adreno 418) is understandable; the phone has 3GB of RAM and 32 GB of internal storage along with an SD card slot. Solid hardware for a 2015 device.
The DTEK60 comes with a Snapdragon 820 (2×2.15 GHz Kryo & 2×1.6 GHz Kryo coupled with Adreno 530), it has 4 gigs of RAM and 32 GB of expandable internal storage.
As for the last device, the DTEK50 is powered by Snapdragon 617 (4×1.5 GHz Cortex-A53 & 4×1.2 GHz Cortex-A53 and Adreno 405). Not powerful as SoCs featured on previous two phones, but it will get the job done, in most cases. DTEK50 has 3 GB of RAM along with 16 GB of built-in storage that can be expanded with an SD card.
The Priv comes with a 5.4-inches, 1440p, dual-curved AMOLED screen that looks great. Curves are minimal, used to make the phone more attractive, the screen is bright with rich colors. Perfect for reading and typing emails (especially with the physical keyboard), and for surfing the web.
BlackBerry DTEK60 features a 5.5-inch, 1440p, AMOLED screen, also offering rich colors and enough space for reading emails, light editing Word files, or surfing the web.
DTEK50 is a mid-range device, so it comes with a 5.2-inch, 1080p, IPS LCD display. Although colors are not as rich as on AMOLED screens, they are still bright and well saturated. The screen isn't a large as on previous two devices but is large enough for doing most business-related tasks.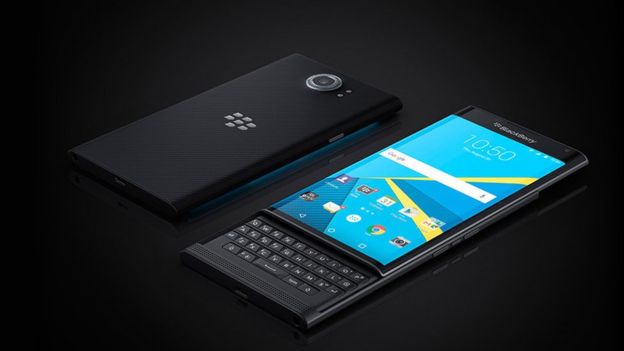 Camera
The Priv comes with an 18 MP (f/2.2) main camera offering OIS, phase detection autofocus, dual-LED flash, and HDR. It is capable of recording [email protected] videos. The selfie camera has 2 MP and can record 720p videos.
The DTEK60 features 21 MP (f/2.0) main camera sensor, supporting phase detection autofocus, dual-LED flash, and HDR. The main camera can record [email protected] videos, as well as [email protected] slow-mo videos. The selfie camera counts 8 MP (f/2.0) and can record 1080p videos.
The DTEK 50 is equipped with a 13 MP (f/2.0) main camera, supporting phase detection autofocus, dual-LED flash, and HDR. It can record [email protected] videos. The front snapper has 8 MP (f/2.0).
Battery, Software
BlackBerry Priv comes with a solid 3410 mAh battery; the DTEK60 features a 3000 mAh power bank, while the DTEK50 has a 2610 mAh battery. Only DTEK60 comes with a fingerprint sensor, while all three devices support quick charge technology.
BlackBerry equipped all three models with an extra secure version of Android (featuring secure bootloader and Hardware Root of Trust) as well with some BlackBerry apps (like Calendar and Hub). The Priv runs under Lollipop but is upgradable to Marshmallow. DTEK60 and DTEK 50 come with Marshmallow out-of-the-box.
Conclusion
If you are a business user, and your company signed for BlackBerry services, the Priv looks like the best choice. Physical keyboard, large dual-curved screen, and a tough chassis make for one excellent device. The chipset isn't the newest available but that isn't so important for business users. The DTEK60 and DTEK50 are solid devices, with DTEK60 being a better choice.
The DTEK60 comes with a glass coating applied on both sides; it has Snapdragon 820, a large 1440p AMOLED screen, and a better camera. The Priv can be found for Rs 37,990 (around $570) while the DTEK60 costs Rs 25,650 (around $385). They are expensive, so if you're not craving for a business smartphone featuring BlackBerry software and secure Android, there are lots of similar models that cost way less.