BlackBerry will release its upcoming flagship smartphone 'BlackBerry Mercury' at MWC 2017. Leaked teaser image reveals that the phone will debut on February 25, a couple of days before MWC 2017 takes place in Barcelona.
Although Blackberry lost tons of market share during previous years, mostly thanks to the explosion of Android and iOS devices, the company still tries to offer a competitive device powered by potent hardware, along with the old school physical QWERTY keyboard.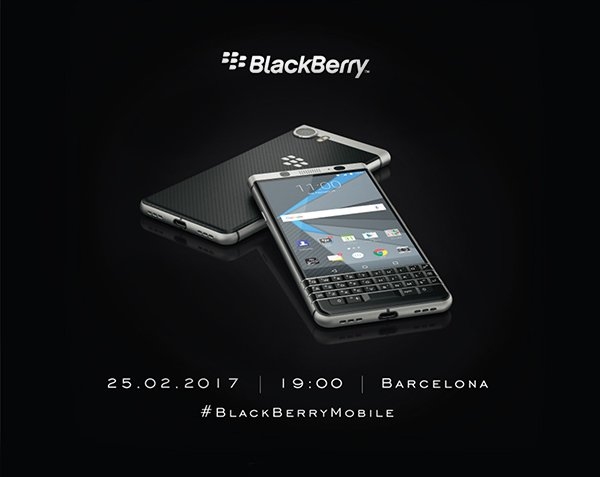 The looks are similar to the BlackBerry Priv, aside from the different display ratio. The BlackBerry Priv was the model that managed to return some interest into the BalckBerry, it was the company's first Android model. And although the phone didn't manage to generate strong sales, it was certainly an interesting phone to see.
The name isn't the official name for the device. Mercury is just a codename, so we don't really know how the device will be called once it launches.
On the other hand, the design is shared in the image above, and we can see that the device will sport a curved, 4.5-inch touchscreen in combination with a sturdy-looking physical keyboard. The back of the device shows the main camera, which sticks a bit, and the large BlackBerry logo placed in the middle of the back side.
The device will feature a metal chassis along with the carbon fiber back panel. The 4.5-inch screen will sport Quad HD resolution, with Android 7.0 under the hood. The BlackBerry Mercury will be powered by Snapdragon 625 chipset and will pack 3 GB of RAM and 32/64 GB of expandable internal memory. The hardware is not top of the line, but it should provide enough power for the phone to work in the way intended.
The main camera has 18 MP, while the selfie snapper features 8 MP sensor. Reports state that the phone should use the same camera sensors as the ones used in the recent Pixel phone line. Other features include a fingerprint scanner embedded into the space key of the keyboard (a nice addition), USB Type-C port, and a 3,400 mAh battery.
The phone's price is still unknown, but it should debut with all major US carriers, although Verizon should have limited exclusivity rights.