The year 2015 is coming to an end soon, and year-end sales are what everybody eagerly waits for. It is common for online retailers to run various holiday offers in order to provide the best gadgets to the users at more than affordable prices. Everbuying has decided to do the same by announcing the Black Friday Bonanza sale.
We contacted Everbuying to know more about the sale straight from the horse's mouth. According to the e-tailer, it is the largest sale ever held on the website. The sale will start on 24th November at 09:00 UTC and will end on 29th November 09:00 UTC.
What sets this sale apart is the way users can buy or win products. Firstly there's a Share & Win opportunity, which basically allows users to enter into a lucky draw by just sharing the Black Friday page on Facebook. Lucky users can win smartphones and EB (Everbuying) points which can be redeemed for products.
Then there's a 20% OFF coupon only for the early birds, i.e., those who buy gadgets from the sale within 48 hours of the sale going live. However, this coupon will be applicable for gadgets with their original price and not with any promotional pricing or offers.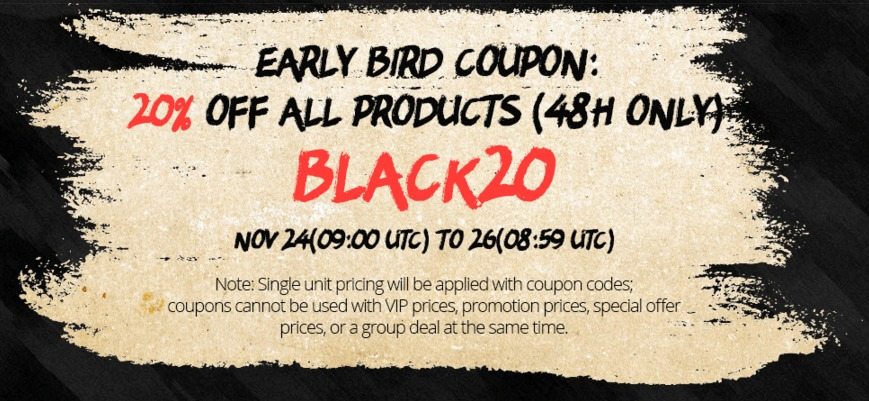 The sale has a Dream Products section, where shoppers can buy high-end smartphones at throwaway prices from 26th to 29th November only. The prices will be further reduced for those 3 days. For example, the Xiaomi Mi4 will be available for just $195.99 from November 26th to 29th, but if you buy it from 24th to 26th November, the price will be $214.99. The Dream Products section has got a lot of smartphones, smartwatches, headphones, cameras, tablets, and more to choose from, so there's something for everyone here.
For those who win EB points or have collected a lot of EB points during their earlier purchases at Everbuying, there's a Redeem section at the Black Friday sale where you can get products at very low prices by using those points. There's another section called Cyber Monday sales carnival, but it's currently under wraps and will surely offer something exclusive.
So that's all about it. In case you are looking to buy some great gadgets for you or your loved ones this holiday, then you really should not miss Everbuying's Black Friday sale.