If you are a frequent traveller, you will surely need some guidance when you go to a place you are not familiar with. This is where your mobile comes to your help. Thanks to so many apps available for iOS and Android devices, travelling has become hassle-free. If you haven't installed any such apps and are looking for the best ones, you are in the right place. We have listed down the best travel apps for Android and iPhone here that will help you travel to different places without any headache.
1. GetYourGuide
This is one of the best Android travel apps in our list. GetYourGuide is a free iOS and Android app that lets you find and book various tours and tickets across the city or country you are in. You can book an Eiffel Tower ticket without waiting in line. You can book a day trip or kayak sessions, or you can just pick any activity you want and the best price will be displayed to you. Reviews from other travellers help you choose the best attractions with the help of GPS, and the easy and secure payment system makes everything so hassle-free. There's a wish-list option, and you also can search activities for specific cities or countries.
2. Hipmunk
This is one of the hottest and most popular travel apps for Android currently. The app has received great reviews by leading industry experts. Hipmunk offers you the best deals on flights and hotels by offering you price comparisons. So when you book your flights and hotels with this app, you can be sure that you are getting the cheapest rates on your travel. Hipmunk makes booking your trips faster. Exclusive last minute deals in the app can offer up to 60% off on hotels and flights.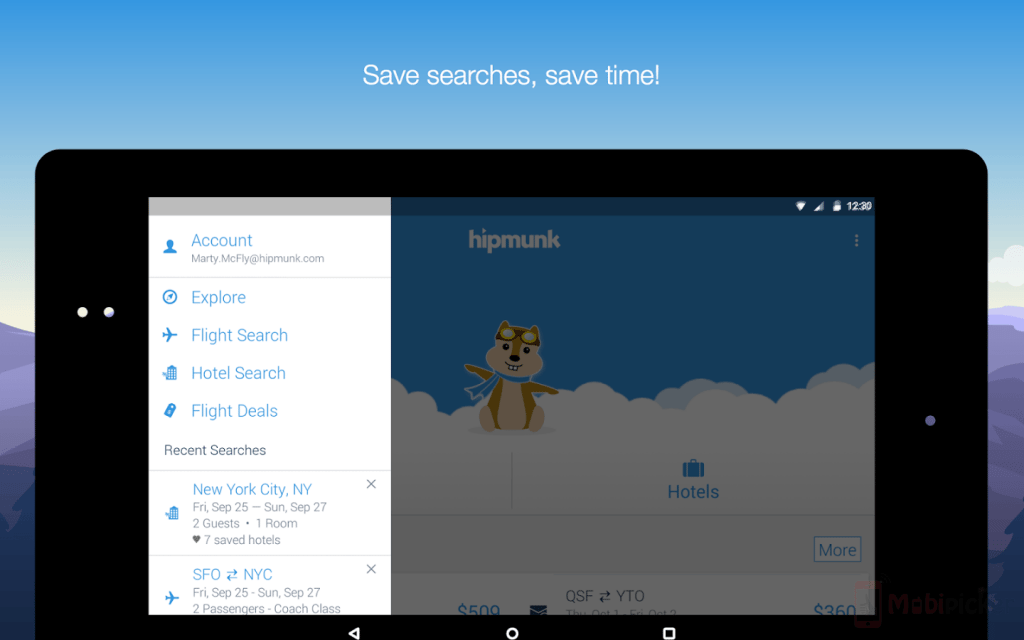 3. TripAdvisor
You surely would have heard about TripAdvisor, as this app is one of the most loved apps since its launch on the iOS and Android platform. The website itself dates back to the year 2000. While other apps offer information about the amenities in different hotels or resorts, TripAdvisor literally advises you whether or not to stay there. You get to read reviews on TripAdvisor that are left by real people who have experienced that hotel, which will help you decide whether it is a pleasant place for your vacation stay.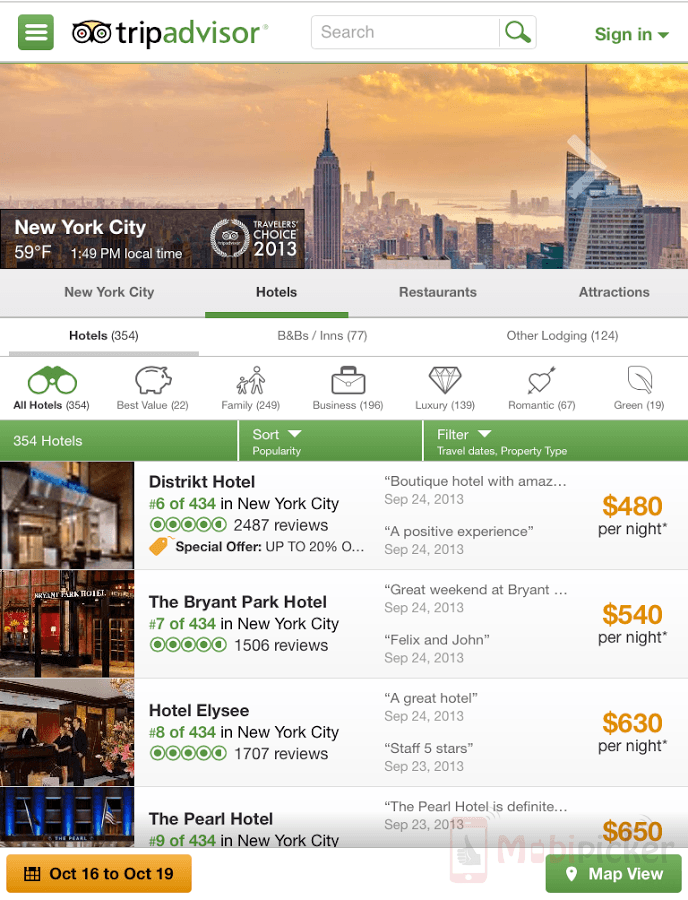 4. TripIt
While travelling, it is very hard to manage all the tickets, passes, bills, etc. in one place. Wouldn't it be so much more convenient if there was an app to manage it all? Well, now there is one more from the best travel apps for Android and iPhone that can help you out. TripIt is an organizer app that stores all your travel plans and shows them in a very well-organized way. All you need to do is create an account and start emailing your travel plans from any websites to the TripIt account. The web service will bring all the information like dates, times, places, maps, pictures, etc. all in one place to show you a beautiful itinerary. Nothing could be easier than this.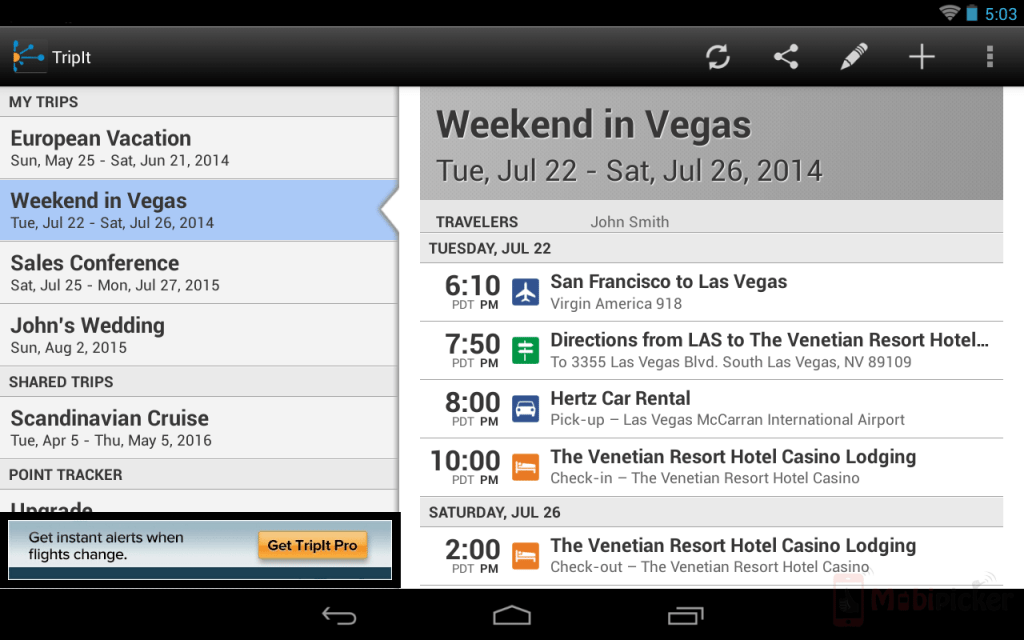 5. Google Translate
Travelling to a different state or country can mean that you need to have a knowledge of the language spoken in the region you are travelling to. You might face problems and confusions if you aren't familiar with the foreign language. This is where Google Translate comes to the rescue. You can type text and translate it into the language you want. You can even draw words and they will get translated. Even speaking out a word or sentence will translate it for you to the language of your choice. Heck, you can even scan a foreign language and translate it. It's easy to use and the best translator ever. This is definitely one of the top travel apps for Android you should have.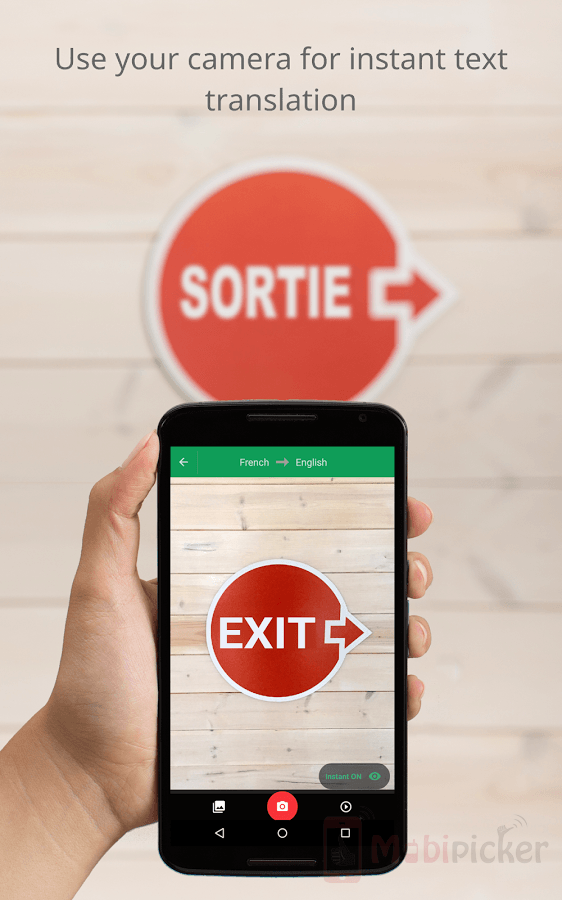 So, it is our list of 5 best travel apps for Android and iPhone. We are constantly checking more available options and will add on the list if we find that there are more apps which deserve to be on the list of best free travel apps Android.