Downloading your favorite Movies, Music, Games, TV Shows, and Software is always fun and if it all comes free, that's even better. How can you get all of these things for Free? Well, you can have all of these for free by downloading them from the Torrent Sites via Torrent Clients. What's a Torrent Client? Well, a Torrent Client is a tiny piece of software or an application that makes it possible to download Torrents. All you got to do is to download and install any of the available Torrent Clients and enjoy downloading tons of your free favorite files. Torrent Clients Such as uTorrent, Transmission, Vuze, BitTorrent, and BitComet are widely used to download stuff from the torrent sites. If you want to know about some of the best Torrent Clients, you should totally check out the list below.
Best Torrent Clients
Disclaimer: We don't support illegal content download from internet. If you are using the torrent sites to download free software, movies or any other stuff, make sure it is legal and you have proper permission from the content owner.
Let's check out the best and fastest Torrent downloaders below.
1. uTorrent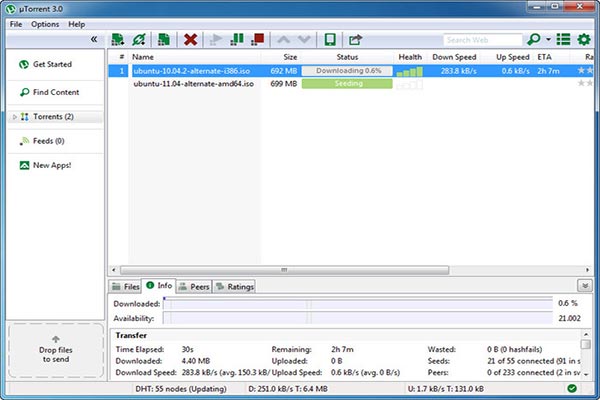 uTorrent or also known as µTorrent is a Fast, Reliable, and one of the most popular Torrent Clients. It's a feature-rich piece of tech that allows you to download torrent files. Developed by BitTorrent, Inc, uTorrent is easy to use, manage, and control. It lets you Download or Upload your favorite files over the internet on High Speeds and secure lines. Like many other Torrent Clients, uTorrent uses P2P protocols with UDP ports and it uses the minimum of your bandwidth.
With Stop, Resume, and Pause facilities, Video Streaming, and the beautiful layout ranks high on the lists of Best Torrent Clients. As a useful, effective and a safe torrent downloading app, uTorrent uses the smallest of your system resources and is quite little in size. If you want the best in this particular regard, uTorrent is your best choice. It can be downloaded from Official uTorrent Website for free.
| | |
| --- | --- |
| Supported Platforms | Windows PC, Mac, Linux, Android |
| Price | Free |
| uTorrent Download Link | Windows | Mac | Linux | Android  |
2. qBitTorrent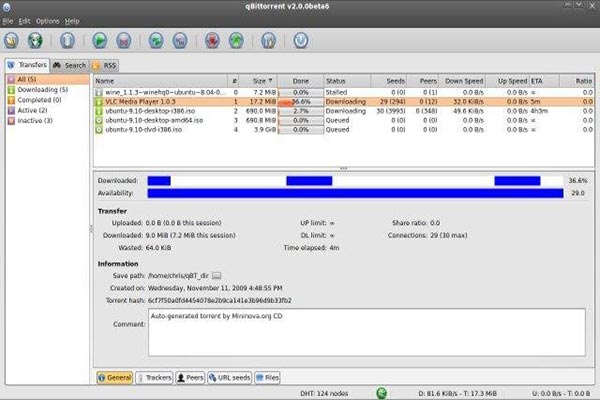 qBitTorrent is another Free Open Source Torrent Downloader application and the best alternative to Utorrent. It offers cross-platform usability and offers fast Downloads and Uploads. qBitTorrent is quite lightweight, easy to manage, and uses a lot less of your system resources that most of the other Torrent downloaders. It offers a variety of innovative features. The most fantastic of these features is the Search that allows you to search for your favorite files categorically and save up a lot of time and effort. Web-based RC (Remote Control), IP Address Filtration, Port Forwarding, Pinging, pausing, and Resuming are among the most brilliant features of qBitTorrent.
If you are an advanced user of Torrent Clients, the above-mentioned features would definitely cheer you up. And if you are a general User, you don't even need to adjust any of the properties or stuff because qBitTorrent does it all for you. As a powerful, speedy and reliable application, qBitTorrent is considered as one of the best Torrent Clients. If you want to try it out, you can download it from the Official qBitTorrent Website.
| | |
| --- | --- |
| Supported Platforms | Windows PC, Mac |
| Price | Free |
| qBitTorrent Download Link | Windows | Mac |
Also Check: Best Video Player for PC
3. Transmission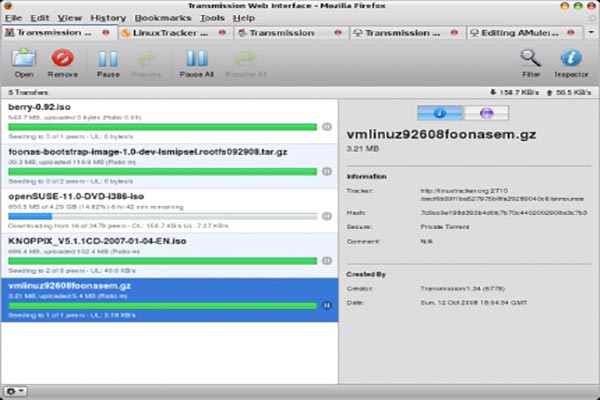 Transmission is a simplistic, fast and advanced Mac Torrent Client that works like a charm. It lightweight, reliable and secure Torrent Downloader for all those who love downloading stuff a lot. With a remarkable User Interface, it works quietly in the background and lets you keep up with your other tasks at the same time. Because of its reliable nature, Transmission is quite suitable for server-based systems. Transmission lets you control it via Remote Control functionality as well.
For this particular purpose, you can use SSH Terminals or a web Client. It's free Open Source software that is available is various versions for different types of systems. Another robust feature of Transmission is that it keeps you notified for all of your Downloaded, Completed and unfinished Downloads. For a very innovative, easy to manage, and a reliable experience, you should definitely use Transmission. It's one of the best Torrent Clients you'll ever find. You can download Transmission from the link given in the table below.
| | |
| --- | --- |
| Supported Platforms | Mac, Unix |
| Price | Free |
| Transmission Download Link | Unix | Mac |
4. Deluge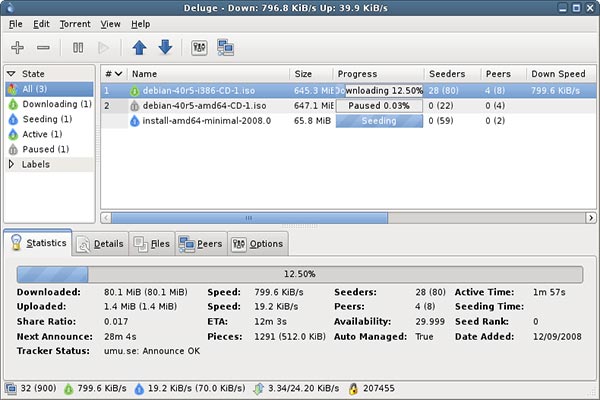 Deluge is a Pioneer because of its promising nature. It's one of the oldest and free Torrent Clients that's lightweight, fast and secure at the same time. It's totally free to download and offers innovative features such as Data Encryption, Password Protection, Torrent Scheduling, Remote Access, and lets you install various Third-party Plugins. These Plugins are all community built and are available at the official Deluge website. With these plugins, you can extend this remarkable app's functionality and enjoy more perks.
With a slightly simple User Interface, loads of innovative features, and a small install size, Deluge is quite suitable for PCs, NAS devices, and loads of other Remote Access enabled systems. As one of the most Powerful, trustworthy and fastest content downloading app, Deluge is one of the best Torrent Clients. If you spend a lot of time downloading content from the torrent sites, Deluge should definitely be your choice. You can get Deluge from the link given in the table below.

Also Check: Best Sites to Watch Free Movies Online
5. Tixati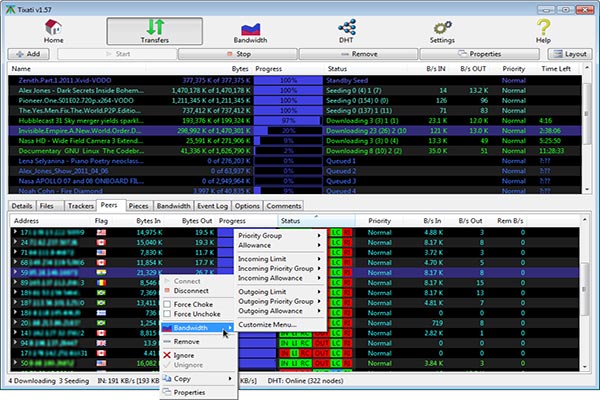 Tixati is the newest torrent downloading application that proves its worth among all the other high-end and best torrent clients. It's powerful, lightweight, and fast at the same time. With a relatively nicer and simple UI, tons of new features, and low system resource consumption abilities, Tixati is quite an economical torrent client. Some of the greatest features of Tixati are Port Forwarding, IP Address Filtration, Torrent Scheduling, and Magnet link Support. It takes a lot less install space than the most of other Torrent Clients. The official website of Tixati offers all types of user guides that can come handy while downloading stuff from the internet.
With both advanced and basic capabilities, Tixati is free to use. You can also manage it via the Remote Connections and enjoy being in full control of almost everything. Tixati is recognized and admired globally. As one of the best torrent clients, Tixati offers a secure and reliable way of downloading and uploading torrent files. For all those who love downloading torrents via a very simple yet effective torrent client, should definitely use it. It's highly recommended by all the users of Tixati worldwide. Tixati is available for download at the Official Website.
| | |
| --- | --- |
| Supported Platforms | Windows PC, Linux |
| Price | Free |
| Tixati Download Link | Windows | Linux |
6. Vuze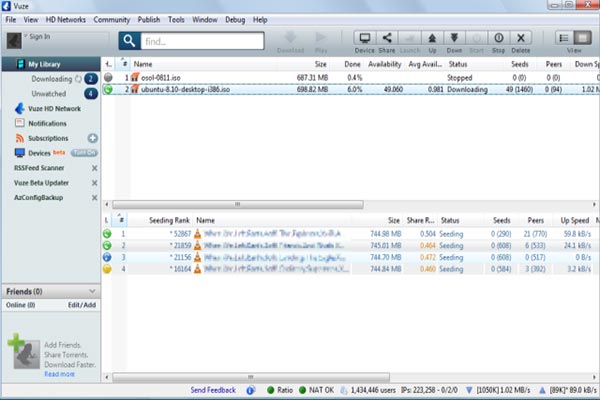 Vuze ranks on top among all the best Torrent Clients of this year. It's available in both free and paid versions. The free version of Vuze is not short on features but the paid version offers more of them and some really interesting perks. As one of the most powerful and consistent torrent client, Vuze offers two colorful themes such as "The Stripped Back Vuze Leap" and "Default Vuze". Besides the regular torrent Downloading routine, Vuze lets you stream torrents as well.
For this purpose, Vuze makes you install another stand alone software and lets you stream. Furthermore, it allows you to install various plugins, use  Remote Access to control it from other devices and enjoy downloading files. With a remarkably beautiful UI (user Interface), easy navigation and loads of other great features, Vuze is the best Torrent downloader. Do try it out if you haven't yet and satisfy your inner content lover. You can get Vuze from the Official Website.

Also Check: Best Equalizer for Android
7. BitComet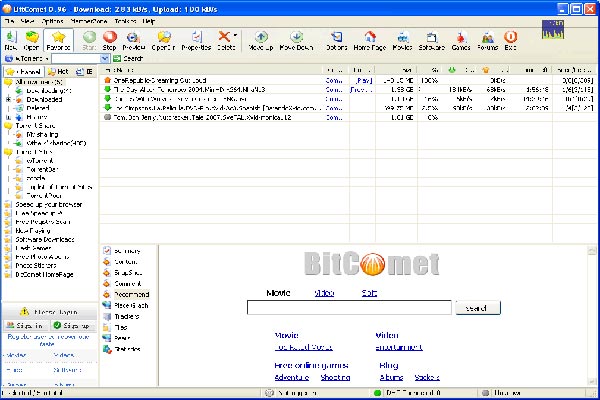 BitComet is probably the classiest on our list of best Torrent Clients that you can use this year. It's an Ad free torrent client that offers Fast Downloads and secure data transfers. Another great feature of  BitComet is that it allows you to enjoy downloading your favorite things via HTTP and FTP protocols. It's a Download manager and a Torrent Client at the same time. It offers no toolbars and no supports no ads at all.
This makes it one of the most lightweight, fast and reliable torrent clients ever created. As compared to other torrent clients, it's not so much pretty with respect to its looks but it user-friendly, fast and light on system resources. This is what makes it one of the best torrent clients for the masses. If you are fed up of all the ads, slow speed downloads, and complex torrent client properties, you should definitely try it out. Interested…? Download it from the link given in the table below.
| | |
| --- | --- |
| Supported Platforms | Windows PC |
| Price | Free with Ads, $29.90 for Premium |
| BitComet Download Link | Windows |
8. BitLord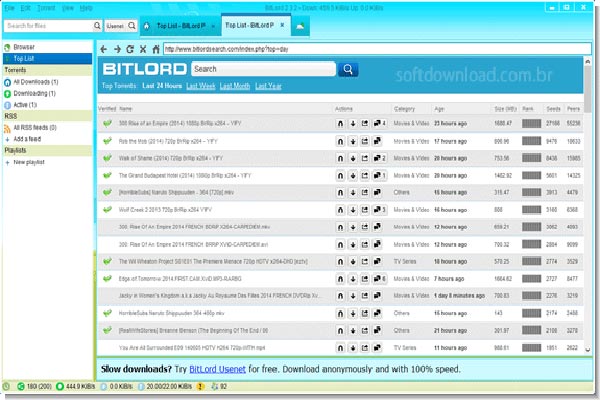 It's simple, its fast, and it's lightweight. Yes, the BitLord is a remarkable and gradually new Torrent Client that comes with VLC Player bundled with it. Now you can download stuff and start streaming it on VLC Player right on. In a world of Complex software, apps, and programs, BitLord offers you a simple piece of tech that eats fewer system resources and gives a 100% output. It's incredibly fast and it offers features such as Pause, Stop, Resume, along with several others.
The VLC Player lets you watch each and every type of media file you download and enjoy it big time. Plus, it helps you find more things on the internet, download them via torrents and BitLord, and always stay in control. Because of its simple layout, simple preferences, and properties, it might not be a thing to inspire all the Hardcore Torrent freaks, but if you are a beginner, it should really be on your system. Visit the Official Website if you want to download BitLord.
| | |
| --- | --- |
| Supported Platforms | Windows PC, Mac |
| Price | Free |
| BitLord Download Link | Windows | Mac |

Also Check: Sites to Watch Free Sports Online
9. Transmission-Qt Win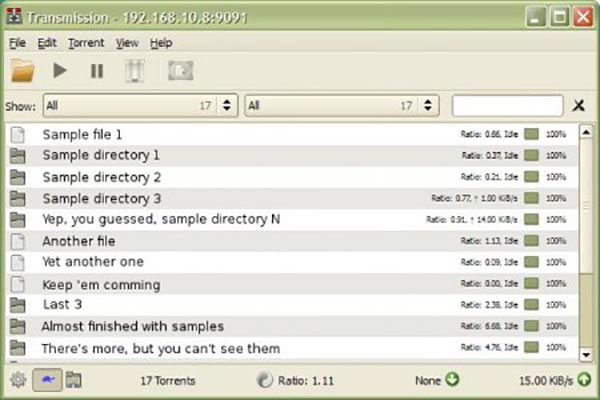 Transmission-Qt Win is a Windows specific port of the popular Transmission BitTorrent Client. It offers all of the fantastic features of the original Transmission client plus adds up a bunch of new one too. With a simplistic design, loads of great features and the smallest size, Transmission-Qt Win allows you to enjoy high-speed downloads, uploads and online streaming of media at one place. If you are all into more simple and easy to understand Torrent Clients, Transmission-Qt Win is the best for you.
The developers are continuously working on it to make it better. If you see some tiny bugs, don't get disappointed. For the time being, you can enjoy downloads with small sizes but in future, it'll get better according to the developers and that's when you can enjoy all the biggest and longest downloads. For all those who want to try Transmission-Qt Win, get it below.
| | |
| --- | --- |
| Supported Platforms | Windows PC |
| Price | Free |
| Transmission-QT Download Link | Windows |
10. BitTorrent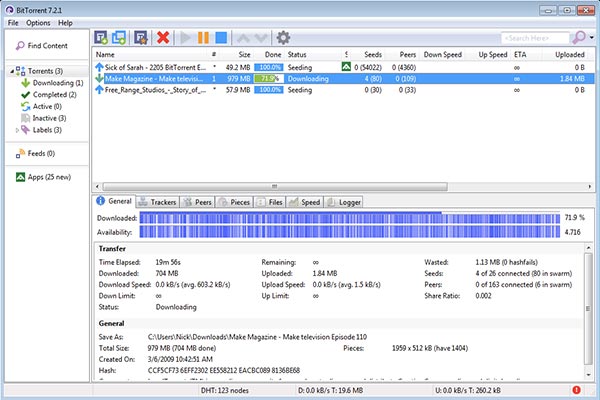 BitTorrent is BitTorrent's own Torrent Client. It's all packed up with top notch features and allows you to download all kinds of torrents big or small whatever the size. BitTorrent is also the company behind the remarkable uTorrent, so it offers loads of similar features. This makes it one of the best Torrent Clients of all times. You can download content on high speeds and upload it with confidence. It uses P2P connections and allows you to transfer data via using the UDP ports.
Because of being identical to the uTorrent, it offers features that are similar to it and adds up some new ones as well. Web-based Seeding, Comments, Reviews, and all the Private Tracking perks are among the new and fantastic features you'll experience in BitTorrent. For all those who don't like uTorrent much, can use it and enjoy a totally new experience of Torrent Downloading. If you want to try it out, you can download BitTorrent from its official website.
| | |
| --- | --- |
| Supported Platforms | Windows PC, Mac, Android |
| Price | Free | Paid – 4.95$/year, $19.95/year |
| BitTorrent Download Link | Windows | Mac | Android |

Also Check: Free Proxy Sites
Conclusion:
Attention:
Governments and ISPs around the World monitors their users' online activities. Reclaim your freedom with
ExpressVPN
and browse the internet with confidence.
All the above-mentioned BitTorrent Clients are some of the best Torrent Clients you'll ever come across. We've chosen them just according to their popularity over the web and their user strengths. Obviously, there are more Torrent Clients other than that we discussed above, but we have listed only the top 10 torrent clients here. So, if you know about any more of the worthy torrent clients you like listed here, do let us know. We'll be happy to know about your favorites and would love to add them up in this list of Best Torrent Clients. Please leave your precious comments and let us know more.