There are many third party Apple Watch bands and straps in the market. These Apple watch band and straps are a cheaper alternative to what Apple is offering. Before you start dismissing the third-party alternatives, you should know they are not illegal, all credit to the Made for Apple Watch Program. So, if you want straps and bands with more style and friendlier price, look at the list we have compiled below.
Best Apple Watch Bands and Straps
1
Pad & Quill Classic leather Band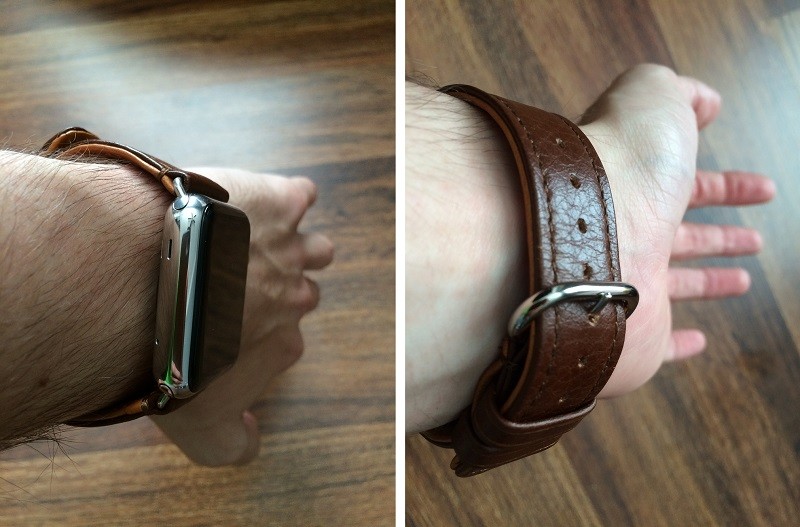 Price: $99
If you are looking for a classic leather look for your Apple watch then this is the band for you. The Italian leather will feel comfortable on your wrist. The band is available in multiple colors. It is suited for an official setting. The classic leather band is made for apple watch series 1 and 2. Available for 42mm and 38mm. Features UV-resistant stitch thread and comes with a 25-year leather warranty. This one's got to be on the list of best third party Apple watch bands and straps.
2
Baseus Apple Watch Milanese Loop Strap
Price: $69.99
Are you looking for a cheaper alternative to the Official Apple Watch Milanese Loop? The Baseus Milanese Loop Strap has you covered. With smooth stainless steel netting woven by Italian professional equipment, this shiny metallic band is one of the best third-party Apple watch straps you will find. It is available for 38mm and 42mm Apple Watches. You can buy the gold-colored strap or the stainless-steel strap.
Price: $27.99
This Apple Watch Sports band alternative feels more masculine. It is suitable for the 42mm watch and is made of hybrid polymer for extra comfort and durability. One-of-a-kind sporty design for rugged appearance that matches Spigen cases. The band maintains the pin-and-tuck strap system. It is suitable for athletics and workouts.
Price: $52
Casetify produces a wide range of Apple watch bands and straps. The bands are made of a poly-carbonate material. The Casetify Galaxy Star band is bright and flashy. The purple galaxy print maintains illuminates the beauty of the Apple Watch. This band is designed for ultimate comfort while embracing individuality. Available for both 38mm and 42mm. This band from Casetify is definitely one of the best third-party bands for Apple watch.
5
eLander Stainless Steel Band
Price: $22.99
If you are one of those people who believe stainless steel bands are the best, then this band from eLander will do just fine. You can choose the silver colored or the dark gray strap. It is available for both Apple Watch sizes. The premium stainless steel metal features luxury, nobility, elegance and durability. High-tech surface finish watch strap fits your device and feels comfortable on your wrist. This also comes with a watch link remove kit to help you adjust the length of the wrist.
Price: $250
This Apple watch strap has a seemingly high price tag. But what would you expect from a strap that actually charges your watch? According to the manufacturer, the strap charges the watch through the 6-pin accessory port located inside the watch's connector to the bottom strap. This Apple watch 3rd party band is available in black, white, and gray. However, in recent WatchOS releases, Apple made the decision to remove all functionality from Apple Watch's accessory port thereby blocking Reserve Strap's ability to charge the Apple Watch. This was a deviation from how the port functioned in all previous WatchOS releases and appears to have been a deliberate effort to block development of third party smart bands. But this may come in handy since Apple continues to run old versions of WatchOS on their in-store kiosks in order to utilize the functionality of the accessory port.
Price: $52
As far as Apple Watch bands are concerned, ladies are not very much considered. This is probably the reason Casetify designed this classic strap which best suits the working-class lady. The refined plastic and attractive color combination is nothing but a representation of style and class.
8
XISTWEAR 38mm Rose Gold Band
Price: $125
In case you have not noticed, rose gold is the preferred jewelry color these days. This watch band feels like a bracelet without clasps. Join the rose gold jewelry trend with this classic Apple Watchband from XISTWEAR. But it is only available for the 38mm Apple Watch.
Price: $40
Cubify Flex is a 3D printed flexible nylon watch strap. These bands resemble bracelets but have no clasps. They are comfortable on the wrist and come in stylish colors.
10
JETech Leather Loop Strap
Price: $19.99
Forget the leather strap with a metallic finish. This leather strap from JETech features an adjustable magnetic clasp which has unique design, no buckle needed, just stick and lock your watch band easily. This Apple Watch strap is only available for the 42mm watch. The colors to choose from are black, blue and red.
The next time you want to change your Apple Watch straps, consider the third party Apple Watch bands above. Definitely, these are not the only bands available, but the list features some of the best. Do you have more Apple watch third party bands in mind? Let us know through the comments section.
Also, check out best Apple Watch Apps and Apple Watch Accessories.