Microsoft has modified and made the Windows Operating System more and more aesthetic friendly but sometimes it just feels to have a change. A change to enhance the quality of time you spend on your PC. Windows OS offers limited visual customization and let you change wallpaper occasionally or you can use a number of both official and third-party custom themes. For this purpose, there are some very good software that help you tweak Windows desktops more than the default Windows customization options. One of the most popular Windows tweaking software is the Rainmeter. It allows you to tweak your Windows as well as install some wonderful themes on it. It ultimately helps you make Windows a more usable and visually stunning platform. If you are in search of some really good Rainmeter skins, you can try the following.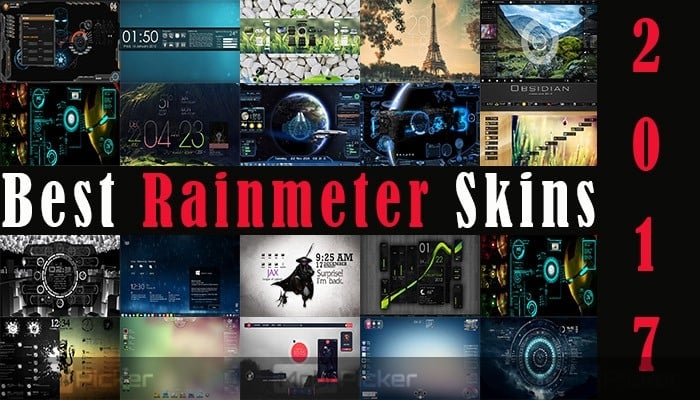 Best Rainmeter Skins for Windows 10
We've compiled a list of twenty best Rainmeter Skins that you can use on your Windows 10 PC and enjoy having a better visual experience.
1. Tech-A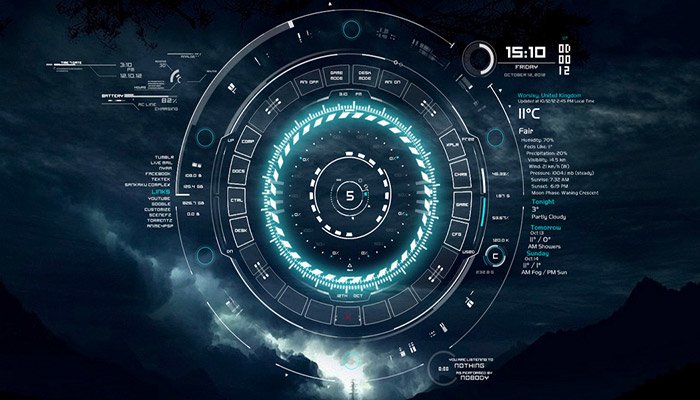 Tech-A is a beautifully designed Rainmeter theme for Windows 10. It's versatile and futuristic yet minimal theme you can apply to your computer. It lets you have a display of per-core CPU usage, Ram utilization, Date, and Time along with information about several other things. If you want shortcuts to system folders, disk partitions, and windows settings, Tech-A has got you covered. You can manage it all on your desktop in a beautiful visual and animated display.
2. Avengers SHIELD OS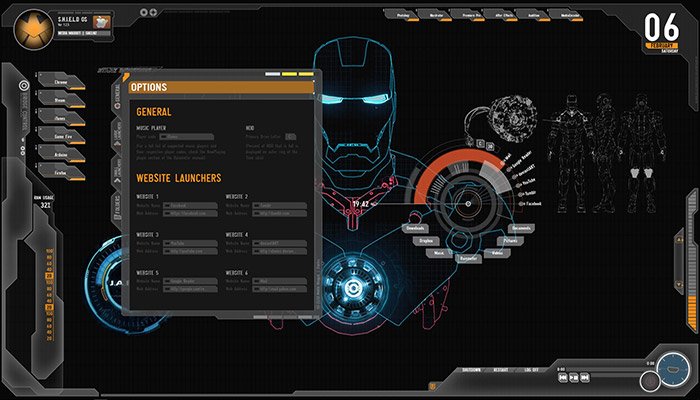 Ever tried being in control of your own Avengers team? Well, with Avengers SHIELD OS Rainmeter skin, you can play Nick Fury while sitting in front of your PC. It's probably one of the best Rainmeter skins that's available with multiple resolutions options. It also includes tons of great shortcuts for the apps (Browsers, media players, folders, etc.) that you use frequently. You want volume control, media playback bars, CPU and RAM usage details, and Power buttons on your screen, you can simply use the Avengers Shield OS Rainmeter theme.
3. Pog Pack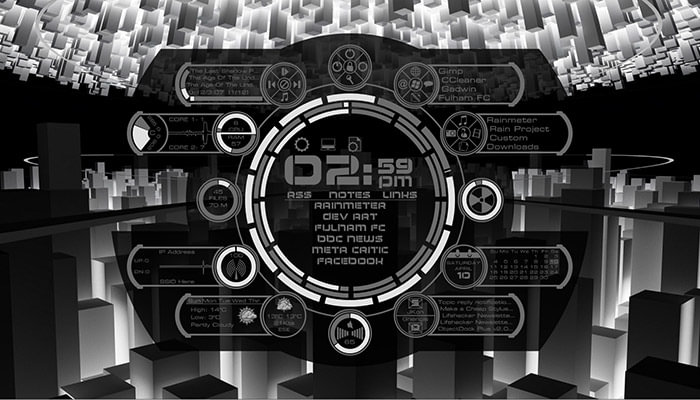 The Pog Pack is one of the best Rainmeter skins by a renowned Rainmeter suite developer "The Cosmetic Suite". This particular Rainmeter skin is highly customizable and offers tons of options. The Pog Pack offers 10 different variants that you can manipulate to suit your requirements and change the look of the Pog Pack skin. It allows you to have a variety of different customizable modules. The Pog Pack lets you have 12 basic Pogs. Eight out of the 12 Pogs are tabbed. With the Pog Pack, you can have displays of such as Weather monitor, Calendar, IP Address, Notifications, and System Status, etc.
4. Adian Bolon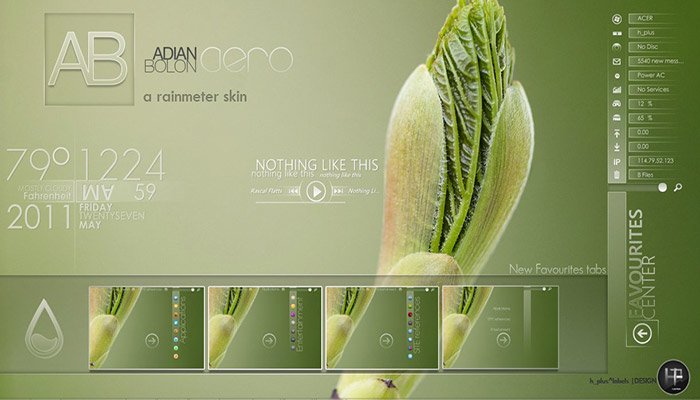 The Adian Bolon or also known as Adian Bolon Aero is one of the most liked and well received Rainmeter skins. It lets you customize your Desktop like no other skin available over the web. With a number of variants, the Adian Bolon skin lets you launch your favorite windows app in a single click. Other features are the display of local clock, multimedia player controls, notifications, and more. Moreover, the Adian Bolon offers a soothing green theme and a bunch of other remarkable options. Based on overall ratings, the Adian Bolon is one of the best Rainmeter skins.
5. Obsidian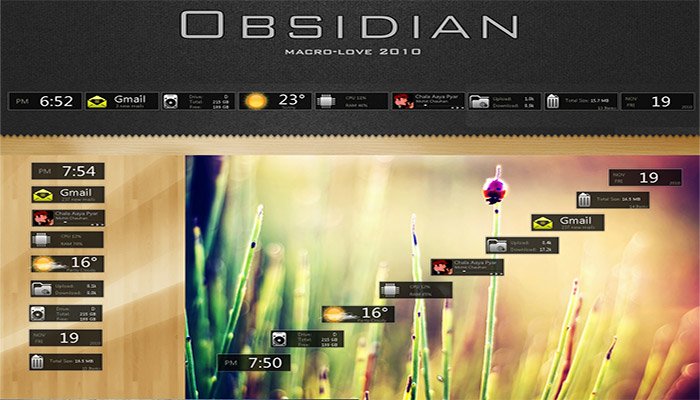 The Obsidian is one of most versatile and easy to use Rainmeter themes for Windows 10. It offers an overall unique feel and allows you to have multiple customizable system management and monitoring widgets on your desktop. Just like the Obsidian, the shiny black natural volcanic glass, the theme is equally beautiful and soothing. Its shiny, sleek, and a beautifully designed theme for Windows 10. The Obsidian suite offers on-screen Clock, Calendar, Google Mail, Google Drive, Network, Recycle Bin, System Monitoring, System Status, and Weather widget.
6. Iron Man – Jarvis V2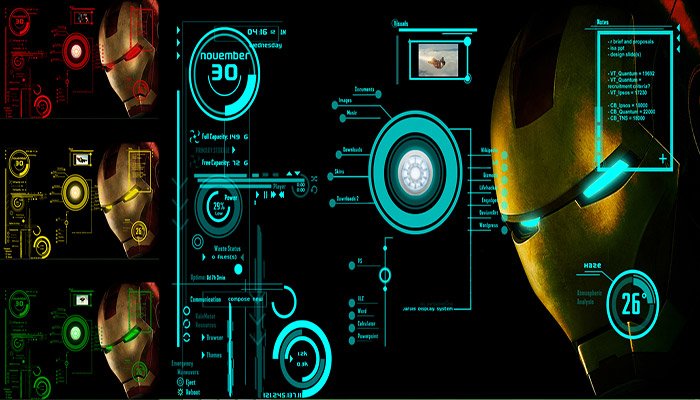 If you are thrilled by all the Iron Man movies and characters and you want a desktop companion like Jarvis, you are in luck. The Iron Man – Jarvis V2 Rainmeter skin makes your desktop look like Jarvis. All the widgets and other on-screen stuff are designed to look like Jarvis and this particular Rainmeter theme offers a ton of customization options. You can have a number of various modules that you can simply re-position according to your own choices. In addition, Iron Man – Jarvis V2 offers display widgets such as Temperature, System Clock, System Details, Hard Disk Capacity, RSS Feeds, and various other System Shortcuts and Folders. All the on-screen information originates from the Arc Reactor Core of Jarvis, and that makes it more like it.
7. Windows 2019
Windows 2019 is a Rainmeter theme deeply inspired by a research video by Microsoft. The theme is based on what the research video refers to as what the Windows might look like in 2019. This Rainmeter skin is an astoundingly beautiful and futuristic looking and it features loads of information bars and widgets. Windows 2019 offers various icons on the left side that open Music player, videos, email, battery, calendar, and Recycle Bin along with some system menus and stuff. A toggle button on the right side opens up RSS Feeds. Some other options on the right side are System meter, Weather, To Do lists, and more.
8. Neon Space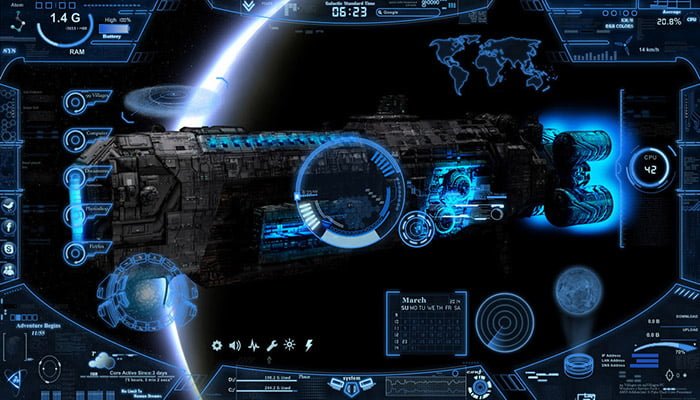 Do you like Neon lights? Well, this particular Rainmeter skin Neon Space makes you feel like controlling an alien spaceship lit up with colorful neon lights. It offers a remarkably soothing design that literally attracts you to your desktop. You'll see tons of neon glowing widgets on your screen such as RAM and System usage, WiFi, Battery use, System Clock, RSS Feeds, Folders, and loads of other shortcuts to various apps. With eye-catching design, Neon Space is one of the most adorable Rainmeter skins you'll ever find on the internet.
9. Pileus Suit
For all those who like a more organized desktop display, Pileus Suit is one of the best Rainmeter skins. It is very organized and beautifully designed windows 10 theme that displays information in a well-versed manner. Pileus Suit offers tons of features and because of that, it's a bit heavier for PC than the others. But, it's worth trying as you'll never find anything like it. It supports RSS Feeds, System Folders, Power Status, System Disks and Folders, Date and Time, System Disk Drive partition shortcuts, etc.
10. Razor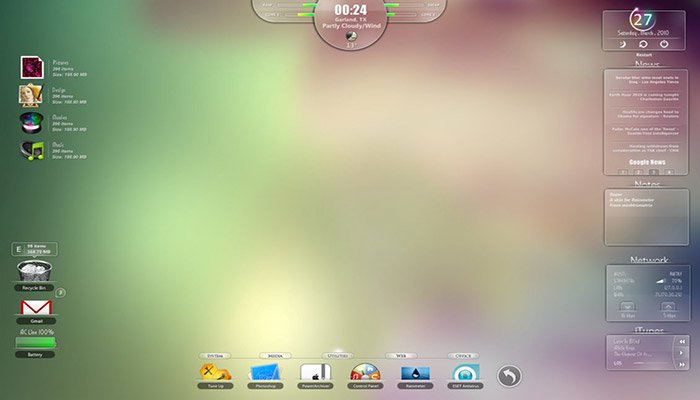 If you are fond of everything Glossy, this Rainmeter theme will probably be the best choice for you. The Razor features a windows background by default and gives it a beautiful razor effect for a sleek and edgy look. This fair sighting Rainmeter theme displays various modules and sub-modules that feature information about System Libraries, Folders, Shortcuts, Weather, System Date and Time. It also features a customizable dock on which you can have Power Status, System monitoring, Network Strength and various other items displayed.
11. Windows 9 Single Mark 4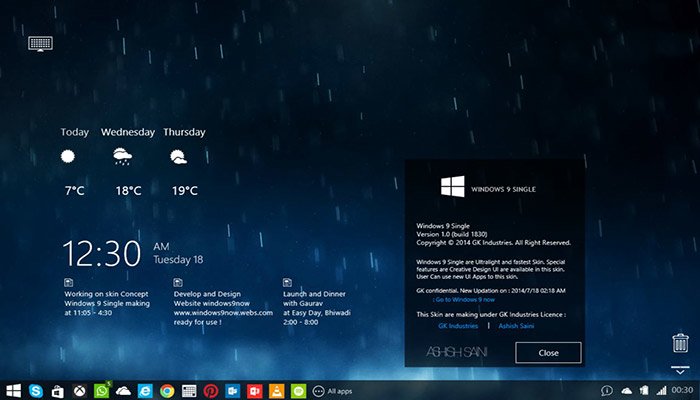 Windows 9 Single Mark 4 is a simplistic and minimal Rainmeter skin for Windows 10. It's a lot smaller in size and is based on a concept of Windows that suits your desktop very well. if you like things simple, Windows 9 Single Mark 4 is a best Rainmeter skin for you. With all the minimal objects and fancy thematic, Windows 9 Single Mark 4 offers on-screen display options such as Calendar, System Date and Time, Weather, System Usage, System Performance, etc. It's one of the best Rainmeter themes compared to a lot of others with simple layout and design.
12. Mass Effect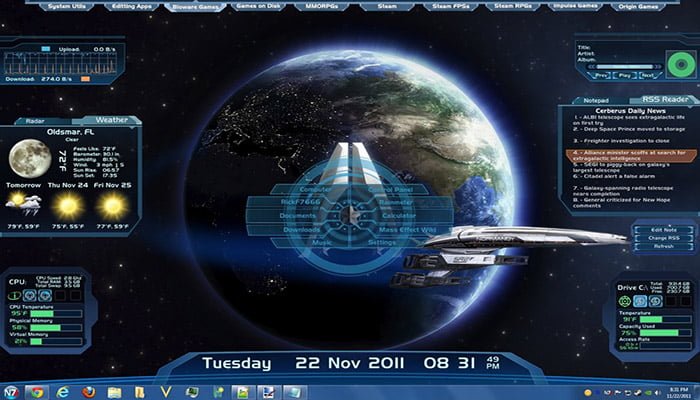 If you have played Mass Effect and you are a hardcore fan of it, this Rainmeter skin might interest you greatly. The Mass Effect Rainmeter theme makes you feel like being Commander Shepard going against hoards of Reapers. This Rainmeter theme features a windows background and offers a sleek and neat layout. With a number of display options, Mass Effect lets you have System Date and Time bar, CPU Usage, System information, System drive information, Weather, Media player, Control panel, Folders and Shortcuts on your desktop PC screen. It's a highly customizable and easy to manage Rainmeter theme.
13. Senja Suite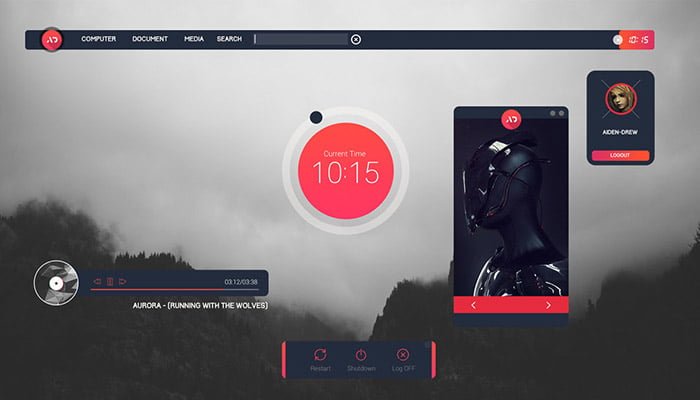 Once again, a minimal and lightweight Rainmeter skin, Senja Suite offers a clean look and features basic display options. It's an extremely beautiful Rainmeter theme that packs way more usability than a lot of other Rainmeter themes for Windows 10. Senja Suite displays options such as System Date and Time, User profile button on a separate bar, system information, disk drives information, Folders and Shortcuts, picture slideshows, media information, control panel access, power options and system logs. As one of the most exciting ones, Senja Suite is a best Rainmeter skin for you.
14. Eker Lina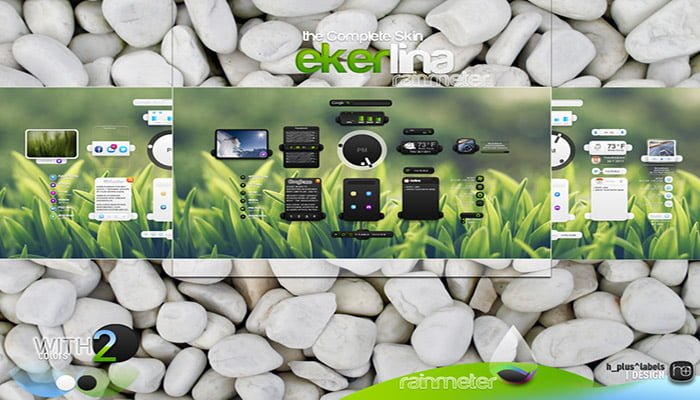 Eker Lina is a beautiful and elegant Rainmeter skin that consists of various main and sub-modules similar to widgets. Each and every module of the Eker Lina Rainmeter theme has its own unique design and layout. This allows you to simply manage and arrange the sub-modules just according to your choices. This, in turn, allows you to create your own special layouts as well. Eker Lina displays tons of information on your desktop. It includes items such as RSS Feeds, System Information, Folders, Shortcuts, Drive Information, Date and Time, and Weather.
15. Before Dawn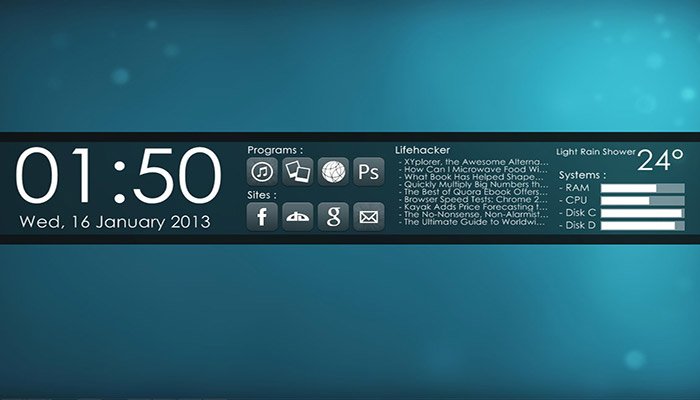 If you are not into too much of the desktop tweaking Before Dawn is the Rainmeter theme for you. It literally needs no tweaking at all. All the different modules are pre-embedded into it by default. So, you don't need to arrange or manage any other individual module. It appears as a giant information bar on your screen and offers all kind of information. Moreover, it presents all the information in a highly mannered way and includes information about System Date and Time, various Shortcuts to all the Programs you frequently access and Websites that you visit, RSS Feeds, Location and Temperature, etc.
16. Enigma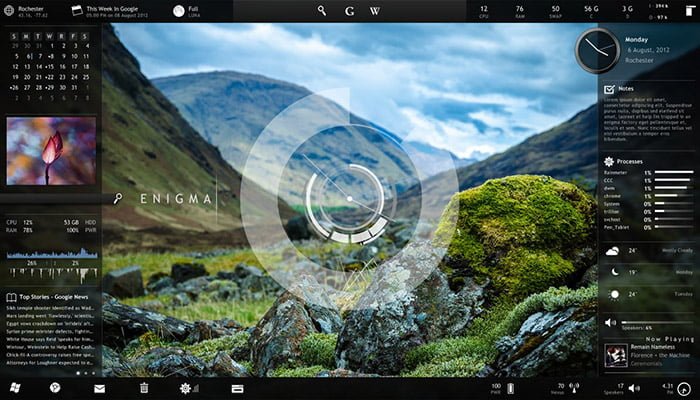 Enigma is one of the most downloaded and widely liked Rainmeter skin of all time. The Enigma is so versatile and a massive Rainmeter theme that it'll take hours to fully configure it and yet it is not so difficult to do it. It was chosen as the Rainmeter's default skin for the year 2009 because of its promising nature. It can show any type of information on the screen and because of that, it's kind of a universal theme as well. All of its main and sub-modules are highly customizable and rearranging them is a piece of cake. Some of the items that Enigma can show on the screen include Local and World Clock, Local and Worldwide Weather, Media Player, Control Panel, RSS Feeds, Image Slideshows, RAM and CPU usage, System Information and a lot of other things.
17. Speed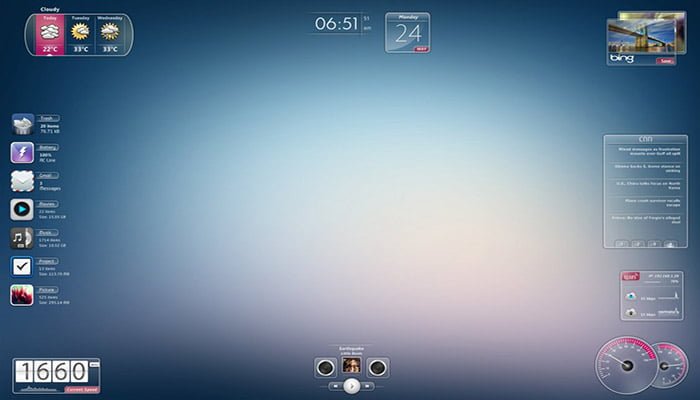 Speed is another marvelous new Rainmeter skin for all those who love frosted glass and transparent visuals. The Speed offers muted desktop backgrounds along with minimalist design and unique layout. All the Sub-modules of Speed have a very consistent look and feel. You can also arrange or re-arrange all the modules just according to your liking based on your PC's resolutions. It offers on-screen items such as Date and Time, RSS Feeds, Mail, RAM and CPU usage and monitoring, Weather, and Temperature, etc. As one of the most influential and best Rainmeter themes, Speed is fun to enjoy on your Desktop.
18. Wisp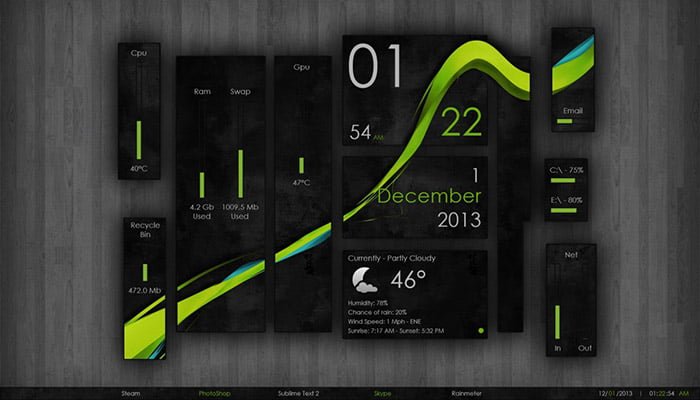 Wisp is one of the sleekest and crispy Rainmeter theme for Windows 10. It offers the Sub-modules in a totally different manner. In reality, what makes it amazingly unique is the remarkable properties of the Sub-modules as they appear on your desktop without any containment boundaries. This makes them look like they are directly embedded on the desktop background rather than appearing as the widgets. So, you have your desktop paired with the right wallpaper, it looks amazing enough to keep you glued to it. Wisp's very neat looking skin allows you to have multiple items displayed on your screen such as System and Disk Partitions Information, System Time and Date, RAM, Network, and CPU usage, etc.
19. LIM!T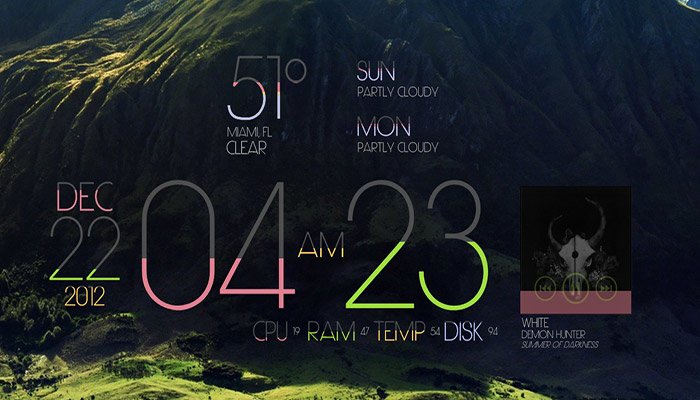 Limit, generally stylized as LIM!T is a Rainmeter skin for those who avoid a more complicated approach to the desktop. If you want simplicity and neatness, LIM!T is the best Rainmeter skin for you. Its composed of big and clean fonts, LIM!T conveys a lot of necessary information in a minimalist manner. It super easy to configure and offers a lot of on-screen items. With a very simple layout and design, LIM!T allows you to have modules on screen with information about System Date and Time, CPU and RAM usage details, Media Playback, Control panel, and Weather.
20. Elegance 2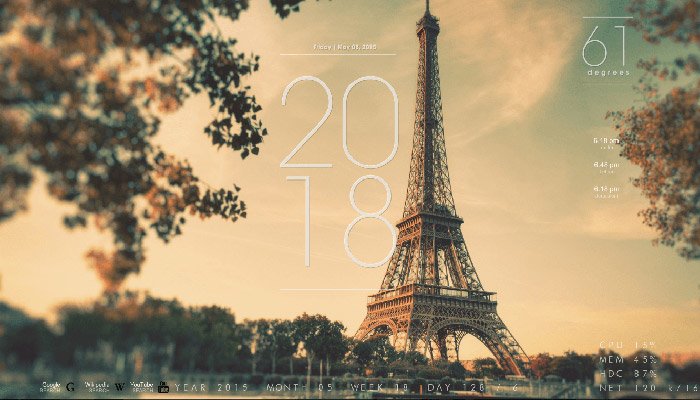 It's another great Rainmeter Skin specifically designed for all the minimalism enthusiasts. Much like its name, Elegance 2 displays all the information on your screen in an elegant way. It's lightweight, beautiful, and it blends amazingly with your desktop background image. It presents all the information on your screen using all the specially designed fonts and lets you have multiple modules and sub-modules. It can show Weather, CPU and Ram usage, System Date and Time, Media Playback, Control Panel, and Recycle Bin widgets on the desktop.
Conclusion
Rainmeter is an amazing application to modify your desktop if you are fed up of all the default ones. It not only allows you to beautify your desktop but helps you retain information that is necessary. This way you can get rid of the files and folders, and app shortcuts that you no longer use. In a sense, it minimizes the elements on your desktop and gives it a fresh and clean look. All the above-mentioned Rainmeter skins are available on the internet for free. So, if you don't want the default Rainmeter skins, you can try these and enjoy making your desktop a place of your best interest. Hopefully, you'll like all the Rainmeter skins that we've presented in this article, if you know of any other great ones, do let us know via the comments.