What is Android Podcast App? A podcast is a digital media avenue used to access collections of episodic audio files and videos. The audio files are available for streaming on the phone or web. Podcasts can be useful sources of information, news and entertainment. You cannot play podcasts on your phone unless you have a podcast catcher or podcast app. If you are wondering how to listen to podcasts on Android, you need to download third party podcast players from the Play Store. Given that Android is a popular OS, there are thousands of podcast apps for Android.
Best Android Podcast Apps
Are you pondering which free Android podcast app to download? Read on;
1. Podcasts and Radio addict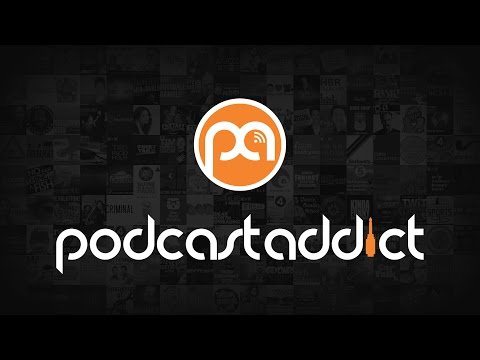 Podcast Addict is the best Android podcast app for Android. You will find all the podcasts you are looking for with a few taps and slides. You can stream podcasts from your favourite channels or import OPML shows. You can set automatic downloads for your favourite podcasts, delete podcasts from your feeds and set playback speeds. Podcast Addict has Chromecast support, a feature that allows you to watch YouTube channels. It is free to use, but will cost $2.99 to remove ads.
2. Podkicker Podcast Player
Podkicker Podcast Player is available for free and easy to use podcasts app for Android. The app has an easy to use user interface that allows you to stream smoothly and download your favourite podcasts. This podcast catcher supports both audio and video files. The app recommends other podcasts based on your current subscriptions. The app is free but to remove ads, you will part with $1.99.
3. Antennapod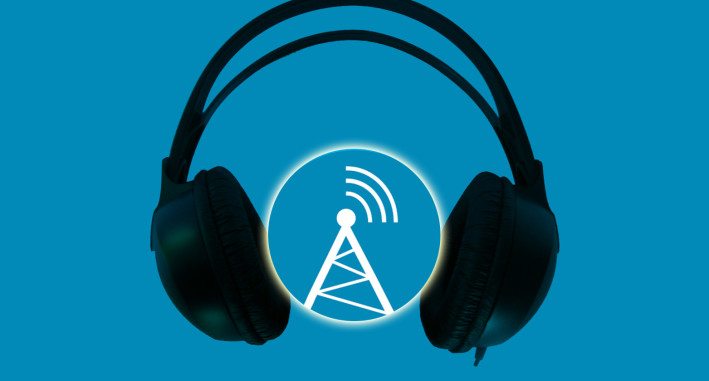 Antennapod is the best Android podcast app when you consider how easy it is to listen to podcasts from popular networks such as BBC and CNN. The app features an adjustable playback speed, supports 15 languages, has an advanced sleep feature and resumes streaming where you left the podcast. It has advanced download options that allow you to determine the time it will download the podcast, and under what mode it will download (you can restrict podcasts download to Wi-Fi connections only). You can get it on Play store
4. Podcast Player – Free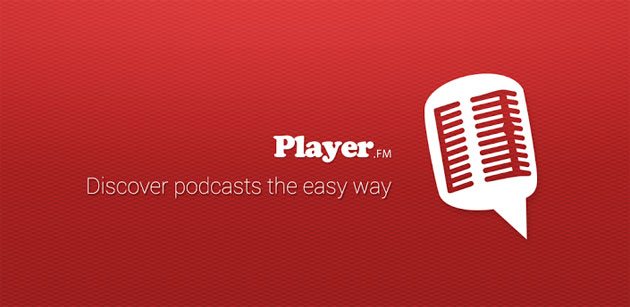 Podcast Player (PlayerFM) is one of the best podcasts apps for Android that features a modern UI and extremely user-friendly features. It has video playback, personal recommendations, beautiful home screen and a sleep timer. You can search your favourite podcasts in the collection of over three million podcasts. Install it from Google's Play store.
5. Stitcher Radio for Podcasts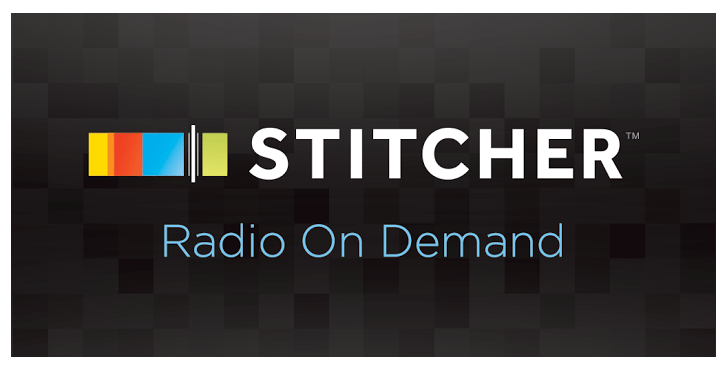 Stitcher is more popular as a radio streaming service than a podcasts app for Android. Available for free in the Play Store, Stitcher for Podcasts has a broad range of controls that help you find the podcasts you want. It allows you to create playlists of your favourite podcasts for you to listen later.
6. TuneIn Radio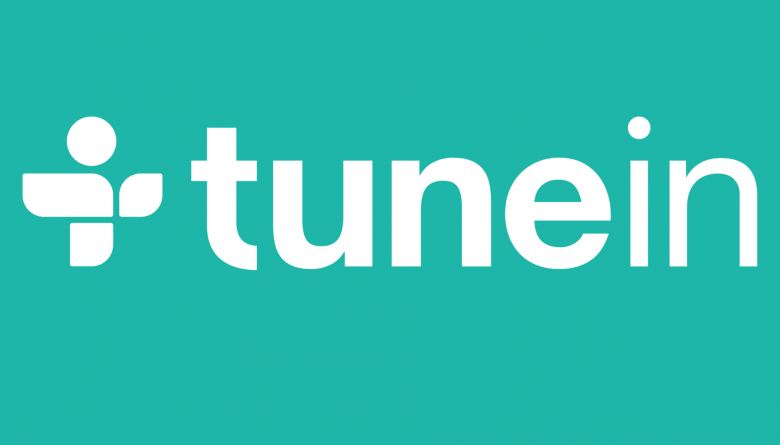 TuneIn Radio now offers podcasts. The app will help you find podcasts from your favourite stations. The only downside is that it does not depend on other servers for podcasts. You will be restricted to podcasts available on its own servers. It is good service considering it is free and offers more than four million podcasts to listen.
7. Spotify
Spotify is a popular music streaming service. Spotify recently introduced podcasts in its Android app. For the moment, there are not many podcasts to listen to, but given Spotify's reputation podcasts are soon going to flood. Spotify Android app is free for download and use. However, you will have to bear listening to audio adverts or go premium for $9.99 every month.
8. Podcast Republic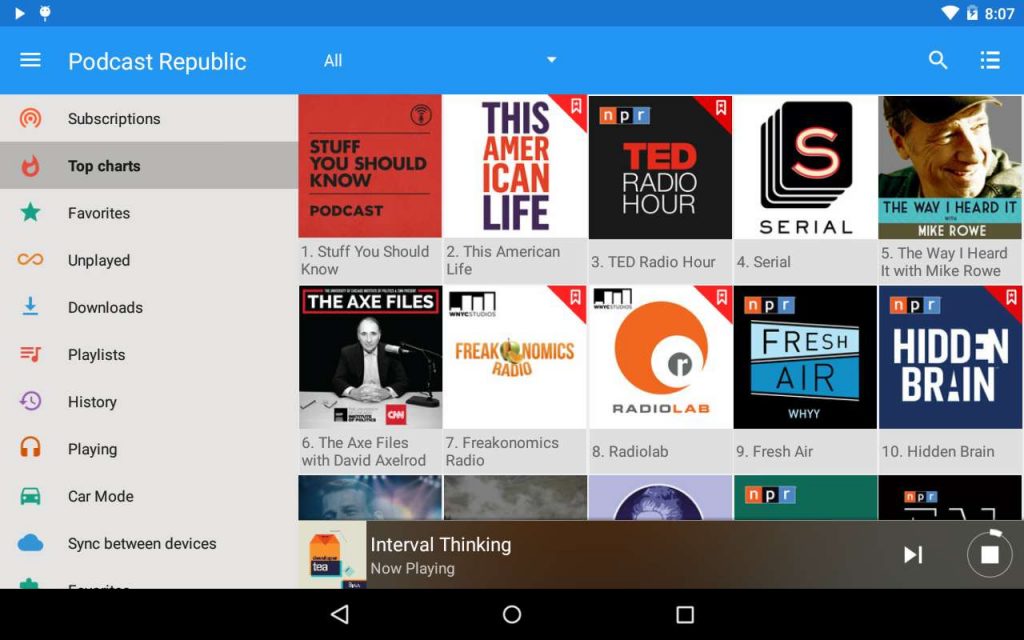 The Podcast Republic is one other podcasts app for Android that is free and boasts of features that match paid podcasts apps. The app has Chromecast and Android Wear support. It has download management functions. It has cross device sync to save your settings on all your devices. The Podcast Republic supports multiple languages, enables you to create playlists and has a sleep timer. The app, which has tablet support, has ads which can be eradicated for $1.99
9. Podstore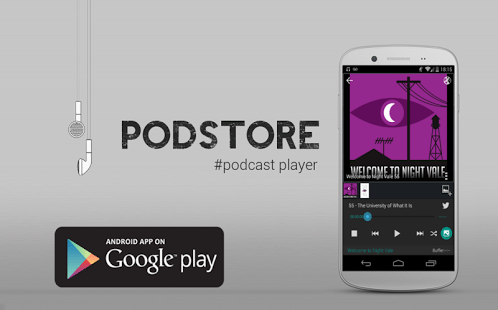 Podstore podcast player has all the essential features of podcasts app for Android. The app allows you to import podcasts from iTunes. Aside from downloading podcasts to listen offline, you can easily share your favourite podcasts with your friends through social media networks. The Podstore app is available for Android on Google's play store.
10. BeyondPod Podcast Manager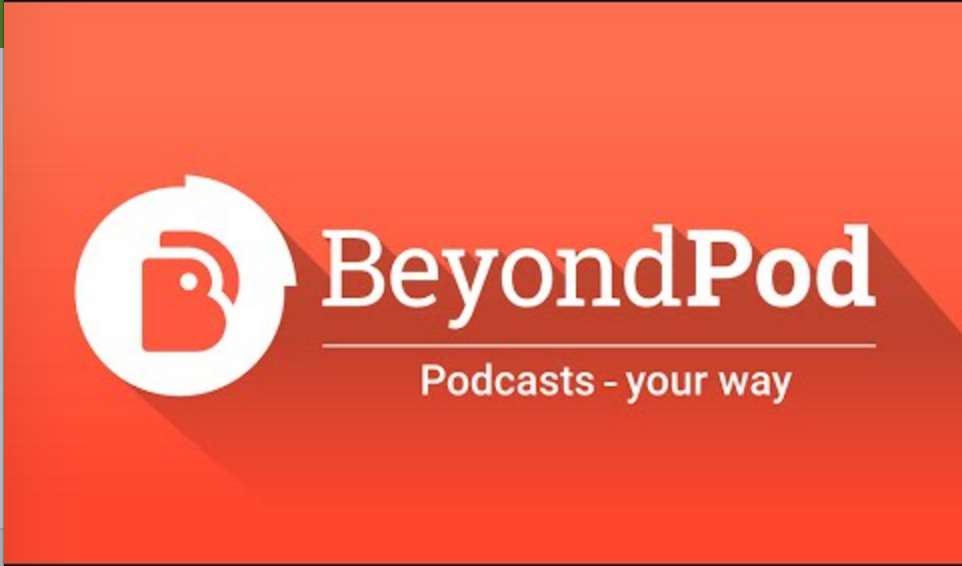 BeyondPod Podcast Manager, as the name suggest does more than play your favourite podcasts. With this app, you can search podcasts, save your feeds, play video podcasts with the integrated player, download podcasts for offline access, create playlists based on your preferences and use the sleep feature. The app offers pro features, meaning it is not free. Enjoy one-month free trial after which you will have to unlock the app for $6.99.
These free podcasts app for Android are the best on the Play Store. The paid apps offer more features, but download apps from the list above if you do not think a podcast catcher is worth paying for. Which app do you use to play podcasts for Android? Tell us more about your best android app for podcasts.