7. Rising Storm 2: Vietnam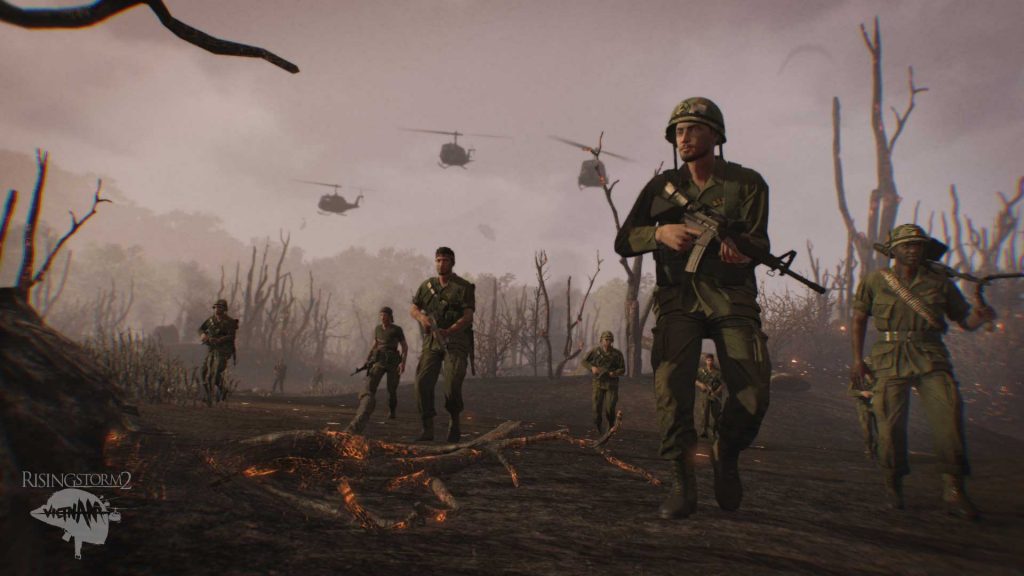 Rising Storm 2: Vietnam is a sequel to the groundbreaking Multiplayer FPS Rising Storm. Developed by Trip Wire Interactive, Rising Storm 2: Vietnam Offers an innovative approach to the old school elements. The game offers a detailed and authentic FPS gameplay, with all kinds of Automatic Rifles and loads of other weapons. The story of Rising Storm 2: Vietnam takes you back to the Vietnam War where is lets you be a U.S Army veteran and pitches you against the Vietnamese Resistance fighters. You can also play the game as a Vietnamese Resistance Fighter and enjoy a different perspective of the war. Rising Storm 2: Vietnam includes two new game modes named as Red Orchestra Classic Territory Control and the Supremacy Mode.
As it's a war-based game, you'll see a lot of military vehicles in the game such as Helicopters, Tanks, Dozers, etc. It offers a maximum 16 players play and lets you traverse through huge maps. With a wide range of weapons, Historical background, Cosmetic Upgrades, Character Personalization options, and a remarkably immersive gameplay, Rising Storm 2: Vietnam is one of the best First-person games you'll ever come across. If you love involving yourself into militaristic and fast-paced battle-oriented games, you should definitely try Rising Storm 2: Vietnam. It'll amaze you with all the great stuff it has to offer. Rising Storm 2: Vietnam is playable on PC via Steam.
Also check: Best Co-Op Games
8. Call of Duty: Infinite Warfare
Call of Duty: Infinite Warfare is undoubtedly one of the best FPS games. This time Infinity Ward takes the battle to space and lets you experience an immersive gameplay. You act as Captain Nick Reyes in the game and your task is to stop Settlement Defense Front, a hostile rogue force that tends to take over the Solar System. This first-person Shooter game allows you to enjoy a similar gameplay to the previous titles of the series. With all the environmental innovations, new characters, new motives and a fast-paced battle-driven gameplay, Call of Duty: Infinite Warfare revamped mechanics and a new story. Zero-Gravity environments, Grappling hooks, traversal in the Solar system, new mechanics and players' own transforming fighter termed as Jackal, are all among the most prominent features of the game. The game mainly is mission-based but you can enjoy completing some side quests as well.
Attention:
Governments and ISPs around the World monitors their users' online activities. Reclaim your freedom with
ExpressVPN
and browse the internet with confidence.
The multiplayer mode in the game gets an overhaul and it offers a new class system known as Combat Rigs. These rigs include fighters of different makes and models such as Warfighters, FTLs, Mercs, Strykers, Synaptics, and Phantoms. The multiplayer mode further adds up an innovative Zombie Mode in the play. It's a Co-op mode with separate game mechanics and a different story. The overall feel of the game is quite fantastic as it's the first title in the Call of Duty series set in outer space. With a lag-free gameplay, great visuals, and all the futuristic elements combined Call of Duty: Infinite Warfare is one of the best FPS games you'll ever play. You can enjoy playing Call of Duty: Infinite Warfare on Microsoft Windows PC, PlayStation 4, and Xbox One.
Also check: Best Games Like Yume Nikki