If you are an Android user and fond of Music, you must have had a thought of modifying the sound of original music. Well, playing the music with our own defined presets is a cool thing to do. If you are the curious type then no doubt you have fiddled with the equalizer settings on your music player. Sometimes you might get your settings tuned according to your needs, but most of the time you end up messing around a bit too much with the settings which destroy your music quality. Well, to come out of the problem, you need to try the best equalizer for Android instead of any random equalizer app. Now the question is, which is the best equalizer app for Android smartphones then? Let's find out.
Best Equalizer for Android
Well, the Android market is full of different applications, and music equalizers are no exception here. When you see 100s of options, it becomes hard to choose one, and it is even more challenging when every developer claims their app is best in all. To help you out with the right equalizer for Android, we have compiled a list of the best equalizer for Android smartphones that will enhance your music experience to a whole new level. Read on to check out the detailed list of the all the free equalizer app for Android.
1. Music Volume EQ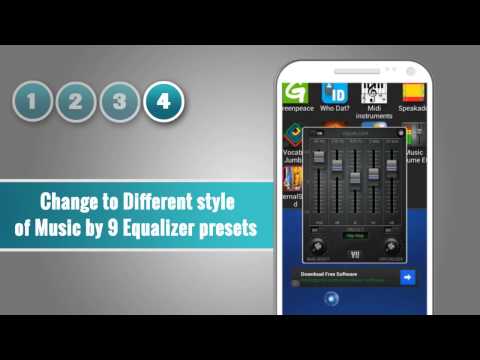 Available on Google Play Store, this is known as one of the best music equalizers for Android for a reason. The app is free, first of all. Secondly, there are nine preset EQ profiles which users can choose from along with the option of customizing the profile if the users want. There is an option for bass boost and virtualizer. Another best thing about it is that the Android music equalizer allows users to add its widgets on the phone's screen for easy and quick access.
2. Equalizer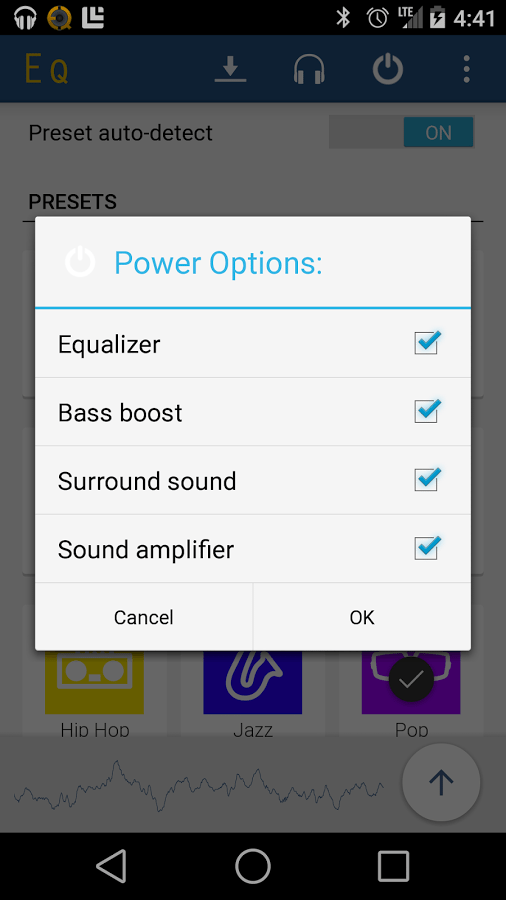 It is yet another one of the best equalizer for Android. It allows users to improve the sound quality of their music player by providing them 11 different default setting options from which they can configure their style and then use it. A five-band equalizer, this is one promising app for all the Android users. Lastly, with the home screen widget, you'd be able to improve the sound quality of your Android device conveniently. You can install this app from Play Store.
3. Bass Booster
It comes with a lot of robust features that will amp up your sound quality as you have never heard before. It has a five band equalizer with 20 presets from which a user can choose from. It is simply a brilliant equalizer app for Android which delivers the high-end product. You can also opt to customize a preset to have the sound quality tailored to your specific requirements. The app is available for free download on Google Play Store.
4. Equalizer Music Player
The distinguishing factor in this app is that it has an entirely separate controller for its bass so if you are a bass fan, then this feature is a huge plus point. With a built-in music player, you can enjoy all of your songs right from within the app while adjusting the equalizer exclusively for your music. Equalizer Music Player is compatible with surround effect, stereo effects, etc. which produce the best results when used with a fine quality headphone. You can install the free Equalizer Music Player from Play Store.
5. Music Equalizer EQ
The best thing about Music Equalizer EQ is its highly professional and sleek user interface. The app combines bass booster, music equalizer, and a music player all in one. With a range of effects, the app enables you to create the best music experience on your Android phone. With a built-in five-band equalizer and ten equalizer presets along with one customizable one, it is highly unlikely that you'll have to look for an alternative. You can download and install it via Play Store.
6. Equalizer FX
Equalizer FX is another one of the best equalizers for Android users. It comes with the usual features such as preset, visual settings and bass boost but the thing which sets it apart is that it allows its users to save their custom profiles which they can use later when they want. Equalizer FX comes with virtualization and loudness enhancer that makes it suitable for all sorts of music that you may be fond of. You can get it free on Play Store.
7. AnEq Equalizer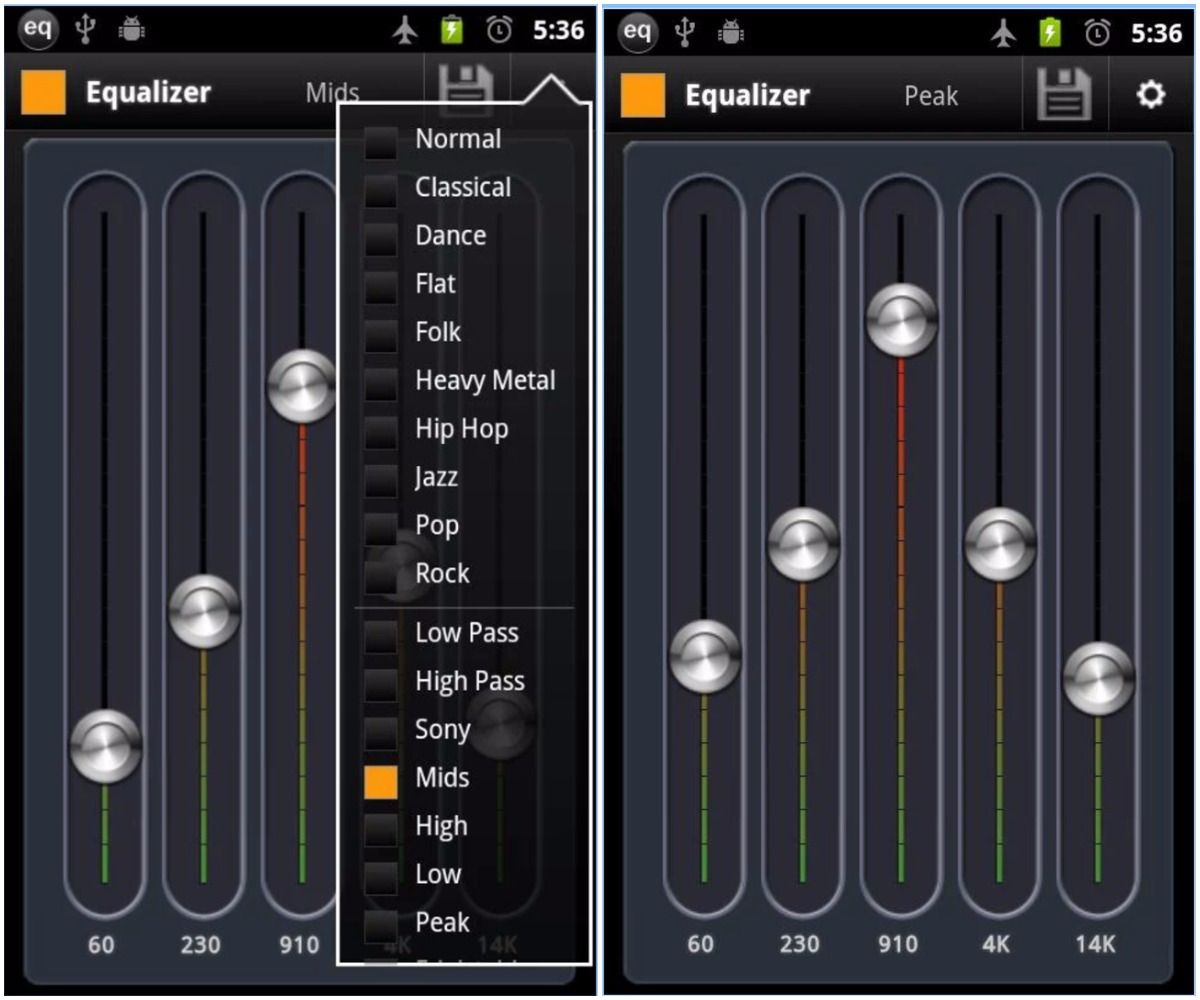 Available on Play Store for free, AnEq is another addition to our list of top 10 best equalizers for Android smartphones. It provides five different band equalizer applications with specific presets which can run perfectly on your Android device. AnEq has both free and paid version with minimal difference in features and specs. It is simple to use, and its developers have designed a user-friendly interface, so you don't have to worry about downloading yet another app filled with a gazillion option to choose from.
8. AuvioEq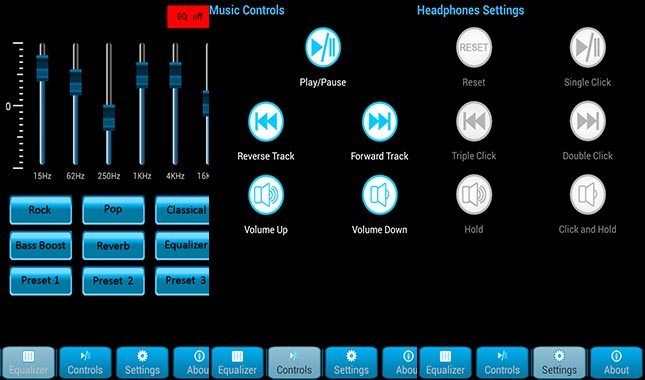 Another fantastic and free equalizer app for android is AuvioEq. It has got the music control and setting menu from where you can fine-tune the audio quality of your music. Super simple and highly effective, this equalizer is our favorite of them all. You can customize and save up to three presets suitable for different kinds of music that you enjoy. To get the finest results out of the app, you may want to get the AUVIO brand headphones as well for maximum compatibility. The app is free and available on Play store for Android smartphones.
9. Voodoo Sound
Voodoo Sound is packed with armed amplifier and headphone amplifier which gives its user the luxury of setting the volume of any sound to whatever level they want without disturbing its quality. Microphone Gain Preset is a feature of the app made for those who enjoy loud and clear audio streaming making it a fine option if you are looking for an equalizer for android. The app isn't compatible with all Android devices, however, so you may want to see if your device supports the app. Get it now from Google Play Store.
10. Winamp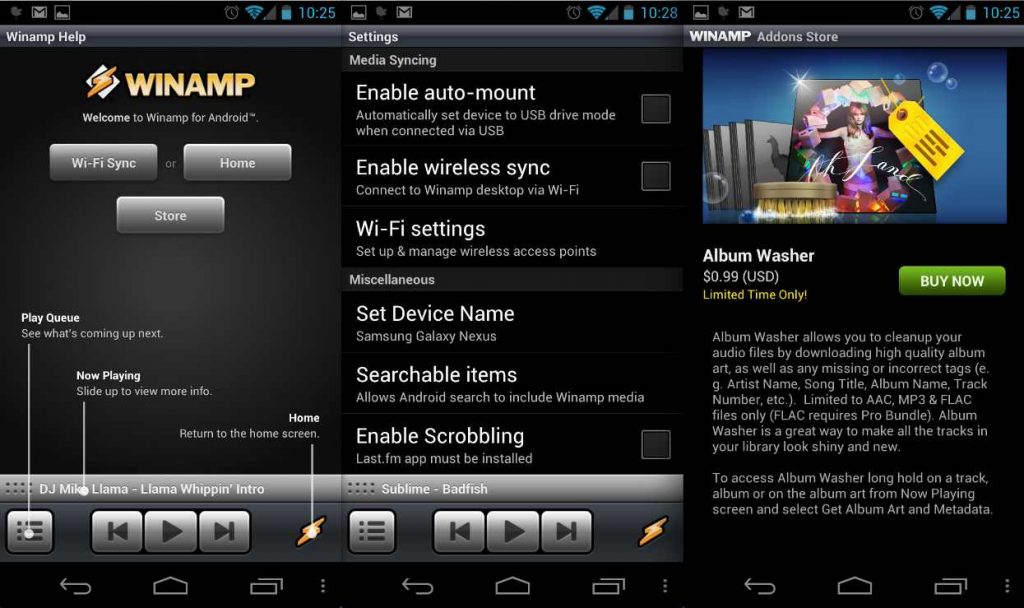 Winamp is one of our favorite sound equalizer for android. It is not only a great music player but is also quite well known for featuring powerful presets and a 10-band equalizer. Winamp is probably the oldest and the most popular music player of all time that has stood its ground through the test of time. And that's what makes it a guaranteed choice if you are looking for a perfect music experience on your Android device. You can download the Winamp APK from several mirror sites including APKMirror.
Hope you liked our list of the best equalizer apps for Android. If you know any other equalizer app for Android which is worth installing and we didn't mention here, let us know in the comments below.