Remeber Verizon-branded DROID Turbo 2, the Motorola flagship from 2015? Even if you don't, here's a deal on the smartphone you can't miss to afford. Best Buy, the popular consumer electronics retailer in the U.S. is now offering DROID Turbo 2 for just $312, even though available on 24-month $12.99 installment. To sweeten the deal further, Best Buy is further offering $200 gift card with each purchase. It's a great deal, even after considering a year and half old smartphone.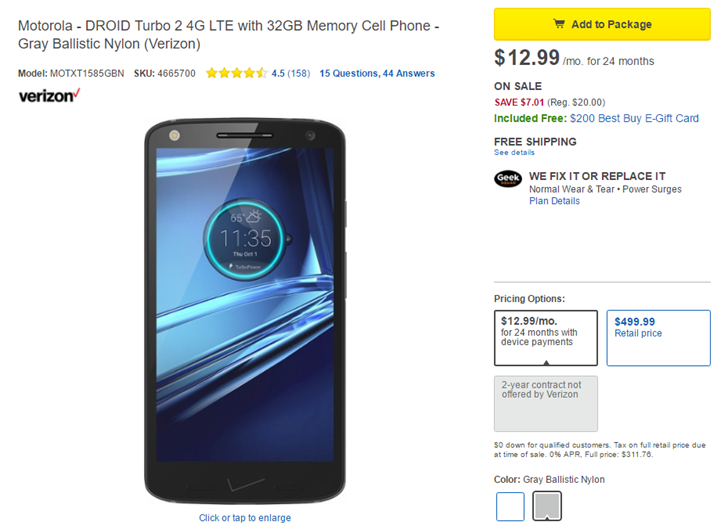 In case you can't remember, we will help you run through the specifications and decide. The Motorola DROID Turbo 2 comes with a 5.4″ quad HD display with Motorola's "Shattershield" tech. Underneath the hood, you have Qualcomm Snapdragon 810 chipset with 3 Gigs of RAM. Internal storage for Droid Turbo 2 stands at 32 Gigs with expandable capabilities of up to 128 Gigs. All this is powered by a beefy 3760mAh battery with wireless charging and TurboPower fast charging support.
Camera department of the smartphone comprises of 21 MP rear and 5 MP front shooters. The handset runs Android Marshmallow v6 with Nougat update promised in future.
Overall, it's a great offer with only one downside of installments. The DROID Turbo 2 cost $500 outright. Both gray and white models are available, and shipping is free.
The $200 Gift card is only applicable to users opting for the Best Buy Financing System, not Verizon.
Best Buy is known for introducing great deals, and this one too falls in the same category. The offer will last until the inventory goes out of stock.