Video games are a great source of entertainment. Whether you are in the office, school, or on the go, you can easily kill some time by #entertaining yourself. Most of the good games are install and play type, however, if you want to skip the hectic installing routine, we have listed some of the best browser games. To play the #browser games, all you need is an active internet connection and you are all set to have some cheap but entertaining experience online.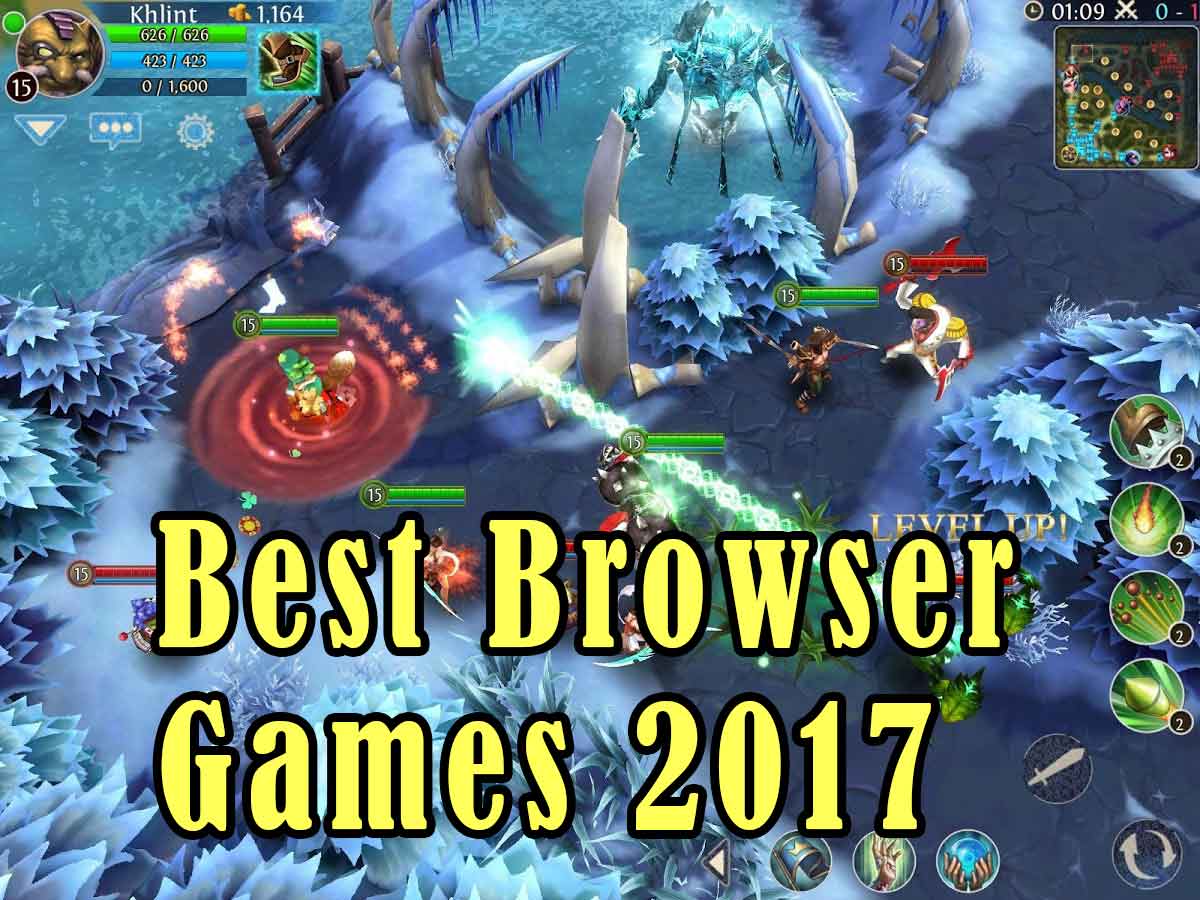 Best Browser Games
If you are fond of gaming and you don't know where to find some good browser-based game, you don't need to look any further. We've compiled a list of thirty five best free browser games for you. Check it out and have fun.
1. Lost In Space
The first one of our best browser games list is the popular Lost in Space, which takes you on an epic space journey where you control a space ship. The ultimate task of the game is to keep on dodging and maneuvering through on-coming asteroids and stay alive. Lost in Space is a Space Arcade Bullet-Hell Shooter video game in which the only way to survive is to shoot the enemy ships. So, hop on your ship and try to gain the maximum score by clearing out the Light-year check points.
2. Nibiru Space
Nibiru Space is another fun online Browser-based video game that is one of top free browser games to date. The game offers a similar experience to the popular Ogame and lets you have a remarkable Space Strategy experience. The main goal of the game is to create a space empire to be the best Space Emperor of all times. With a powerful narrative, equally equipped and advanced enemies, hardcore space battles and much more, Nibiru Space is one of the best browser games to play.
3. Stickman Fighter: Epic Battle
For all those hardcore fighting games enthusiasts, who love having all the fighting fun online in a browser, Stickman Fighter: Epic Battle is an amazing addition to the library. It's undoubtedly one of the top browser game on the internet that you can enjoy for free. The game lets you play as a Stickman Fighter and pits you right against countless foes. You are directed to use your body as a weapon and defeat the enemies to stay alive. Countless weapons, power-ups, and other collectibles are also offered as you further progress in the game.
4. 10 Bullets
10 Bullets is a dream come true for all the hardcore Retro Shooter games fans. This one is absolutely free to play online in a browser. The game offers you 10 bullets and you are bound to make 10 perfect projectiles to take down as much enemy spacecraft as you can. If you know how to time your shots well and cause some serious space debris chaos, you are the champ of 10 Bullets. Destroy fleets of enemy ships and enjoy an awesome ricochet type experience.
5. Abobo's Big Adventure
Abobo's Big Adventure is a nostalgic NES tribute that features one of the most legendary characters of 8-bit era gaming, Abobo. The Abobo, muscle-bound hulk from another popular title Double Dragon makes his way to the modern era. He is bound to rescue his son and that's your ultimate chance to indulge in a massive punching in the face routine. With amazing old-school visuals, fast-paced gameplay and smashing fun, Abobo's Big Adventure is one of the best browser games you can play in 2018.
6. Alter Ego
Alter Ego isn't visually quite impressive but it is an amazing remake of a classic PC title. The game offers a text-based play and features an icon-based overlay and lets you go through your virtual life in a totally different way that any standard life simulation. The game's full of depth and clever script prepared by a psychologist. That is why it seems a little bit off sometimes. What's more to discover in the game, that you should definitely check out on your own? It's undoubtedly a great browser based game to play.
7. COMA
Coma has a feel and it echoes closely to the indie classic Limbo. With a very similar art style and gameplay mechanics, you'll find it quite like limbo if you play it. The game has also a similar narrative to Limbo where you are bound to find your sibling. On your way to find your sibling, you'll face countless impossible puzzles, exploration, and a world filled with wonders. So are you ready to take on the adventure? If you are good at solving challenging puzzles, you'll probably finish the game in first 20 minutes. If not, you'll have plenty of time to finish it.
8. Contre Jour
This game is a beautiful combination of surreal background music and fantastic mechanics. The game was originally released on the Mobile platform and it later on ported to PC via the browser-based play. Over all, it's a charming experience of puzzles and challenges. With very simple objectives, the aim of the game is to guide the small Cycloptic blob Petit to the exit point on each and every stage. Catapults, slingshots, environmental manipulation, you'll see a lot of exciting stuff it Contre Jour. Do give it a try. It's a fun browser based online game to play.
9. Cookie Clicker
There are very few games that are truly entertaining and rewarding at the same time. Cookie Clicker is one of those rare games that offer countless hours of pure entertainment and satisfaction. For most of the players, Cookie Clicker is an amusing satire on the state of a modern day idle clicker game. It involves you deeply into the gameplay by letting you click on a cookie like crazy. And believe me; it keeps you glued to it for a very long time. If you have some spare time and you want to spend it on quality gaming, Cookie Clicker is there for you. It's without a doubt one of the most influential and best browser games available to play. Also, check out more games like Cookie Clicker if you have played this game already.
10. Cube Slam
Cube Slam takes you closer to pong but with bears. The game offers a beautiful 3D playfield and throws countless power-ups at you with all the beautiful sound effects. The aim of the game is to get the cube past your opponent. It's quite simple to play but it's plain fun. In addition, you can play it with your friends online and see one another via the online Webcam feature. Because of its unique features, Cube Slam is one of the best browser games you'll ever come across.
11. Buccaneers, Bounty, And Boom
Buccaneers, Bounty And Boom is a fantastic Online Strategy board game. The game takes you to a world cutthroat pirates and goblins and lets you witness epic clashes between the two arch enemies of the time. In a race to become the Goblin Pirate King, are you ready to take on the adventure of Skullduggery and epic battles? Well, you should be, because Buccaneers, Bounty, And Boom is free and you can enjoy it online at any time.
12. Cut the Rope
You must be familiar with Cut the Rope or you must've heard the name. That's because this game is widely popular among the iOS gamers. The game initially was released on the iOS and later on, it ported to the PC featuring the Om Nom. Om Nom lives in boxes and continuously needs candies to stay fed all the time. But getting to the candies is a challenging task. While playing, you are tasked to use ropes and slings, air cushions, and bubbles to get the candy to Om Nom. With a variety of different challenges, Cube Slam offers a number of stages.
13. Desktop Tower Defense
Desktop Tower Defense pits you against the swarms of little blobs attacking your Desktop PC. At to do is to build towers and create gauntlets in order to fend them off. The game offers a destroy and earn systems so the more you destroy the enemies, the more you earn credits. These credits can then be used to install some upgrades. The earned credits help upgrade your towers into more sophisticated ones and strengthen your defenses.
14. Serpents
Serpents is one of the classic online and best browser based games. If you are a fan of Snake Xenzia or other snake games, you are in luck. This wonderful game is a good time killer and simple at the same time. All you've to do is to beat the AI controlled Serpent by gathering more squares and making more scores. The game offers easy Arrow keys and WASD controls and is fun to play.
15. Doom
Doom is probably one of the most powerful and popular video game of the 8-bit era. Until now, the game was available via install feature but now you can enjoy it online in a browser. You also enjoy all the shareware original levels of this FPS marvel as well as enjoy tons of fantastic new and old power-ups and nostalgia filled adrenaline pumping gameplay. The only drawback is that in the browser version, you can't jump. Over all, it's one of the best browser-based game to play.
16. Fist of Awesome
Fist of Awesome takes you back to the classic 8-bit visuals and allows you to enjoy a fantastic brawling experience in which you'll enjoy punching down some nasty bears who've taken over the world. Your task is to punch your way through hordes of bears. Furthermore, you can also enjoy traveling back into time and swell your fists on some dinosaurs and cavebears as well. With a variety to enjoy, Fist of Awesome is a fun browser game to play.
17. Mafia Matrix
For all those who love playing MMORPG games, Mafia Matrix is truly a remarkable title to check out. This game is without a doubt one of the best free browser based games. Set in a post modern era, the game offers you a choice to build a legitimate life by getting into various legitimate businesses. It also allows you to lead a life of a Mafioso, associate with the nefarious Mafia men and be a top ranking Gangster in the game. As an online MMORPG, Mafia Matrix also lets you play it with your friends and double up the fun.
18. Game of Bombs
Game of Bombs takes you to a classic Retro gameplay based on t he popular Bomberman aesthetic. The game offers a retro MMO and arcade experience. Your task is to set some bombs in the way of your enemies and roast them good. The second most important objective of Game of Bombs is to collect the loot and enjoy keeping on blasting the enemies until the level ends. Game of Bombs is undoubtedly one of the best browser games.
19. Gridland
Gridland offers a typical Match-3 puzzle oriented gameplay but in the entirety, this game is much more than it looks. Every solved puzzle lets you receive rewards and earnings that you can use to build various structures and battle the evil hordes of dark enemies during the night. I don't want to spoil the fun, but you must try it out to have an in depth experience of this remarkable piece of art. Gridland is one of the best ever browser games you'll ever play.
20. Politics and War
Politics and War takes you on an amazing ride of building your own cities and rule to create nations. However, it's not every other simulation game. It offers much more than a regular simulation and features dynamic mechanics and scenarios. Careful decisions, brainy plannings, and the wit of a pro will only help you in Politics and War. With a variety of different elements, Politics and War offers a unique economic, social, and politics focused experience.
21. Infinite Mario Bros
Infinite Mario Bros is a Minecraft inspired semi-randomized platform video game. The game features the character of Mario and lets you embark on a journey to eradicate the bi-legged turtles. With simple narrative and objectives, Infinite Mario Bros lets you reach the end of the game and free the princess. This game is not entirely built on Mario mechanics but offers a deeply inspired play. as compared to lots of other titles, Infinite Mario Bros is one of the best browser games to enjoy.
22. Kingdom Rush
Kingdom Rush is another great Tower Defense marvel that offers a simple yet exciting gameplay. With a typical routine of fending off the enemies and building strong defenses, Kingdom Rush allows you to build massive fortifications. The game offers a fantasy-based setting and features characters of Knights, Warriors, Archers, and Wizards. On the other hand, the enemies include Goblins, Orcs, Bandits, and Ogres. The ultimate goal of Kingdom Rush is to keep on getting forward and earning stars. For all those fans who love Online browser-based games with a strategy touch, Kingdom Rush is built for them specially.
23. SlaveHack 2
SlaveHack 2 is the much-awaited sequel to the popular SlaveHack. The game is a free online browser based marvel that offers a chance to virtually hack other players and enjoy. While hacking other players online, the game lets you fulfill the objective of defending yourself and your own virtual PC. With a much different and advanced mechanics that its predecessor, SlaveHack 2 is quite fun to play. It ranks high among the best browser games 2018.
24. Last Horizon
In search of a new home and terraform it with all the resources you've got, the Last Horizon lets you wander into deep space in your spacecraft. You act as the sole survivor of a failed civilization that sucked it's planet dry. The game offers an arcade gameplay in which your task is to go planet to planet, collect resources such as oxygen, fuel, and their ecosystems. Find a suitable habitat, terraform it with all of the resources. While traveling through space, blast off comets, go through black holes and destroy alien civilizations for good.
25. The Little Alchemy
Little Alchemy is the most Casual game you'll ever find online in a browser-based environment. The game requires you to use your wit and lateral thinking abilities and synthesize over 400 different compounds. Combine them with few basic elements and create something new and remarkable. It allows you to share your creations with your friends. However, the game lacks the online multiplayer element, but that's nothing necessarily important. Important is what you do in the game. Do try it out if you've got a brain of a scientist.
26. Pandemic 2
In most of the games, you play as the good guy but Pandemic 2 lets you play as a villain and eradicate all life from the planet Earth. Set parameters for various viruses and incurable pandemics. Spread the diseases with zero reversal choices and let the humanity fade away from the face of the Earth. Every achievement lets you avail some evolution points, install upgrades and make your pathogens more effective and lethal at the same time. Its one fo the best browser games.
27. Paper.IO
Paper.IO is a fun filled online browser-based arena video game that pins you against other players. The only objective is to secure as much territory as you can before someone else claims it. To grab the piece of territory, you just need to zoom out and encircle an area in the arena. In order to save yourself, you'll have to keep your eyes on your tail because that's your weakest spot. Someone touches it, your history. To get rid of the other players, target their tails and capture their territories as well. For a good entertainment online, Paper.IO is one of the best browser games to play and enjoy.
28. Automatendealer
Automatendealer is one of its kind innovative trading online game. The game lets you be a Metal machines dealer who sells metal machines for profit. In a very highly competitive and always running market, it's up to you to sell the maximum number of machines and double up your profits. So, are you ready to spread your vending machines all over the town? Automatendealer is one of the best browser games to play.
29. Quick Draw
Quick Draw is a Pictionary based drawing game for all those who fancy their drawing skills. The game lets you draw some shapes and objects and then get them examined by Google's Deep Learning AI based engine. If your drawing means anything, you'll get another turn to draw more. You'll keep on drawing until you are failed to satisfy the AI. With a simple gameplay and visuals, Quick Draw is a best browser games to play.
30. Spaceplan
Spaceplan offers you another great platform for the involving Idle Clicking experience. This remarkable game is a prototype of the popular PC and Mobile game of the same name. All you got to do is to click, click, and click and generate some currency knows and Watts. With this currency, you can buy a number of different things that help click for you and double up the currency production. It's more like cookie clicker and loads of other simple Idle Clicker games that you can enjoy in a browser online.
31. Spelunky
Spelunky takes you deep down in the earth and lets you find secrets, face some monsters and enjoy an advanced digger play. The game was originally launched on PC and later on, it ported to PS Vita where it touched the heights of popularity. With a fast-paced gameplay, puzzles, platform, and action along with randomly generated game maps and all the fun stuff, Spelunky is one of the best browser games you can play online.
32. Tanki Online
Tanki Online is probably one of the best free online multiplayer browser based games you can play with your friends. This remarkable Arcade Tank Simulator is a proud production of the AlternativaPlatform. With a number of gameplay modes such as Capture the Flag, Control points, deathmatch and team deathmatch, Tanki online offer various in-game maps. The main objective of the game is to defeat the enemy tanks in combats and complete various missions. As one of the best browser games, do try it out.
33. Stellar Universe
Stellar Universe is another great Space Strategy video game with a medium fast gameplay, amazing design and many new maps. This game also resembles the groundbreaking Ogame and offers tons of exciting mods, both unique and original skins and thousands of online players. This game is free and can be played in internet browsers. Fighting off against the enemies, making grand alliances, and defending the galaxy, are the main objectives of the game. It's one of the best browser games.
34. Drawsaurus
For all those online gaming fans who love drawing stuff, Drawsaurus is an amazing source of entertainment. This game is totally free and can be played in an internet browser at any time. The game is available on both phone and PC. it allows you to draw the word you are given and let the other online players guess it. This game is absolute fun for all the ones who love drawing. Do try it out, it's one of the best browser games.
35. Gates of Survival
Gates of Survival is a fun online Text-based MMORPG video game. The game is available to play in an internet browser online and lets you create your own custom character. Training the character, control it, and level up while playing the game using all kinds of weapons and other items. Just like any other MMORPG title, Gates of Survival lets you complete various in-game quests, earn various rewards and keep on playing until you finish the game in over a week. With regular content updates, 25 plus unique skills to train, amazing quests and loads of more content, Gates of Survival is a fun survival game to enjoy.
Follow-up
All the above-mentioned games are playable in a browser and are picked up after a great deal of research. You'll find most of them quite challenging and exciting at the same time. We've tried to put a maximum number of time worthy titles in the list above. However, if you know more best browser games which deserves to be in the list, do let us know via the comments below.