Recent reports talk about Apple delaying the release of the Airpods; the wireless headphones may pass the 2016 release window, meaning that you won't be able to pick them up this holiday season. No worries, since the Apple Airpods aren't the only pair of supreme wireless headphones out there. Here we have compiled a list of best alternatives to Airpods for your iPhone.
JBL Reflect Mini
JBL Reflect Mini Bluetooth headphones offer a relatively cheap solution for your audio needs and is one of the best alternatives to Airpods. They are very light, are resistant to water and sweat, and possess a striking modern design that will go arm to arm with any smartphone.
The headphones feature a connecting wire visible at night, great for all you midnight runners. Reflect Mini come with two types of ear tips – standard ones made out of silicone, as well as more rugged ones, equipped with fins in order to provide a more secure fit. You can talk while on the go since the headphones are equipped with microphone and control buttons. Excellent choice for people always on the go.
You can find the JBL Reflect Mini Bluetooth Headphones on Amazon, for $79.95.
JayBird Freedom
Another alternative to Airpods, the JayBird Freedom feature a sleek, modern design, and are made with long jogs and workouts in mind. If you want Bluetooth headphones that offer superb audio quality, cool design, and water resistance the JayBird Freedom is a model for you. The headphones offer a mobile app allowing you to personalise sound parameters via the equaliser. They are a bit expensive (can be found on Amazon for $149.99) but offer plenty for the money.
Ghostek EarBlades
Ghostek EarBlades look like something from the future. Modern design, water resistance, and support for Bluetooth 4.1 (offering superb audio support from up to ten meters) are the main advantages these headphones offer.
The headphones are made for running and are equipped with  EarHook, offering a supreme fit to the user's ear, and guaranteeing that you won't even feel them while working out. You can find them at Ghostek's site for $49.95.
Phiaton BT 110
Another pair of Bluetooth headphones offering water and sweat resistance, the Phiaton BT 110 pack large audio drivers designed to provide a superb audio quality. Further, the headphones support Bluetooth 4.0 and can be paired with two devices at a time, thanks to the aptX support.
An interesting feature called ShareMe allow for two sets of Phiaton BT 110 headphones to be hooked on the same playlist, making you and your running partner jog while listening to the same music. Awesome!
The headphones can be found on Amazon for $69.99 on sale (original price is $119).
Sol Republic Shadow Wireless
The Sol Republic Shadow Wireless is another one of the best alternatives to Airpods and looks stunning. The ultramodern design, the "biomorphic" design approach inspired by NASA, great sound quality and the presence of microphone and control buttons on the right side of the collar are all excellent features.
That's not all; the headphones carry Bluetooth 4.0 and aptX support, meaning they offer improved sound quality over Bluetooth, as well as the ability to pair with two devices at once. The Sol Republic Shadow Wireless can be found on Amazon on sale for $49.99 (original price is $99.99).
JLab Epic2 Bluetooth Wireless Sport
The JLab Epic2 Bluetooth Wireless Sports headphones are sweat and water resistant, offer a microphone along with control buttons placed on the right side, and have a nice battery that can power the headphones for up to 12 hours.
You can even wash them since they come with the IPX5 rating. The sound is crisp and clear, thanks to the C3 (Crystal Clear Clarity) technology. The model supports Bluetooth 4.0 along with aptX (for improved sound quality) and packs a Beacon Signal technology, ensuring the songs won't be skipped, even when having connectivity problems.
You can find them at Amazon for $99.99
Roam Ropes
Roam Ropes look very original; they have their own Equaliser engine, providing a superb audio quality. The built-in amplification and signal processing makes the sound even better. The Roam Ropes EQ engine can be customised via Rome's EQ mobile app. The headphones look amazing but are a bit expensive.
The Roam Ropes can be found on Roam's website for $199.99.
Apie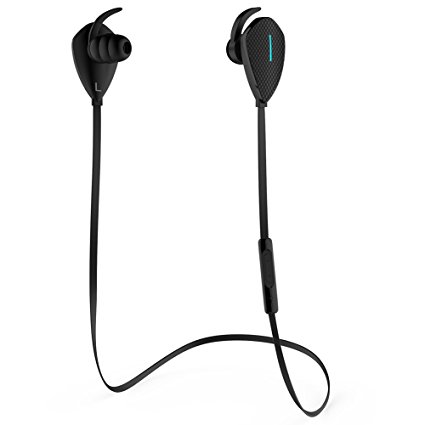 Last, but not least, is a pair of Apie Bluetooth sports headphones. They sport quite a competitive pricing and are the most affordable headphones in this list. For just $19.99 you'll get a Sci-Fi design, ear pads made out of medical grade silicone, as well as excellent sound quality and sweat resistance.
The headphones provide lots for the money. They can be found on Amazon for just $19.99.
There are some more interesting choices. For instance, the Tribe TRB headphones are quite affordable and provide nice sound quality, along with Bluetooth 4.0 support. The SoundPEATS Qy7 offer more than decent audio quality along with a rugged build quality; watch out since their Bluetooth connection isn't the best of the bunch.
If we have missed other great alternatives to Airpods, share with us in the comments section below.