Dark Souls 3 along with fans of the game are getting ready for the upcoming The Ringed City DLC, which will be the last big DLC pack for the game, except if From Software has some surprise DLC pack.
Developers have something for Dark Souls 3 players that should keep them occupied until The Ringed City DLC launch on March 28. From Software will release two new PvP arenas to the game. Along with the two multiplayer battlegrounds, Dark Souls 3 also will receive matchmaking options.
The first arena is called Dragon Ruins, themed after Archdragon Peak area from the Dark Souls 3 main game, and the second one is called the Grand Roof, placed on the top of the Lothric Castle.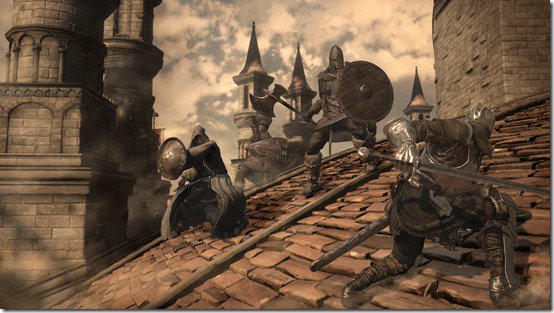 That was the good news; now get ready for some disappointments. Although the two PvP arenas are free, they will be available solely for owners who bought the first DLC (Ashes of Ariandel) or a season pass. So, if you own just the base game, no PvP battles for you, tough luck. The two arenas will be available starting March 24. The game will get a new feature called Undead Match, allowing gamers to team up with friends. But, again, the feature will only be available to the first DLC and Season Pass owners.
The Ringed City will take players on a journey to the city of Londor, the home of the Sable Church. If you remember Sister Friede (the main antagonist of Ashes of Ariandel DLC) was born in Londor.
The Ringed City is priced at $14.99 and you can get all DLCs by getting Season Pass for $24.99. If you don't own the game and thinking about getting it wait a month because  Dark Souls 'The Fire Fades' edition (Game of the Year Edition) will be available on April 21. GOTY edition will bring all DLCs and all new features in one pack.