The next season of attack on Titan will arrive at the start of April, and some new spoilers regarding it have surfaced.
Right after the next season of Attack on Titan was officially announced, fans got all hyped up for it. A few weeks ago, the Chief Director and Director of Attack on Titan season 2 sat down for an interview in which they revealed some stuff about the upcoming season.
Attack On Titan Season 2 New Visual 
The new visual released featured Eren Yeager, Mikasa Ackerman, and Captain Levi Ackerman. Mikasa and Captain Levi were seen in their Survey Corps uniform, holding their signatures swords which they use pretty well against enemy Titans. For those who don't know, both Ackerman are known as the best among all of the Survey Corps' soldiers.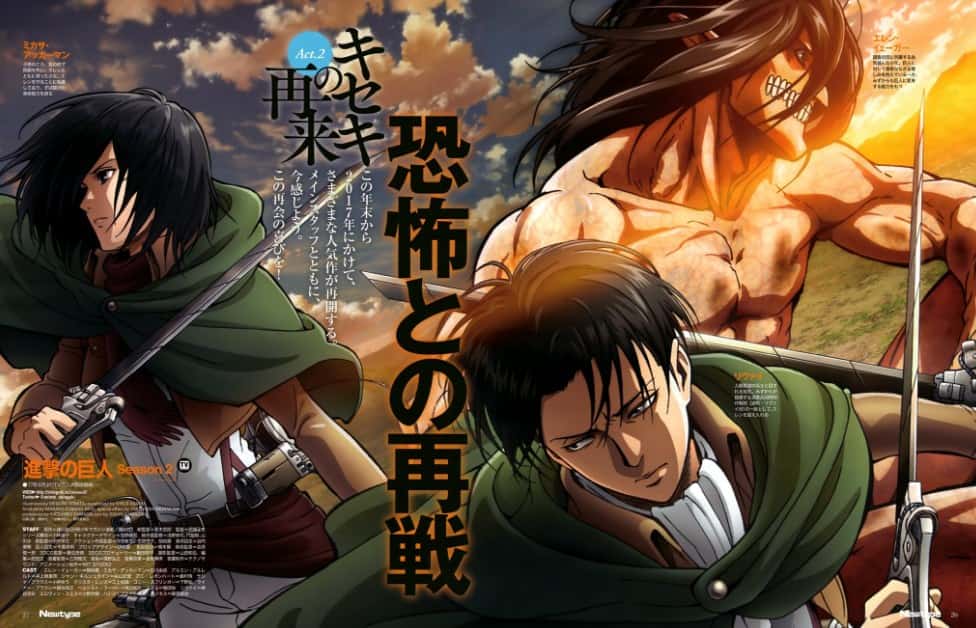 Along with this, Eren Yeager was also featured in the new visual. The main protagonist of the series was seen behind the two in his Titan form. Avid fans of the series know that Eren's Titan form played a huge role in the first season of Attack on Titan. And now, he is said to play an even important role in Attack on Titan season 2. The synopsis of the next season revealed that Eren has vowed to wipe out each and every Titan out there. However, in order to do that, he must use his power careful. But before doing anything, he will have to first learn how to transform in and out of his Titan form.
Excited for the next season? Let us know in the comments below.