We are finally able to check out the first pictures of the Asus GTX 1050 Ti Expedition graphics card – courtesy a new leak days ahead of the rumored Oct 25 launch of Nvidia's forthcoming GP107-based graphics cards the GTX 1050 and the GTX 1050 Ti.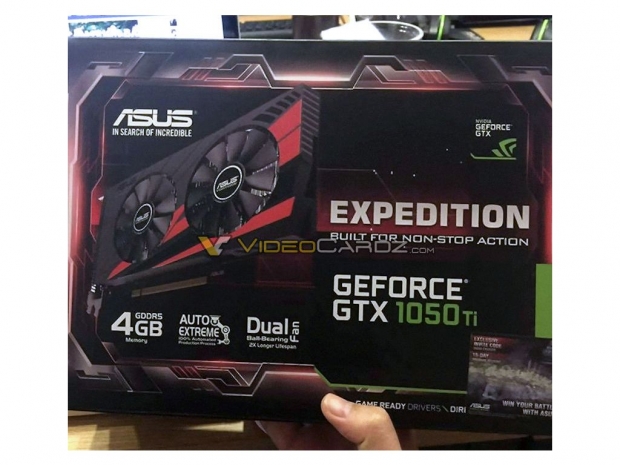 No details have emerged thus far with regard to the actual clocks of the new Asus GTX 1050 Ti Expedition. The leaked images, first spotted by the folks at Videocards.com, shows a dual-fan cooler in addition to confirming 4GB GDDR5 memory.
Rumor also has it that the product will come with an extra 6-pin PCIe power connector which can be deciphered as a clear indication of a factory-overclocked GPU.
As predicted earlier, the GeForce GTX 1050 Ti will feature the GP 107, a fully-enabled GPU with 768 CUDA cores, as well as 32 ROPs, 48 TMUs, and 4GB GDDR5 memory on a 128-bit memory interface. Also, based on the performance figure available online, it is apparent that the overall performance of the new GTX 1050 Ti will be a lot similar to that of the GTX 960, meaning the card will meet the minimum required specs for the Oculus Rift VR headset.
Meanwhile, ASUS is reportedly also planning to release the Stix variant of the GTX 1050 Ti sporting a higher factory overclock and a different cooler. Both the GTX 1050 and the GTX 1050 Ti are likely to arrive on October 25 with (unconfirmed) MSRP of $149 and $119 respectively.