Assassination Classroom fans will be glad to know that the manga spinoff of the series, Koro Teacher Quest will get its own anime series very soon.
Koro Teacher Quest To Gets Its Own Anime Series
The 51st issue of Shueisha's Weekly Shonen Jump magazine announced that Koro Teacher Quest is going to get its own anime series. For those who don't know, Koro Teacher is a critically acclaimed manga spinoff of Assassination Classroom. It is written by Yusei Matsui. The spinoff manga series was started in the Shueisha's Saikyō Jump magazine back in October 2015 by Kizuku Watanabe and Jo Aoto, and the spinoff instantly gained popularity due the unique story line and style it featured.
In Koro Teacher Quest, the yellow monster, Koro Sensei is seen playing the role of the Demon King. Fans get to see how Koro Sensei manages to survive in the world of sorcery and sword fights, where the story of the spinoff takes place.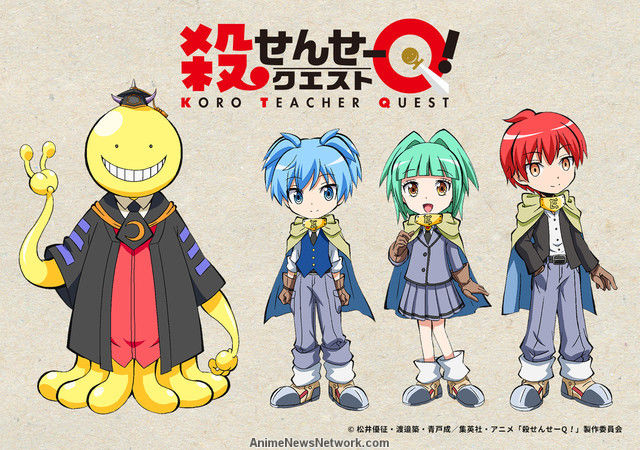 In July 2016, the first compiled volume for Koro Teacher Quest was published by Shueisha. Since then, there have been various rumors claiming that the manga will get an anime adoption soon, and the official announcement has cleared those rumors. Have a look at the story of Assassination Classroom below, and get yourself hyped up for the anime series.
Assassination Classroom Story
One day, the yellow monster turns the moon into a crescent. The reason behind him doing this was to tell the people of Earth that he will do the same to their planet too. However, he was kind enough to make this a challenge for them and told them that he will give the people sometime to stop him. In the meantime, he arrives on earth and becomes a teacher. He teaches basic subjects, but he later found a way to teach the subject of assassination.
As the government of Japan thought that this would make the yellow monster, Koro Sensei create an army of evil students, they decided to put a secret bounty on his head. The government told the students that they will be rewarded with 10 billion Yen ($100 million) if they kill Koro Sensei. The teacher does manage to improve his students in almost every way, but the students also get more hyped up for killing him as time passes. However, none of them turns out to be a serious match for him, as they are under his spell and are of no match for him. The students then start doing weird stuff in order to take Koro Sensei down.
Let us know if you're excited for Koro Teacher Quest anime series or not in the comments below.