AMD Radeon RX 580 which is yet to see the sun under the sky is already generating uproar among the AMD loyalists. A true successor to the RX 400 and RX 480 series, RX 580 graphic processor was initially speculated to come with Vega core but that information couldn't be verified. Now the first ever benchmark scores of RX 580 with Ashes of the Singularity are out and this will help us to check and verify all that has been said for this next-gen processor from AMD.
The benchmark results for AMD Radeon RX 580 surfaced online in a series of leaked screenshots from the game itself. The test team used an Intel i7 5820k hexacore processor which has a base clock speed of 3.3 GHz coupled with the RX 580 graphics card for the benchmark test. The results that were shared shows us that the game managed to run flawlessly scoring what can be called as an impressive framerate of 72.3fps. When compared with its predecessor RX 480 one can easily conclude that RX 580 is indeed an improvement. Such an improved performance can only be achieved by revamping the hardware because only a different coding can not bring about such impressive results. So we might be on to a right track with rumors of Vega core present in RX 580. However, AMD has not confirmed anything about the hardware used in RX 580, so we are expecting it fall in the same price bracket as its successor RX 480.
AMD has long been trying to bring alive a Vega based GPU and we might see more of it in future with upcoming flagship GPUs of AMD. A few days back AMD launched Ryzen 7 series CPUs and promised that in future they will launch both its flagship GPUs and CPUs in combo. That should be on the alert list of every gamer, as this could be the best gaming combo for any PC in future.
The team also tested the above-mentioned combo with Ashes of the Singularity on the same clock speed as they did with Intel i7 processor. It should come as no wonder that a combo of hexa-core Ryzen CPU and the AMD Radeon RX 580 GPU can produce a frame rate of 82.5fps in Ultra HD(4K) resolution.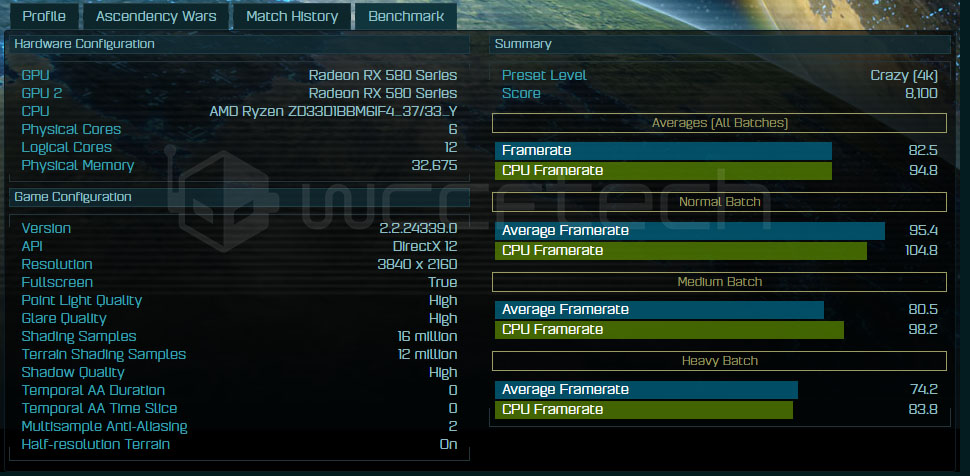 The same team also did a benchmark test of the AMD Radeon RX 560 GPU with Intel core i7- 5820K processor clocked at 3.3 GHz. The combo generated an average framerate of 34.3fps on 1080p setting. The results were somewhat satisfactory but with Ti series chipset in its pocket it seems that NVIDIA will continue to be the best in the race. However with the Vega cores in AMD built processor things may take a turn in future. But that is a win-win situation for gamers as we will be able to witness the best out of this GPU war between NVIDIA and AMD.
Let us know your opinion of this new graphic processor from AMD in the comment box. To find more about the latest hardware updates from AMD and NVIDIA visit the hardware and news section.