Sharp Corporation, the Japanese conglomerate launched two smartphones namely the Sharp Aquos Compact SH-02H and the Sharp Aquos Zeta SH-01H. The company is famous for manufacturing exquisite bezels but the devices are usually restricted to Japanese customers. The two new phones launched are pretty compact and are headed to NTT Docomo.
Sharp Aquos Compact SH-02H
This phone has a mid-range screen size at 4.7 inches and sports a HD 1080p resolution. The company longs for LCD screens and in the phone as well it has embedded an IGZO LCD, driven at 'double speed', 120Hz. The size of the screen measures at 126×66×9 mm. The Sharp Aquos Compact is a water resistant phone and has IP68 for dunks in water. The main camera stays at 13.1 MP but an f/1.9 aperture makes it great for taking pictures. The front camera is also a good one which stands at 5MP.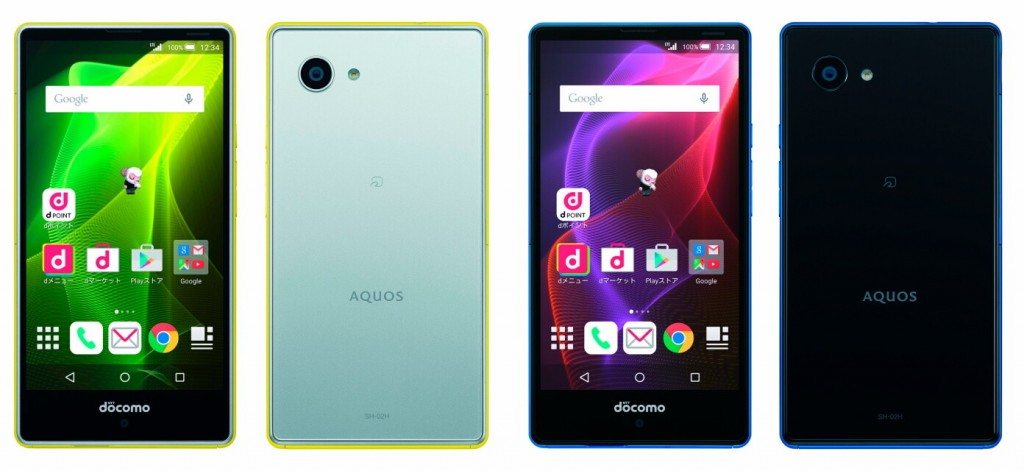 The Snapdragon 808 processor powers the device which is also coupled with 3GB of RAM and 16GB of inbuilt expandable storage. The OS is the latest Android Lollipop 5.1 and the battery is long lasting at 2,810 mAh. The phone supports LTE, Wi-Fi a/b/g/n/ac connectivity too. It is quite light weight at 120gms and has some beautiful 'Nuance Sheets" to sport decals at the back of the phone.
Sharp Aquos Zeta SH-01H
The second phone from Sharp is equally better. It has a big 5.3 inch screen and the body size lies at 139*74*8 mm. If you compare with a good Samsung phone, the Galaxy S6 has just a 5.1 inch screen size. The screen resolution is at 1080p HD IGZO LCD based. The rest of the specs are identical to the Aquos Compact SH-02H except for a IP-58 water resistance and a even better 3,100 mAh battery. The front camera also contains a proximity sensor.
Both the devices support the mobile payment system FeliCa, and additionally the Aquos Zeta SH-01H also encloses a finger-print scanner present at the back of the phone. The available variants for the Zeta SH-01H includes both sparkle pink and sparkle blue and has a sweet Disney theme as well.