Apple's Worldwide Developers Conference (WWDC) that will be held between June 5 to 9 is fast approaching. The Cupertino company has always used this annual platform to showcase new operating system versions for iPhone, MacBook, Apple Watch and Apple TV. However, this year the company is expected to unleash hardware devices such as 15-inch MacBook Pro and new iPad Pro models
According to Mac Rumors, Apple has updated its online store. The update indicates that if a customer places an order for the current 15-inch MacBook Pro today, it is estimated to get delivered between June 6 to 8 in the U.S. These dates coincide with the dates of the upcoming WWDC event.
The Cupertino company is speculated to unveil a new MacBook Pro as well as a 12-inch MacBook at the WWDC 2017. The current 15-inch MacBook Pro that was refreshed in October with a thinner design and a new Touch Bar feature is expected to get upgraded with the faster Kaby Lake processor. The existing MacBook Pro models are powered by with Skylake processor.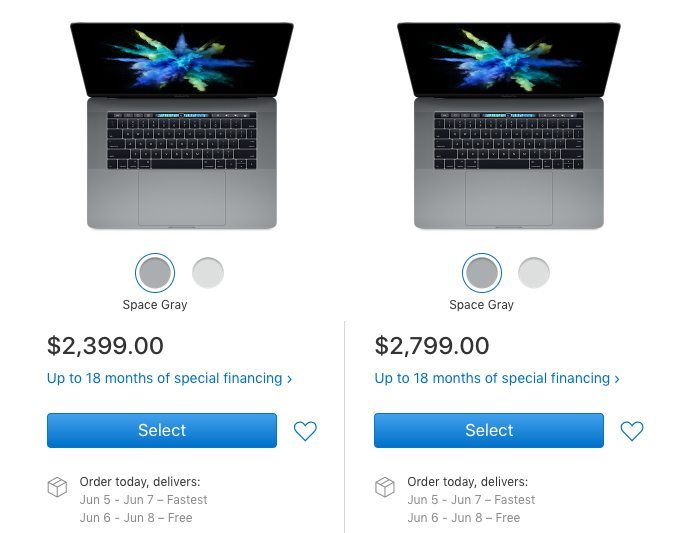 In terms of appearance, the device will not feature any changes. Speculations suggest that the 13-inch and 15-inch MacBook Pro models will be treated with Kaby Lake processor upgrade. Some other sources suggest that the 2017 15-inch MacBook Pro may come with improvements and new features such as 32 GB RAM, and Gold color option. Apple MacBook which was upgraded in April last year is also expected to get refreshed with Intel Kaby Lake processor.
One of the reasons why Apple may unleash new MacBook Pros at WWDC 2017 is that Apple has officially confirmed through the official support page that the 13-inch, 15-inch and 17-inch MacBook Pro models from early 2011 will become obsolete by the end of this month. When Apple marks a device as obsolete, such a device will not receive support from the Cupertino company's retail outlets and authorized service centers.
Apple has not released a newer MacBook Air device since March 2015. Speculations have it that by the arrival of MacBook, the company had discontinued the MacBook Air series. The currently available MacBook and MacBook Pro are slimmer than 2015 MacBook Air. If Apple refreshes the MacBook Air, it would continue to exist for a couple of more years. Other rumors hint that the WWDC 2017 event will also unveil a new 10.5-inch iPad Pro with bezel-less design and a new Siri speaker.