Windows 95 was the OS that changed the whole PC industry and brought computers to people's home. In today's age of Windows 10, the 1995 version of the OS might look old and laggy, but Windows 95 was the star of those days. Well, someone has decided to bring back the old Microsoft OS to its rival Apple's wearable, the Apple Watch. Yes, you heard us right, and trust us, it looks fun!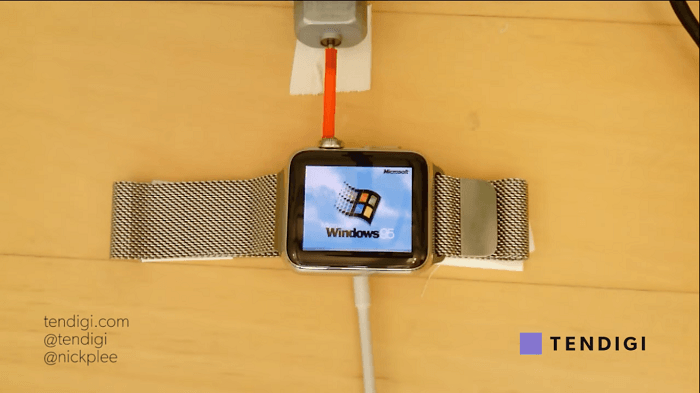 Tendigi Studios, a company that develops mobile apps, has got a very enthusiastic team member named Nick Lee who hacked his precious Apple Watch and installed Windows 95 on it. Of course, there were some complex steps involved, but there's an understandable version of the process below.
How Nick Lee Installed Windows 95 on Apple Watch
Nick first ported Bochs x86 emulator to his Watch with a method that can be used to patch some files inside an app made using WatchKit so that you can load an application code of your own instead of using the code given by Apple. Lastly, a disk image of Windows 95 was dropped inside the app and lo! He ran the almost-21 years old Windows 95 on the Apple Watch!
Of course, what Nick Lee did isn't practical, but from the point of trying out new things, the Apple Watch running Windows 95 looks really neat. Do note that the Apple Watch took about an hour to boot to Windows 95 as he used an x86 emulator. But after that, the installation looked really neat and Nick managed to open up the Start menu easily and even opened up a card game. Check out the video below to know which one!
If you are interested in the technical details, you can check out Nick's post on Medium. And in case you are feeling a bit more enthusiastic and confident and have an Apple Watch, you can install Windows 95 on Apple Watch by downloading its source code from GitHub. Do note that some files need to be prepared by you, so this is not the average user's play.
In case you are wondering, there have been many instances when crazy programmers have installed decades old operating systems on their Apple Watch, older Android phones, Android smartwatches, etc. Well, all we can wonder is how Apple must be feeling having their competitor Microsoft's legendary Windows 95 installed on its popular Apple Watch wearable.