Along with the iPad Pro, Apple has also introduced a couple of new accessories for the tablet. One of these is a keyboard called the Smart Keyboard, which is like a Smart Cover but with a keyboard incorporated in it. Apple has borrowed some of its own techniques from the MacBook series to come up with this unique keyboard for the iPad Pro!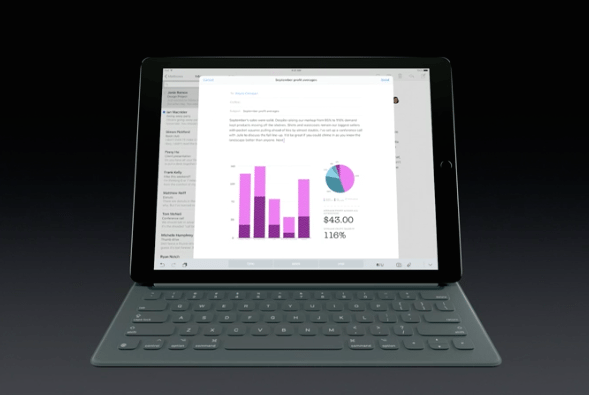 The Smart Keyboard connects to the iPad Pro through the new Smart Connector, which is located on the side of the 12.9-inch tablet. This connector will not only provide power to the keyboard but will also transmit data for super-quick connectivity and easy usability. It is great that the keyboard does not need Bluetooth connectivity; it would have required a separate battery for the keyboard.
As mentioned before, Apple has used the key switch technology, which was first seen in the 12-inch MacBook line. This maintains the usable key depth, while allowing the keys to keep a low-profile.
The keys of the Smart Keyboard look like they have been coated with the same material as the rest of the keyboard, though how they will feel at the fingertips is hard to determine from pictures only. Hopefully, the texture will be smooth and will allow comfortable typing.
The Smart Keyboard will be available as a separate accessory for the iPad Pro. It will be shipped in November and will cost $169.