Apple has very unexpectedly released the latest iOS 9.3.5 for the iPhones, iPads, and iPods. The release comes out of nowhere and has been rolled out to fix some important security vulnerabilities. This is the fifth update to iOS 9.3 which was released in March 2016.
iOS 9.3.5 doesn't bring any new features and just fixes a major security vulnerability which was pointed out by Bill Marczak and John Scott-Railton of The Citizen Lab. According to them, an Israeli Surveillance Software company called the NSO Group had been exploiting a iOS security vulnerability to read the text messages and e-mails of journalists and government officials. They could even track their locations and phone calls using this vulnerability.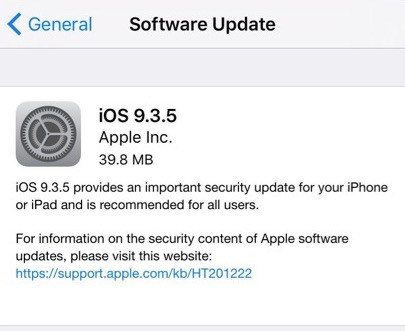 Apple has patched this security flaw which will prevent your Apple devices from being snooped upon. The update has been released over-the-air (OTA) and is a very small one weighing just about 40MB depending upon your device. If you haven't yet received the update notification, just head to "Settings" > "General" > "Software Update". Choose "Download and Install" when the iOS 9.3.5 update menu appears. You can see the full details about this update here.
The new iOS 9.3.5 update is quite unexpected considering the fact that the launch of the Apple iPhone 7 is just around the corner and it will be accompanied by the latest iOS 10 which is expected to bring up lot many new exciting features. However, the iOS 9.3.5 update is quite crucial from the security point of view and we would strongly advise you to update to the latest iOS version.