Last Week, Apple released its second calendar quarter earnings report. Aside from the $7.8 billion profit on $42.4 billion revenue, the company indicated that it sold 9.95 million iPads between early March and late June. But the number of units sold is not such good news for Apple considering this is the tenth consecutive quarter the iPad shipments have decreased. However, the interesting part is the iPad sales outshine the combined sales of Samsung, Amazon, and Microsoft tablets.
According to Taiwanese market research firm, TrendForce, worldwide shipments of tablets for the second quarter totalled to 33.54 million units, indicating a 4.8 percent quarterly drop and an 8.8% year-on-year drop. According to TrendForce analyst Anita Wang, the fall in tablet shipments was caused by few product launches and slack in promotional strategies.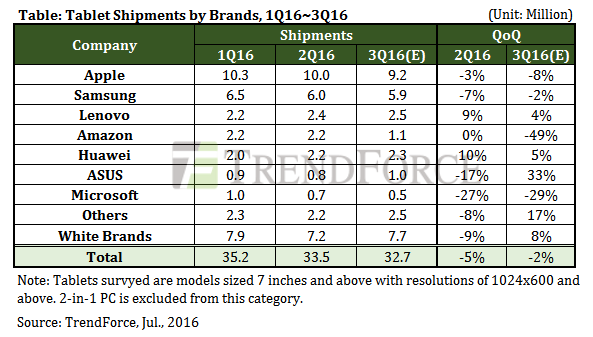 The data from Trendforce indicates that Apple led the shipments with 9.95 million units. Samsung followed with 6 million units shipped. Amazon and Microsoft shipped 2.2 million and 700,000 units respectively. Combining the tablet shipments of Samsung, Amazon and Microsoft total to 8.9 million units, which is 1.05 million units short of the iPad shipments.
iPad Air 2 remained the most popular tablet in sales. TrendForce claimed that the prices and insignificant differences in design compared to iPad Air 2 worked against the iPad Pro series. Since the release of the series the 12.9-inch iPad Pro performed well in the first two financial quarters. But, the 9.7-inch iPad Pro, which has slight design differences with the iPad Air 2, only enjoyed good sales in the first three months after its release.
Meanwhile, Lenovo and Huawei increased their tablet shipments to 2.4 million and 2.2 million respectively. Both companies have been vigorously promoting their tablets. The Chinese companies are exceptionally dominant in Asia with Lenovo increasing shipments to Europe and North America.
If Apple does not produce more tablet brands and models this year, TrendForce anticipates the shipments will drop to 9.2 million in the third calendar quarter.