iOS 9.3 has been out for quite a few days now, and users are very happy with the new features that the firmware brings in. One of those new features is Night Shift, but it seems that this cool option also has some downsides of its own that make it look like an unfinished product.
Night Shift is a feature that is meant to help you use your iOS device in the dark easily without straining and tiring your eyes. When Night Shift is enabled, the display gets a light orange tint, which blocks Bluelight from entering your eyes, thus making it more convenient to look at the display in the dark for a longer time.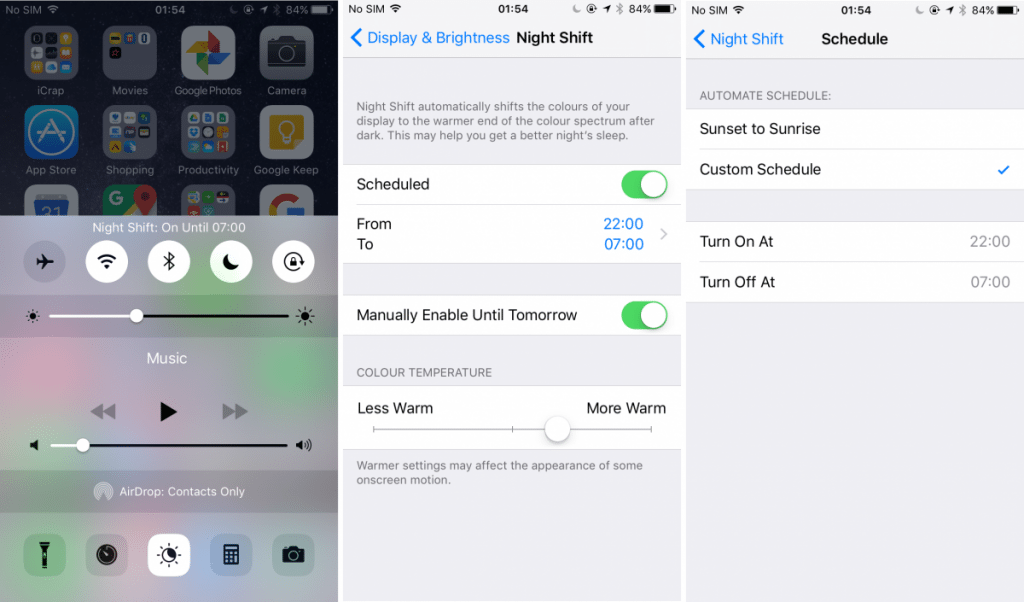 However, Night Shift has its limitations that went unmentioned by Apple in its release notes. For instance, Night Shift does not work with older iOS devices and is only working on 64-bit devices, as it has been coded in 64-bit code. So it works with all iPhone, iPad, and iPod touch devices that are older than late 2013. So the iPhone 5, iPhone 5C, and first four gen iPad devices and various gen iPod touch devices can't use Night Shift.
Also, the Night Shift mode won't work when the Low Power Mode is turned on. So basically, night is the time when most devices are running low on power, and that's when users turn on the Low Power Mode. So it's of course, a stupid idea to make Night Shift incompatible with Low Power Mode.
Finally, it is being said that Night Shift does almost no good to the users. President of DisplayMate Ray Soneira says:
Night Shift, which turns down the amount of blue light produced by the display, won't significantly affect the production of melatonin enough to influence the circadian rhythm and improve the user's nighttime sleep cycle. I've looked into this before and it's more of a placebo effect.

This is an effect that I have been following for many years. I am not a sleep researcher, but I am a theoretical physicist with extensive knowledge of the displays, light spectra, and human color vision. It is clear that many sleep researchers do not have a very good understanding of displays, light spectra, or human color vision, so many of their conclusions regarding displays are simply not correct.
The DisplayMate President also pointed out that Night Shift causes the display to turn orange, but the removal of blue light actually makes the display turn yellow.
But having said all that, these things should not let you damage the image of iOS 9.3 in your mind. iOS 9.3 is a great update and you should definitely get it if your device supports it.