Nova Launcher is one of the most popular launchers available for Android phones. It's a highly customizable, performance driven, home screen replacement for Android. With a custom grid that provides the option to configure rows and columns to fit all your app and widget needs, Nova Launcher comes with many other useful features and effects. The Scrollable dock allows you to keep your favorite apps on the dock, with up to 7 icons per page and up to 3 pages. You can even choose a background and preview style for folder icons. Backup and restore features let you conveniently export your settings and layout before a wipe to quickly get back up and running.
Nova launcher latest version 5.1.1 available for download
In case you haven't updated nova launcher for quite some time, the latest version is now able for download. The version bearing number 5.1.1 (51100) can be downloaded for free. The APK file size is about 7.67 MB and works on all Android devices running Android 4.1 (Jelly Bean API 16).
The APK works perfectly fine on devices running Android 7.1 (Nougat MR1, API 25) as well. The latest update includes dynamic badges – image badges from notification content. The update also brings a feature that respects system level themes on Samsung and Huawei devices. The latest APK also includes minor fixes for Samsung Galaxy S8.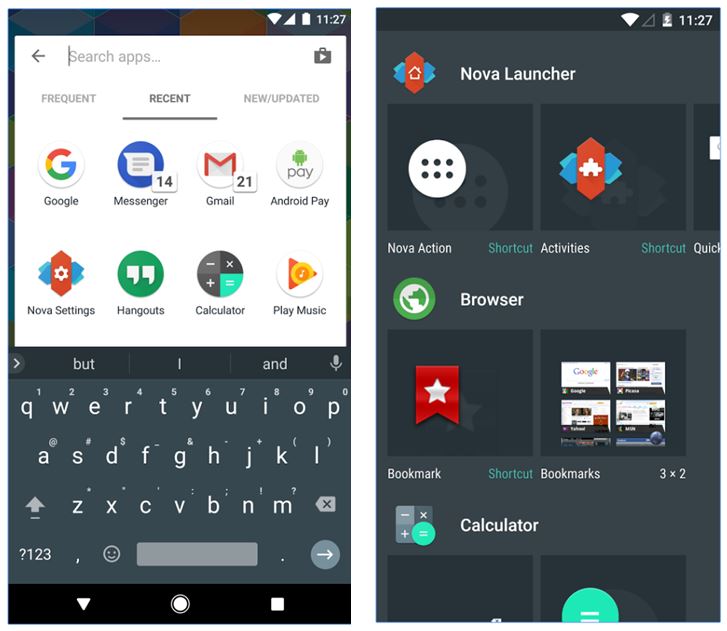 While most of the features are available on the free version, few select features are available as part of Nova Prime. Gestures, Hide Apps, Icon Swipes and Drawer Groups are part of the Prime version. With gestures, you can quickly start Nova Actions or Apps from gestures such as pinching, swiping or two-finger swiping. With Drawer Groups, you can categorize your apps into custom tabs and folders withing the app drawer.
Download the latest version of Nova Launcher from APK Mirror.