There is no doubt about the fact that Snapdragon 820 is the best chipset in the market right now. But there is always the question of which one is better. There have been a lot of confusions regarding the performance of Apple's A9 chipset, Snapdragon 820, Samsung's Exynos 8890 and Huawei's Kirin 950. AnTuTu, the popular benchmarking tool has gone ahead and benchmarked all these processors to create a comprehensive list of the best chipsets in the market. The results are not surprising and were expected. But Samsung needs to take into consideration why they are lagging behind Apple's A9 chipset.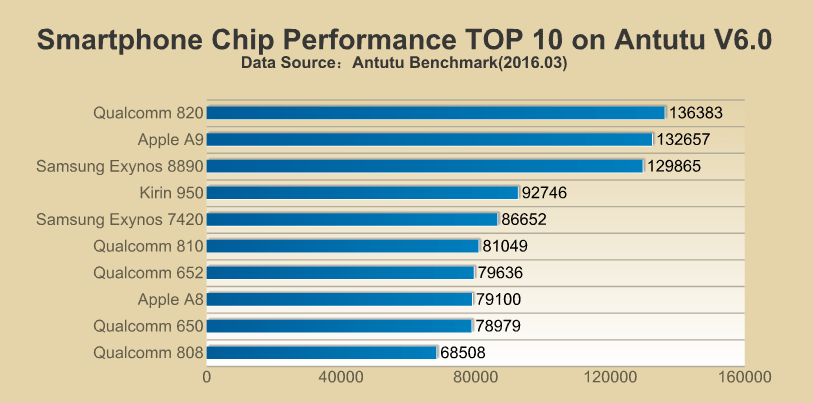 Snapdragon 820 has a score of 136,383 on AnTuTu, followed closely by Apple's A9 chip at 132,657 and Samsung's Exynos at 129,865 points. Kirin 950 (92,746 points) and the rest of the chipsets are of a different league and score points under 100,000. The list also contains the names of the top 10 GPUs as well. The GPU that comes along with the Snapdragon 820, the Adreno 530 shines amongst the competitors and sits comfortably on top. It has a huge margin of 15,994 points over Apple A9's GPU. What is surprising is that Samsung's GPU and CPU come under Apple's A9 chipset.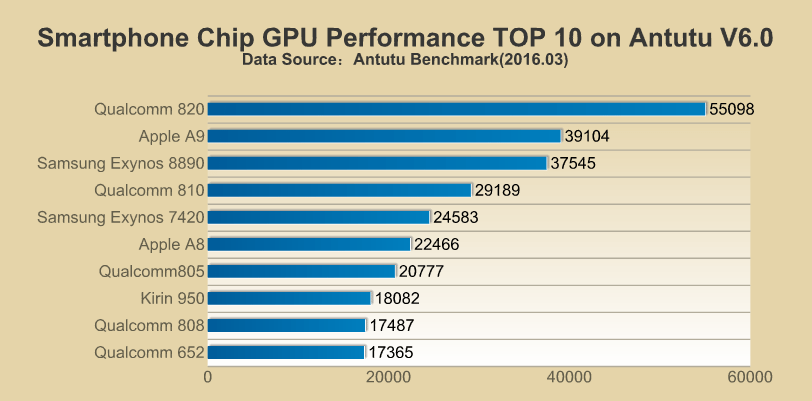 Both Snapdragon 820 and Exynos 8890 are manufactured by Samsung using their 14nm technology. It looks like Samsung uses an outdated method of 14nm technology on their processors which makes them underperformers. 2016 is just about to finish the first quarter, so there will be a lot more to expect from manufacturers. They will have to up their game if they have to take down the Snapdragon 820 and the Adreno 530.